All change across the retail sector as Tesco appoints a new UK finance director and Thorntons' loses its chief executive.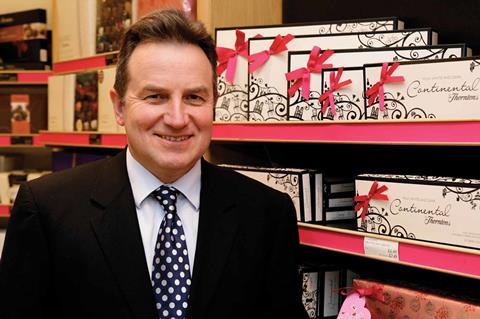 Move of the month…
…is for Bruce Marsh who became UK finance director at Tesco. Marsh's predecessor Carl Rogberg was one of the casualties of the retailer's accounting scandal in 2014 and Marsh himself is likely to face an unusual amount of scrutiny in his new role as the investigation into the black hole in Tesco's accounts by the Serious Fraud Office continues.
Marsh, whose previous roles include group strategy director at Kingfisher and a variety of finance roles at Dixons, will report to chief financial officer Alan Stewart and his priority will be to stabilise Tesco's finances and ensure the retailer does not slip back into its old habits of relying on payments from suppliers to boost profitability.
Dave Lewis has vowed to cut the number of ways in which Tesco charges suppliers from 24 to just three but it will be up to the finance team to keep Tesco's buyers on a short leash.
For a comprehensive list of retail moves in May, see the table on the right.
Promotion of the month…
…goes to new Aldi joint managing directors Dan Ronald and Giles Hurley who take over from Matthew Barnes and Roman Heini as the dynamic duo at the head of the German discounter's UK business.
The recent promotion of Barnes to the new role of chief executive will mean that, unlike Barnes and Heini, Ronald and Hurley will have a layer of management above them but the pair will in effect be responsible for the day-to-day running of the UK business since Barnes' new role as CEO will see him bridge the gap between Aldi UK and Ireland and the international Aldi business.
Like many of Aldi's executive team Ronald and Hurley are Aldi lifers having joined through the retailer's highly regarded graduate scheme. Hurley is joint managing director of corporate buying at present and was previously group buying director for the UK business, while Ronald has a background in operations, latterly as store operations director.
All change at…
…at Thorntons where chief executive Jonathan Hart has stepped down after four years at the helm.
Hart has been credited with resuscitating the chocolatier's retail business but its wholesale arm continues to come under severe pressure from the supermarket price war that was chiefly responsible for Thorntons issuing a profit warning in December. Chief operating officer Barry Bloomer will act as interim chief executive whilst a replacement for Hart is sought.
Inevitable exit for…
…B&Q's chief executive Kevin O'Byrne for whom the writing seemed to be on the wall as soon as Véronique Laury beat him to the top job at Kingfisher after former boss Sir Ian Cheshire stepped down in September. The departure of O'Byrne coincides with a restructure at B&Q which will involve the closure of 60 stores.
Switching roles…
…is Pets at Home's highly regarded people director Ryan Cheyne who leaves the industry to join Rentalcars.com. Cheyne was an important member of the Pets team that, under former boss Matt Davies, scaled up the business and created the customer-centric culture that Davies subsequently exported to Halfords.
The gregarious Cheyne was one of the sector's highest profile people directors and is a loss to the sector. He will be succeeded at Pets at Home by Vicky Hill.
Tony's trends
Aldi's appointment of new joint managing directors has got me thinking about the model of joint-leadership. I'm struggling to think of too many businesses, let alone retailers, that have two senior executives sharing the top role. The fact it has worked so successfully for Aldi vindicates the grocer's unusual organisational structure, but could it work for other retailers too?
Aldi's policy of open and transparent remuneration means jealousy and competitiveness are theoretically taken out of the equation but businesses whose remuneration packages are heavily linked to performance may find tensions developing between two leaders who have such a high degree of mutual dependence.
There is also the question of responsibilities. Aldi's MDs have historically had clear delineation of tasks but a vague job spec could lead to duplication of effort and a breakdown in communications channels.
The benefits of job-sharing could nevertheless be great. Invariably, when two strong candidates are competing for one top role, businesses end up choosing one and losing the other meaning there is a strong argument for retaining talent within the organisation by promoting both candidates.
With the CIPD forecasting a shortage of retail talent in the next five years, any strategy that retains good people at the top of a business should be seriously considered; after all, two heads are almost always better than one.
The Anthony Gregg Partnership
Tony Gregg is chief executive of the Anthony Gregg Partnership. Founded in 2003 and located in Henley-in-Arden and London,The Anthony Gregg Partnership specialises in the consumer search market space.