Since the highly regarded Sean Toal joined from The Co-op four years ago to lead the business, ecommerce expert Sean Emmett has been brought in to head up Wilko Digital, while a number of big hitters have taken up non-executive roles.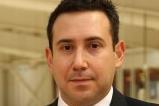 These include former Amazon UK boss Robin Terrell, former Morrisons chief Dalton Philips and former Body Shop managing director John Jackson.
This week it was announced that Asda chief financial officer Alex Russo will join Wilko in the same role and take his place on the retailer's main board alongside Toal, Terrell, Philips and Jackson, as well as family director Lisa Wilkinson.
It's another coup for Wilko, which gains a man who not only has huge finance experience but lists strategy, supply chain and business development roles with the likes of Tesco, Kingfisher and Boots on an impressive CV. It's eclectic too, featuring a recent spell as a senior independent director of South American restaurant franchise operator Delosi Group.
Last week, I wrote about some of the challenges executives can face when moving from a large conglomerate to a family-run business. Certainly, it will take Russo a little while to adapt to a different environment. But Wilko is a progressive business that embraces fresh ideas from outside the family and I see no reason why Russo won't prosper in his new role.
Learning from Amazon
Asda, meanwhile, has welcomed back former finance director Rob McWilliam to replace Russo.
McWilliam has spent the past 18 months building up a non-executive portfolio and acting as a consultant (including to his former employer), but his most recent corporate role was with Amazon where he was a key figure in the development of the online giant's grocery business.
As Amazon's VP for consumables, McWilliam headed up Amazon UK's consumer goods portfolio including the grocery and health and beauty categories, and also helped launch the Amazon Pantry grocery service.
The insights he will bring from his former employer, coupled with his own extensive digital skills, will surely help Asda as it looks to strengthen its online offer in the face of growing competition from the likes of Amazon, Ocado and the other grocery mults.
McWilliam will also have a key role to play in the combination of the Asda and Sainsbury's businesses and can expect to be greeted by a full in-tray when he moves into Russo's office.
Content provided by Anthony Gregg Partnership.

You can call Tony Gregg on 01564 796830 or email him at tony@anthonygregg.com.
Founded in 2003 and located in Henley-in-Arden and London, The Anthony Gregg Partnership specialises in the consumer search market space.