From paper boy to chief executive, retail is in the Poundland boss's blood. Nicola Harrison talks to the man who's eye for convenience has turned in more than a pound or two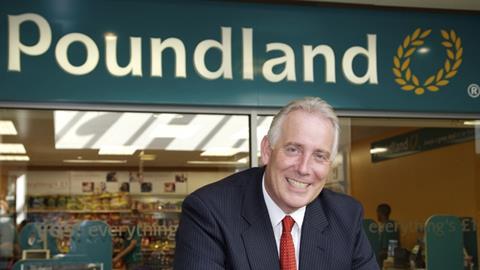 At the tender age of 12, Poundland chief executive Jim McCarthy could not have realised that his first employer, Dillons Newsagents, would keep him in work for the next three and a half decades.
Indeed, the 54-year-old has a lot to thank Dillons for. Not only did the newsagents and convenience store chain equip McCarthy with the retail expertise that would see him appointed chief executive of Poundland - which was sold for £200m earlier this month - but it is also where he met his wife, Rosie, at the Alcester store. They married a year later, aged 18.
Starting as a paper boy at Dillons, the precocious McCarthy took on various roles before being made a relief manager by the age of 18, after dropping out of his A-levels at 17.
At this young age he showed determination, asking to be put in difficult stores, "so if I did well I could make a name for myself" he recalls. The ambitious McCarthy got noticed, and would later be appointed regional manager, looking after 120 stores and six area managers. Not bad for a 21-year-old.
A stint running sister newsagent chain Argus on the south coast allowed McCarthy the "freedom to make mistakes that people didn't notice" because he was based far from head office.
It was after this time he became convinced that convenience stores were the future. "I knew consumers would be really up for longer hours and an extended product range" says McCarthy passionately. He opened the first Dillons convenience store in Chichester in 1984. "It went like a steam train," he enthuses.
After a brief period as part of the Next group, the business was sold to convenience group T&S in 1989 for £54m. McCarthy joined the board as retail director, working under Kevin Threlfall, "one of the most amazing people I've ever worked with," he says.
McCarthy helped implement the strategy of reducing the newsagents business and growing the convenience arm through acquisitions. He says: "The aim was to build a convenience store chain nationally that would be attractive to a major supermarket." Sure enough, Tesco bought the 1,200-T&S chain in 2003 for £530m.
McCarthy took some time off, but it was not long before he returned to retail, joining Sainsbury's as managing director of its Local business, reporting to Justin King. "It was a great job, with a wonderful remit," says McCarthy, But after a series of family bereavements McCarthy decided to step down in 2005.
Although he describes the time as "brilliant", after two years of early rises, late finishes and four hours sleep a night, McCarthy wanted a job closer to home in the Midlands. "At this point my focus was firmly on the family."
He describes telling King of his desire to leave Sainsbury's as "one of the most difficult conversations of my life" as he had agreed to stay for three years but was leaving after two. However, King was "very sympathetic", and McCarthy looks back at the two years fondly.
In 2006, McCarthy joined Poundland as chief executive, and was "absolutely delighted" with the business he walked into. In four years McCarthy has presided over consistent growth at the 260-store retailer, making it one of the success stories of the recession.
Outside of retail the energetic McCarthy plays in defence in a five-aside football team every Saturday, and is also a keen squash player. When he's not scaling the Pyrenees or the Alps, he has his nose in a good book. "I go through biographies at a rate of knots," he says.
McCarthy describes himself as "impatient, creative, and driven". He adds: "I'm very demanding but fair, and I think I am very sensitive to how people feel. I don't see myself as being more senior than anyone else. I'm just part of the team - I may be captain of it but I'm not always the best player."
In for a penny
Family Married to Rosie with two sons, aged 19 and 22
Background Grew up in Nuneaton, schooled in Birmingham
Dreams Being an RAF pilot or a cricket fast-bowler as a youngster