The retail director cut his teeth at Sainsbury's but found a home at Asda, where he has won one of parent Walmart's highest honours and piloted 3D printing.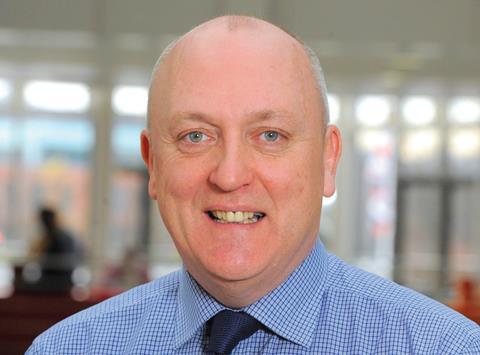 Asda boss Andy Clarke handed retail director Mark Ibbotson a starring role in his five-year plan for the grocer, unveiled last week.
Ibbotson is leading a dramatic transformation of the retailer's stores, re-imagining its big boxes to make them more inviting to shoppers, opening 100 petrol stations with small stores and potentially finally taking the plunge into opening convenience stores.
No pressure then.
"I'm energised by it," Ibbotson tells Retail Week. "I feel pressure but I feel a healthy tension and expectation. Andy has timed this beautifully in terms of when we will make some big decisions on our resources and links with Walmart."
Walking with Ibbotson through the back office of Asda's Clapham store in southwest London last month, the scale of the challenge facing him is clear. Ibbotson peaks into rooms that had previously been used for operations that are now centralised or done electronically, and explains he is deciding whether this excess room can now be repurposed.
Described as a "great innovator" by Clarke when he took on former chief operating officer Judith McKenna's retail responsibilities in January when she was promoted to join Asda parent Walmart, Ibbotson is credited with developing the We Operate For Less cost-cutting programme and has "spearheaded the growth in grocery home shopping", according to Clarke.
His promotion kick-started a phenomenal year for the burly boss, who was awarded the Sam Walton Entrepreneur Award in June at Walmart's annual shareholders meeting in front of 13,000 colleagues in Bentonville, Arkansas.
Ibbotson added his own humorous touch to receiving the global retail giant's top individual prize by collecting the gong dressed in a Superman costume.
"I'm lucky to represent an absolutely brilliant team, a number of which I've worked with for a decade and include everyone from mathematicians to engineers. I see it as a reward for them," he says.
Ibbotson, originally from Stockport, began his retail career in the early 1980s at Sainsbury's in its graduate scheme, which he describes as formative. "I started at Sainsbury's Wilmslow store, which at the time was Sainsbury's most northerly store," recalls Ibbotson.
In the decade that followed, Ibbotson worked his way up through to store management. "I did everything.
I was up to my eyeballs in rotting veg, I stocked mince pies at Christmas and did night shifts followed by day shifts."
Ibbotson concluded a string of store management roles at Sainsbury's first shop in Northern Ireland, in Belfast, and was part of the six-strong team that launched the retailer's Egyptian operation.
The venture, during which he worked with Debenhams' present marketing boss Richard Cristofoli and Boots international managing director Dean Thompson, proved significant for Ibbotson. Taking the remit to "grow as big as you can, as quick as you can", Sainsbury's opened 103 stores. It had a profound impact on Ibbotson. "When your first language is English and theirs is Arabic you find a new meaning to the phrase keep it simple", he says.
But Sainsbury's new chief executive Sir Peter Davis was not keen on his predecessor David Bremner's overseas adventure and the business retrenched. Ibbotson came back to the UK after two years and found reintegration difficult.
"When you work abroad you're far less risk averse. I was probably more Asda [in attitude] than Sainsbury's and the culture there was one of hierarchy. At Asda, even the security guard will ask you how sales are doing," he says.
Ibbotson, known internally as 'Ibbo', is also at the forefront of one of Asda's most eye-catching initiatives this year.
The grocer has tried out 3D printing in its York store after he saw the technique used at Walmart's innovation lab.
His quick thinking brought the service to store and customers have flocked to the shop. TV presenter Paul O'Grady even ventured there to have a mini ceramic version of himself made.
Away from work, Ibbotson is an avid Radio 4 listener and a keen historian. He cites strategy and innovation in military history as a keen interest.
With everything from 3D to new formats under Ibbotson's remit, he looks likely to bring a whole new dimension to grocery retail before too long.