Harvester pub restaurants, banks and 'health villages' are popping up where once stood DIY stores and furniture shops. Mark Faithfull asks what such changes mean for the world of retail parks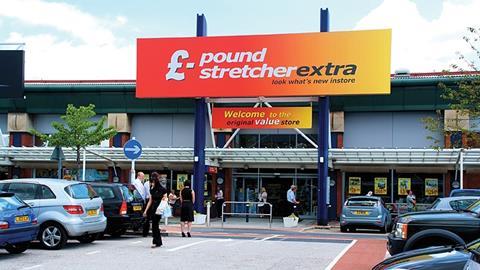 While the demise of some legacy retailers has left large tranches of the UK's high streets with gaping holes and created headaches for shopping centres, the retail warehouse market has re- invented its offer in the wake of the disappearance and downsizing of stalwarts such as some DIY retailers and big-ticket furniture shops.
Where retailers such as Next, Boots and TK Maxx pioneered, now retail parks also play host to names such as Costa, Everything Everywhere, Toby and Harvester pub restaurants, gyms, banks and myriad other offers that once would never have been seen out-of-town. But has the sector got enough juice in it for another metamorphosis?
"We have seen a huge change in retail warehousing over the past decade and I think the market has matured to the point where what we will see in the future is evolution, not revolution," says CBRE head of out-of-town retail Nikki Skelton. "In some ways the development has mirrored that of shopping centres, with food and beverage in particular becoming more and more important."
Key to the future of individual parks is the income potential for landlords against capital expenditure, and so their location, the catchment and accessibility will determine those that justify refurbishment and those that decline or, as Skelton puts it: "What we will see is more winners and losers."
Henderson portfolio manager for warehouse fund Katherine Pye adds: "Location is of paramount importance, including easy accessibility to get on or off a retail park. Parks that are well sited – even if they are looking a bit shabby now – will provide asset management opportunities, especially if units can be split and mezzanine floors added in. Parks that don't have those attributes face the prospect of going into decline."
Weekly shopping
Hammerson director of retail parks Andrew Berger-North says that location is taking prominence as consumers choose retail parks for their weekly shops, making accessibility even more important. "They are often used after the school run, with mums coming into have a coffee and then shop. That means improving facilities, making schemes nicer environments and more female-friendly. That's obviously very different from when parks consisted of DIY and big-box furniture stores," he reflects.
He cites St Oswald's Retail Park in Gloucester, where Hammerson has regenerated the 55-acre former cattle market. "We have improved the car parking, the landscaping, added pods – smaller standalone units – a proper bank branch, and food and beverage offers like Subway and Costa. We believe design will become a lot more important. Construction will always be the same but we think parks will become more of a circuit, with the food and beverage integrated into the scheme," says. Similarly, he says that at Elliotts Field in Rugby, Hammerson's proposals are really to improve the experience, separating cars and pedestrians and adding a cafe under a curved, covered terrace.
Skelton feels that such opportunities are predicated on planning, increasingly not just on A1 consent – which means any type of non-food store can open on the park – but open A1, allowing food retail. "But changing the nature of the park brings other elements with it. If a site is more fashion-oriented and more female-friendly then it probably needs to be better maintained and, with long trading hours, it needs to be safe. Improvements to the environment need to be balanced with costs – although of course retail warehousing remains much cheaper than shopping centres," she points out.
Key, says Skelton, is the provision of mezzanine space, either to trade from or – especially with services such as click-and-collect – for stock. However, she adds: "Around three-quarters of changes on a retail park need planning permission, which for me suggests far too much red tape."
Changing times
Cushman & Wakefield head of out-of-town Martin Supple agrees, and says that new retailers have instigated change in many of the parks: "Tenant re-engineering and high street-style retailers have brought with them a design change, with more light and glass." He expects to see greater sophistication in the grouping of retailers. For instance, British Land's Nugent shopping park in Orpington has a cluster of 1,000 sq ft units, allowing these smaller units to benefit from adjacencies rather than stand as single units.
He adds that Metro Bank has taken space in Borehamwood shopping park, which he says helps to raise the retail park's profile. In the future, he expects more types of business, such as banks, to look at retail parks. "In fact were it not for the downturn I'm sure we would have seen faster change, but of course that pace has been slowed by investor and retailer caution," he says.
Supple points out that what has really changed is the diversification of space requirements. "Not so long ago everyone was trying to find ways of breaking down 40,000 sq ft units and chunking them into smaller 10,000 sq ft outlets. Now we're seeing retailers like Dixons back in for 60,000 sq ft to 70,000 sq ft spaces while retailers like Everything Everywhere require 1,000 sq ft," he says. "If you compare the current tenant mixes with even three years ago, when parks were still made up of the likes of Homebase, B&Q and MFI, that's a massive difference."
More change is afoot and food is likely to be crucial. Adam Patrick, occupational adviser at Edgerley Simpson Howe, says: "Certainly I would say that more recently grocery consents seem to be obtained with more frequency, especially on parks on commuter routes and in smaller town locations, given that the employment, spend retention and inward-investment arguments are holding greater sway with local councils' members." Marks & Spencer's Simply Food expansion is a good example of that, he says.
In addition – from an occupier perspective – the opportunities in better quality secondary parks look promising, with six or seven discounters such as Home Bargains and Poundstretcher all looking to expand. "What's interesting is that the discounter requirements on parks were negligible just five years ago," he adds.
The tenant mix in retail parks is likely to develop further. Pye points to the department stores: "Expanding across the UK has been very difficult and the lack of new shopping centre development will only increase that. Retail parks offer a more straightforward and low property costs option for growth," she reflects.
Meanwhile Skelton adds that in terms of the development of further leisure offers, what's important is that the leisure is of a net benefit to the destination. "If it's going to clog up the car park at the wrong time of day then that's not the case," she says.
Patrick cites the Lloydspharmacy 'health village' at Brent South shopping park in north London as another example of continuing evolution, with several concessions including Vision Express, Coffee Republic, Sk:n and Betterlife in a store of 10,000 sq ft over two floors. "It's worked well, and the partners will open a larger 14,700 sq ft store in Lakeside retail park, Thurrock in January next year, with a third trial planned in the north of England in the first half of next year," he says.
Prospects for retail parks in the medium term can also only be bolstered by the moribund shopping centre market, with retailers frustrated at looking for space likely to turn to alternatives.
Yet nothing can be taken for granted, warns Skelton: "With such a small shopping centre pipeline then of course there are opportunities for retailers to extend their store networks out of town – it works on paper but with planning favouring in-town development it's not a slam dunk."
The changing face of retail warehousing
A number of sectors have moved into retail parks in the past few years, changing the profile of the traditional bulky goods environments:
Non-food Where Next led, many others are following. Retailers such as M&S, Boots and TK Maxx all have major retail park programmes, while an

increasingly diverse set of high street retailers have started to consider or are operating from retail parks where A1 consent is available
Food The big grocers are all present on some parks where open A1 consent has been available. The likely evolution is from large standalone stores to smaller units, integrated with the main park offer
Food and beverage Replacing the ubiquitous fast food vans, coffee offers such as Costa have been more recently supplemented by operators such as Frankie & Benny's and Nando's, plus pub restaurant chains such as Toby and Harvester
Leisure Gyms and cinemas are opening on retail parks, although operators need to ensure that the leisure offer complements rather than obstructs the retailing
Specialist entries Metrobank and the Lloydspharmacy 'health village' are just two examples of new retail propositions opening on retail parks and more new entrants and bespoke derivatives of high street offers are expected as retailers get more creative
Discounters Retailers such as Home Bargains, B&M Bargains and Poundland are all using retail parks as one of their growth channels – yet their presence on parks was negligible just five years ago