We all know it remains tough in retail. You only have to look in the direction of Jones Bootmaker, Agent Provocateur and Jaeger this year.
There is also long-term concern for the probable downward turn in retail employment arising from many occupiers requiring fewer physical stores, coupled with increased automation both in stores and in the logistics chain.
Dr Carl Frey of Oxford University, an expert in automation, suggests that 80% of retail jobs will disappear permanently.
The Office for National Statistics has recently revealed that headcount in shops and other outlets fell 2.2% last year, predominantly as a result of pressure from online and the trend of time-poor shoppers opting for self-service tills.
There is also, however, much to be optimistic about.
Retailing has a unique ability to innovate. The mono-descriptors of 'a shop' and 'a shopping centre' will, over time, be words which are obsolete as the art of retailing – and the function of these physical manifestations of the activity – turn themselves into multifunctional spaces.
Retailers are already on this trend. Apple has dropped the 'shop' terminology and instead these Apple spaces are becoming regular destinations as community hubs and town squares.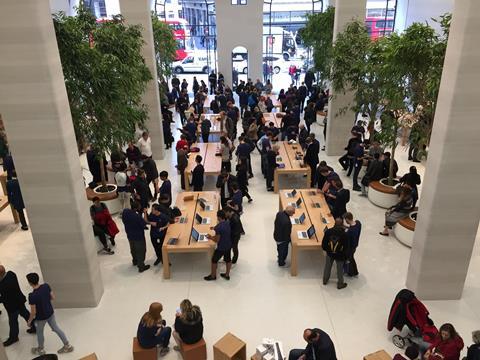 A visit to the new Petersham Nurseries 'urban garden centre' in Covent Garden is, again, a multifunctional experience.
It offers indoor and outside courtyard space with a garden, delicatessen, florist, events, dining, gifts and learning in many areas including wine and cookery – they will even organise your wedding.
In America, Wingtip – the menswear retailer with an elite and chic twist – embodies its tagline 'Solutions for the Modern Gentleman'.
The store's smart clothes and accessories are only the beginning, with a clubhouse, wine cave, barber shop, cocktail bar and a fly fishing shop.
Access to most of the store is members-only, with monthly or one-off admission fees – an innovative way to build add-on revenue.
New to the market, B8ta has opened a 'technology learning centre of excellence' – a store of cutting-edge tech products and gadgets from start-up companies lacking the resource or know-how to sell their products via traditional retail channels.
"[Sweaty Betty created] lifestyle under one under one roof… a place where you can hang out with your friends, go for a class, get a cocktail and your hair done"

Tamara Hill-Norton, Sweaty Betty
B8ta leases space in its stores directly to the product makers/manufacturers and proceeds of all in-store sales go directly to the makers themselves.
Sales performance is measured, and inventory changes monthly in accordance, creating an evolving space with the best of-the-moment tech from newcomers.
Back in London, Sweaty Betty has opened its new store at No 1 Carnaby – three floors of fashion, fitness, food and beauty.
You can book a class for yoga or Pilates in the basement studio, relax at the Farm Girl café or enjoy a Duck & Dry blow dry.
Founder Tamara Hill-Norton refers to creating the Sweaty Betty "lifestyle under one under one roof… a place where you can hang out with your friends, go for a class, get a cocktail and your hair done".
Owners of real estate are responding similarly.
For example, British Land is adopting a more holistic approach to business environments.
Previously, we may have thought of British Land as running retail and office businesses, but that is no longer necessarily the case as these uses blend and merge.
In response, British Land develops, innovates and evolves the campus solution.
I am therefore optimistic, from the perspective of occupiers and owners, who seize the opportunity to create and curate space that is flexible and multifunctional and who place community, socialising, learning, activities and events at the centre of what they do.
Ultimately, buildings are just space, but the key now is to evolve the activities and functions that take place within that space then develop new value models for occupying brands and owners who look at real estate as a platform for business, not just a short-term tradable asset.
Justin Taylor is head of EMEA retail at Cushman & Wakefield