Marks & Spencer has become the latest retailer to ask itself how many stores it really needs.
There is no exact figure applicable to all retailers but the right number is derived for each retailer based on their customer profiles, sales channels, footfall conversions and brand strength.
Some may follow other retailers and feed off their footfall or, conversely, they might be a destination in their own right.
Marks & Spencer is interesting for a number of reasons.
Firstly, it has evolved its offer from fashion and clothing to food and homewares.
Some might argue that this in itself presents a challenge when it comes to priorities and store formats and layouts. The skill sets are also very different, as I am sure staff at John Lewis and Waitrose would testify.
Secondly, in light of its history and heritage as a bricks-and-mortar retailer, M&S will have a legacy element to its portfolio with long leases and upward-only rents in towns where the opportunity for the retailer has declined or moved out of town.
Thirdly, it has changed its property portfolio over time but was very much a late entrant to the out-of-town market, unlike rival Next which has been closing high street stores for some time.
Opposing estates
M&S has 300 'department' stores, which is not a large number when you compare it to Next (421), New Look (554), H&M (229) and Edinburgh Woollen Mill (285). Primark on the other hand has just 162 stores, with many much larger than M&S branches.
Detailed comparisons between M&S and Next make interesting reading. M&S has 123 high street shops (excludes shopping centres) and 54 on retail parks.
Next is the opposite with 54 high street shops and 203 retail park units.
"There are 35 towns and cities that have more than two M&S stores either on the high street, in a shopping centre or on the edge of town in a retail park"
This is interesting in light of the fact that one was born out of being a high street retailer and the other out of its directory business.
Analysis of M&S stores shows one possible area for rationalisation.
M&S's retail park presence has increased by 8% while all other formats have seen closures.
But there are 35 towns and cities that have more than two M&S stores either on the high street, in a shopping centre or on the edge of town in a retail park.
If one removes the large urban centres such as London (27 stores), Glasgow (6) and other cities, there are 22 towns where one might question the need for two stores. Are they cannibalising sales?
Examples include Milton Keynes (3), Bournemouth (2), Durham (2), Fareham (2), Stockton-on-Tees (2), Swindon (2) and Chichester (2).
Changing high streets
The high streets that M&S remains on, as the anchor in many cases, have seen significant change and since 2011 the vacancy rate around M&S high street stores has been above average for such locations.
The average vacancy rate within a 200m radius of M&S stores is now 12.7%, while the national average is 11.4%.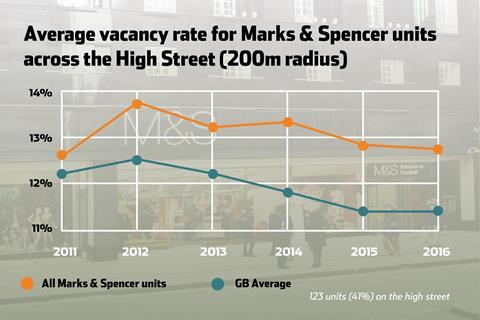 Another challenge M&S faces is the diversity in health of the locations it is in.
Local Data Company's Health Index is a key performance indicator for a retailer such as M&S as it takes 12 data points from catchment, spend, vacancy, occupiers present, food and beverage and entertainment – destination centres score highly.
M&S has a broad church, with nearly 17% of stores in weak areas, 19% in strong areas and the rest middling.
The good news, however, is that analysis over 12 months shows that 20% of M&S locations are seeing the health of their centres improve against 16% declining.
Close competitors
Finally, the other challenge that M&S faces, as does any other retailer, is competition.
If one takes Next, New Look, H&M and Primark as examples of retailers who might be taking spend away from M&S, then a third (32%) of M&S stores have four or more of these competitors within 500m.
"What we do know is that stores are an important part of multichannel retailing"
Now if you are in the ascendancy that might be considered a good thing, but perhaps this is not where M&S sits currently.
What we do know is that stores are an important part of multichannel retailing and that the presence of stores helps drive online sales, so M&S needs to think carefully about which to close.
What impact will there be on existing business? How might that be tempered by the opportunities presented by new locations?
Three hundred stores is not too many in my view, but rationalisation where I see store cannibalisation and relocating to the new retail destinations is key, along with, of course, a multichannel offer of products or services that appeals to its customers.
Relevance by location and demographic will be key to M&S success.
Matthew Hopkinson is director of the Local Data Company