Powerful online retailers are emerging globally and giving the etail giant Amazon a run for its money. Retail Week takes a closer look.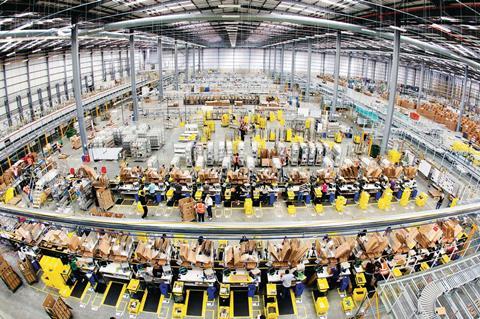 Amazon may be the undisputed champion of online marketplaces in its established markets, and it is undoubtedly making a play for world domination. But around the world other etailers are giving the ecommerce giant a run for its money.
"Amazon just comes in with its model, it doesn't always adapt," says Malcolm Pinkerton, research director at Planet Retail. "Some local operators are better at under-standing payment issues and fulfilment in their countries."
Retail Week shops around to find the upstarts snapping at Amazon's heels in the global retail jungle.
Jumia
Where? Africa – based in Nigeria. Also operates in Morocco, Egypt, Ghana, Uganda, Cameroon, Ivory Coast and Kenya.
When? Founded in 2012 by Rocket Internet and Raphael Afaedor, a Ghanaian Harvard graduate.
What? General merchandise.
In numbers: Jumia declined to provide sales figures but claims to be growing 15% a month (sales and orders).
Did you know?
Raised more than $50m (£30.8m) since 2012 to fund marketing, a 10,000 sq ft ecommerce campus and a 90,000 sq ft warehouse in Lagos. Uses a combination of its own couriers and DHL for delivery.
The key to its success so far, according to Jon Copestake, chief retail analyst at the Economist Intelligence Unit, is guaranteeing delivery within five days and accepting cash on delivery.
Lazada
Where? Southeast Asia – Indonesia, Malaysia, Thailand, Vietnam, the Philippines and Singapore.
When? Founded in 2012 by German ecommerce investor Rocket Internet. Backed by JP Morgan and Tesco, the etailer operates on a similar model to Amazon, selling its own inventory and allowing third-party merchants to sell through its site.
What? General merchandise.
In numbers: Chief executive Maximilian Bittner reportedly said that the site had doubled sales in the six months to April (although he was sketchy about what those figures are). He also said Lazada had hit one million visitors per day across all sites.
Did you know?
According to local reports, Indonesia is Lazada's largest market, accounting for 30% of revenue, and is expected to reach $7bn (£4.3bn) in the "next few years". Malaysia is forecast to hit around $78.2m (£48.2m) by 2015.
Alongside political unrest and natural disasters, Lazada faces challenges such as fulfilment and payment, and reluctant consumers who are still enamoured with shiny shopping malls. However, the proliferation of cheap smartphones is changing the latter.
The etailer has its own fleet of couriers in each market, which covers 30% of overall orders.
Flipkart
Where? India
When? Launched in late 2007 by former Amazon employees Sachin and Binny Bansal.
What? Flipkart initially focused on books but has since expanded into a broader range of categories including consumer electronics, eBooks and lifestyle products.
In numbers: While reports suggest that the founders have raised in excess of $500m (£308m) in funding since its launch, details of sales to date are sketchy, although in interviews they have set a target of $1bn (£616m) sales by 2015. Flipkart claims to have 18 million registered users and 3.5 million daily visitors.
Did you know?
Flipkart is open to third-party sellers and claims to have around 500 on its marketplace.
It has acquired book retailer weRead; digital content platform Mime360; electrical etailer Letsbuy.com and fashion retailer Myntra, but its founders have said that it needs to invest in building the necessary systems to service a large ecommerce business.
It has its own logistics operator, Flipkart Self-Delivery, and payment company, PayZippy.
Ulmart
Where? Russia
When? 2008
What? General merchandise
In numbers: A comprehensive fulfilment system helped the etailer hit the $1bn (£616m) milestone in 2013. Revenue for 2014 is forecast to rise to $1.6bn (£986m) after sales rose 31% in the first six months of the year.
Did you know?
Ulmart has eschewed Amazon's fulfilment model, creating instead a network of 29 urban and three suburban fulfilment centres that double as retail and pick-up points, plus a further 350 outposts just for collection. This network, combined with what its chairman Dmitry Kostygin describes as its "asymmetrical" inventory (meaning it does not hold the same stock at every centre), allows Ulmart to offer customers a range of "pre-last mile" collection options or, if that does not suit, delivery via its fleet of 200 vehicles.
The etailer intends to grow "10 times" in the next three to four years, triple its urban fulfilment centres and build an additional 20 suburban ones. Once it has the capacity, it also intends to open up to third-party retailers. First, however, will be a London IPO in 2015 that will fund the expansion.
Alibaba
Where? China, where it is the undisputed leader in ecommerce.
When? 1999, and has grown from a start-up run by Chinese entrepreneur Jack Ma in his apartment to the biggest etail business in the country.
What? Sites, including Alibaba.com, Taobao and Taobao Mall (Tmall) encompass 10 million sellers and more than one billion products listings.
In numbers: According to research from the Economist Intelligence Unit, transactions at Tmall, which accounts for 40% of the B2C market with 70,000 sellers, including 2,000 foreign brands, and the eBay-style site Taobao passed the Rmb1trn (£97.3bn) landmark in 2012. In 2013 Alibaba handled more online transactions than Amazon and eBay and had 231 million active shoppers, which is equivalent to 17% of the Chinese population.
Did you know?
From every dollar of revenue, Alibaba makes 43 cents profit. "Not a bad margin really," says Planet Retail research director Malcolm Pinkerton.
Alibaba marketplaces account for four-fifths of ecommerce in China.
Much of Alibaba's influence lies in the end-to-end logistics solutions that it offers sellers and in which it intends to invest $20bn (£12.3bn) over the next eight years. They include Alibaba Cloud Computing, Alibaba Logistics (which offers a warehouse-to-door service covering customs, transport and delivery to North America and some European countries, including the UK) and Alipay (which services about half of all online transactions in China).
The etailer is planning an IPO on the New York stock exchange later this year. Analysts predict it could be valued at more than $200bn (£120.5bn) when it floats.
Rakuten
Where? Japan, US, Europe
When? Launched in 1997, this Japanese powerhouse is the largest ecommerce site in its home country and through acquisition has extended its reach internationally.
What? Chief executive Hiroshi Mikitani wanted Rakuten to offer a bazaar-style experience, where the merchants, who pay a monthly fee to join the site, retain control of merchandising and can liaise directly with customers.
In numbers: Focused at present on bringing its global marketplaces on to the same platform, which will spell the end of Play.com in the UK, Rakuten reported turnover of $3.3bn (£2.03bn) in 2013.
Did you know?
There are more than 40,000 businesses and services are hosted through Rakuten, while 90% of Japan's internet users are registered on the site.
For Planet Retail's Malcolm Pinkerton, as with Alibaba, Rakuten's real influence lies in its B2B services, which include apps, mobile commerce, software and technology businesses, logistics and financial services.
Rakuten also has a $100m (£61.6m) stake in social network site Pinterest.
In June this year, Rakuten launched a $100m (£61.6m) global investment fund that will focus on start-ups in Israel, the US and the Asia Pacific region.