Amazon's trial of one-hour chilled food deliveries could prove hugely disruptive for an already ultra-competitive grocery sector.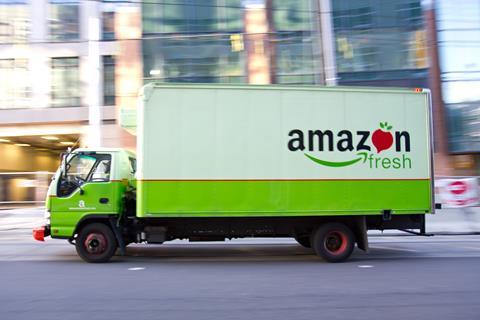 Order Dynamics chief scientist Michael Ross describes Amazon's move as "another disruptive salvo that ups the competitive bar", a sentiment Sainsbury's boss Mike Coupe agrees with.
"It raises the bar on whatever we do," says Coupe. "Ultimately competition is a good thing. If the demand is there then I would imagine that not just ourselves, but a number of our competitors, will respond to it [one-hour deliveries]".
"It raises the bar on whatever we do. Ultimately competition is a good thing."

Mike Coupe, Sainsbury's
"These things are possible, but there is a cost associated with them and you have to look at that."
Kantar Retail's senior vice president and knowledge officer Bryan Roberts says that during his conversations with the grocers they have highlighted how Amazon's spending might give it the edge in trialling new initiatives.
"Their main concern is Amazon's lack of financial constraint – they have money to burn in terms of testing new things out," says Roberts.
Limited range
Coupe has dismissed the impact of the Amazon trial on the Sainsbury's business by highlighting the limited range of Amazon's products.
Birmingham residents with an Amazon Prime subscription are able to order around 50 chilled products for one-hour delivery.
It is understood the move is Amazon flexing its muscles as it seeks to test its supply chain ahead of a UK launch in February of Amazon Fresh, the online grocery service it has launched in the US.
"We have a very significant breadth of offer and that is many, many times greater," says Coupe.
Adapted strategy
Stephen Mader, retail insights director for Kantar Retail, says Amazon has adapted its traditional launch strategy for its entry into the UK's online grocery market.
Instead of launching Amazon Fresh before the introduction of one-hour deliveries, the strategy it pursued in the US, in the UK Amazon chose to launch its Prime Now one-hour delivery service first.
"The thing that is very unique to Prime Now is the one-hour delivery, that is something most other retailers' cannot compete against because they don't have the logistics," says Mader.
Additional charge
In the US, Amazon Fresh customers are required to pay $200 a year on top of their Prime subscriptions for delivery, but it is not yet clear if Amazon will charge UK customers an additional fee when it extends its grocery offer.
"It needs to be a very compelling value proposition that balances the service offered and the price"

Michael Ross, Order Dynamics
"The million-dollar question is will customers pay more for it," says Ross. "It needs to be a very compelling value proposition that balances the service being offered and the price."
Mader believes charging an annual fee for Amazon Fresh in the UK "could be a non-starter from a shopper's perspective" because customers are used to getting cheap online delivery windows in the UK.
In California Amazon has experimented with a small trial that did away with the $200 fee for deliveries and instead charged Amazon Fresh users a $7 fee per order, according to Mader.
This suggests Amazon may be happy to adapt the business model for its enlarged online grocery offer in the UK.
"They are willing to be flexible with how they manage the profitability," says Mader.
Contained roll-out
In the US Amazon Fresh is currently only available in large cities, including Seattle, San Francisco, Los Angeles, New York City, San Diego and Philadelphia. And the cities that have Fresh also tend to have Amazon Prime Now, which implies Amazon Fresh will only come to cities in the UK that have Prime Now.
Currently London and Birmingham are the only cities with Prime Now, but the service is expected to be rolled out to other UK cities.
The relatively contained roll out by Amazon Prime may mean widespread one-hour online grocery deliveries are a way off.
"For other grocers to react nationwide would be impossible and not a wise thing to do," says Ross.
However, when – or if – Amazon nails the winning formula for online grocery any roll-out is likely to be extremely rapid.
Mader concludes: "Once they get the economics right they will scale aggressively."