China's biggest etailer has designs on global expansion, and the UK and Europe are very much on its radar.
Alibaba is pushing ahead with globalisation of its fast delivery network. That is likely to fuel rapid expansion of its cheap and cheerful online bazaar, AliExpress.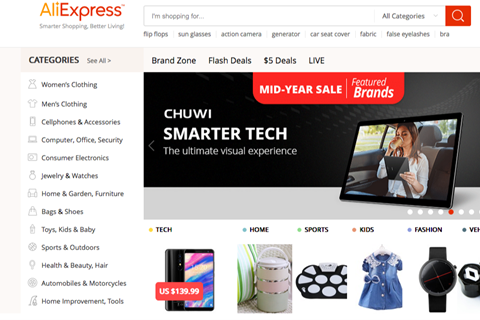 The new strategy will bring AliExpress much closer to UK shoppers, which is liable to pile even greater pressure on Britain's embattled high street.
At its Global Smart Logistics Summit last month, Alibaba's delivery division Cainiao revealed plans for five state-of-the-art logistics hubs in Dubai, Kuala Lumpur, Liège in Belgium, Moscow and the etailer's home city of Hangzhou in east China.
"This network is not only national, but global. We want to connect every courier, connect every warehouse, every hub, every city and every house"

Jack Ma, Alibaba
Alibaba intends to construct an automated distribution facility adjacent to Liège airport that would serve as a central AliExpress European hub, catering for smaller regional centres across Western Europe (Hamburg has already been suggested as one potential location).
Cainiao president Wan Lin claimed the new hubs will give Alibaba geographical and technological advantages over rivals. They will likely follow the automated smart warehouses Cainiao already has in operation at home.
Inside Cainiao's smart warehouse
In future, Cainiao plans more global bases to make its network smarter and more efficient, its ultimate goal being to deliver anywhere in the world within 72 hours.
"This network is not only national, but global," Alibaba founder Jack Ma told summit attendees. "We want to connect every courier, connect every warehouse, every hub, every city and every house."
In 2017, Alibaba pledged investment of $15.8bn (£11.8bn) over five years to build a logistics network to support worldwide growth of its AliExpress platform, through which Chinese businesses sell to overseas consumers, and stimulate imports from overseas to be sold via its Tmall and Taobao marketplaces.
Attention shifts to Europe and beyond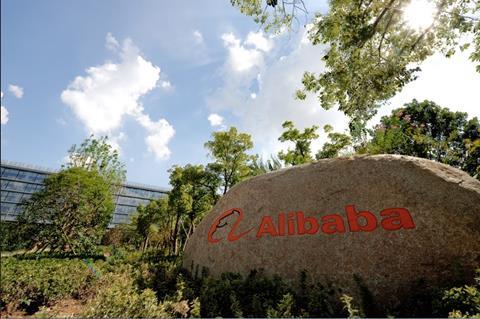 The announcement of a global logistics network represents a significant step forward for Alibaba's international ambitions. Of the five hubs so far announced, Liège perhaps excites the most interest.
That is because it shows that Alibaba, like rival JD.com, believes there is sufficient headroom in European ecommerce for it to compete against established players such as Amazon, eBay and others.
AliExpress has been steadily building strength across Europe in recent years as shoppers have been increasingly attracted by the bargains on offer.
Spain is now the platform's third-largest international market, behind Russia and the US, according to a report in China Daily.
However, growth to date has been hampered by lengthy shipping times from China, although they have been cut from 70 days to 10 since AliExpress began selling into Europe in 2010.
The Chinese government is backing its online giants to boost the country's exports. In 2013, it initiated a $5trn (£3.7trn) infrastructure project dubbed 'One Belt One Road'. Faster global shipping of Chinese goods – by rail, sea and air – is a key aim of the scheme.
Freight trains can now complete the journey from eastern China to London in 18 days.
The Liège hub will cut shipping times even further, because three-day shipping from China is easily achievable by air. From Liège, the UK is a short hop, meaning British buyers will receive packages far quicker than at present.
A fast-growing platform eager to grow more
The principal appeal for AliExpress shoppers has been value and a constantly expanding assortment. Prices are usually so low users are happy to wait anything up to a month for goods to arrive.
Drastically shortened shipping times will increase its appeal and uptake. Moreover, Alibaba believes it can slash delivery speeds without significant impact on pricing.
"If we can use data to solve the problem of low transport efficiency and high logistics costs, we can create huge profit margins for the Chinese manufacturing industry and logistics sector"

Jack Ma, Alibaba
"If we can use data to solve the problem of low transport efficiency and high logistics costs," Jack Ma declared, "we can create huge profit margins for the [Chinese] manufacturing industry and logistics sector."
Alibaba has set a target for AliExpress of one billion users by 2025, up from 100 million.
In recent years it has shifted from its origins as largely a home for B2B wholesalers to focus more on selling individual items. Electronics, clothes and household goods are among its biggest sellers.
That has been a boon for the countless Chinese manufacturers seeking new opportunities as their domestic market has decelerated from the staggering growth peaks of the past decade.
They are now looking outwards and Alibaba is happy to help however it can.
Achieving its goals, however, has lately become harder because of the frosty relations between China and the Trump-led US administration. That makes Europe a more attractive proposition for near- to long-term growth.
How might this impact British retail?
It is essential to consider what items sell best on AliExpress. Fast fashion, for example, performs particularly well.
As many high street clothing retailers feel the pressure from shoppers buying apparel online, a platform that can match or beat Primark on price and provide fast delivery means additional unwanted competition.
As per its phone, home and appliances categories (HomTom phones? Nicrew pet supplies? Anker speakers?), AliExpress partner fashion brands hardly constitute the best-known names of design, but increasing numbers of shoppers worldwide are voting with their wallets anyway.
With fashion often perceived as being 'disposable', AliExpress is the perfect destination for 'treasure-hunt' shoppers seeking something unusual and affordable.
eBay UK shoppers familiar with purchasing from China already understand the price versus quality equation this entails. Many Britons will accept unfamiliar brands if they save money – something Aldi and Lidl demonstrate only too well.
It may not always be this way, of course. The majority of leading global brands already sell on Alibaba's domestic Tmall and Taobao platforms.
It would not be a quantum leap for those partners to eventually use AliExpress as a form of online outlet store, selling reduced-price, end-of-line stock to global customers.
Ultimately, more power will be transferred into the hands of shoppers (literally, with the growing popularity of the AliExpress shopper app in the UK).
Given the disruption brought by the rise of Amazon, the potential threat of an even cheaper alternative should not be underestimated.