Asos has launched its Russian website and the online market there is expected to double by 2020.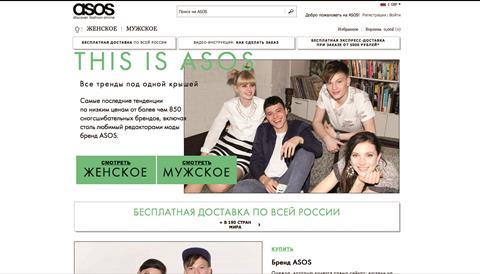 Why are we talking about this now?
Online fashion giant Asos launched its Russian website last week. The etailer revealed international sales growth of 39% to £214m in the half year to February 28, and it reached 6 million customers worldwide.
The hope is that the Russian entry will fuel further growth.
How big is the market?
The online retail market in Russia stands at £5.6bn, excluding food, according to research by OC&C Strategy Consultants in collaboration with Google. That market is expected to double, rising to £11.5bn by 2020. The growth rate will put Russia in the top 10 global ecommerce markets by 2020, making it an attractive proposition.
Which other UK retailers are already online in Russia?
Maternity specialist Mothercare and fashion retailers Karen Millen and Reiss have launched sites there. However, UK retailers have yet to make a big impact - they do not feature in the top 20 Russian retail sites according to Planet Retail. However, the researcher feels that is likely to change.
What are the characteristics of the Russian etail market?
Fashion retailers can take advantage of a market where consumers are still finding their feet when it comes to shopping online.
OC&C partner Anita Balchandani explains: "It is a high-growth market for fashion and ecommerce and will be among the top countries to be targeted because Russia is still switching habits to ecommerce."
Balchandani believes that Asos' proposition will be attractive because it offers a unique mix of brands that domestic retailers will find difficult to rival.
What are the barriers to entry?
Many retailers have avoided launching in Russia because of the logistical challenges brought about by the country's vast size.
"Given the breadth of the country, parcels can go missing in the last mile," Balchandani says.
She adds that one of the biggest barriers to the country is the customs process, which she describes as "very convoluted". There is onerous paperwork involved to release products and a high level of product going missing.
However, Asos actually brought its Russian launch forward. The etailer expected a stumbling block because of the different character set of the Russian alphabet but that was not a problem because there was a more friendly, Romanised character set that was easier to put in place than anticipated.