Should online and store stock be managed from one place, or is it best to separate the two? Rachael Revesz looks at developing a supply chain.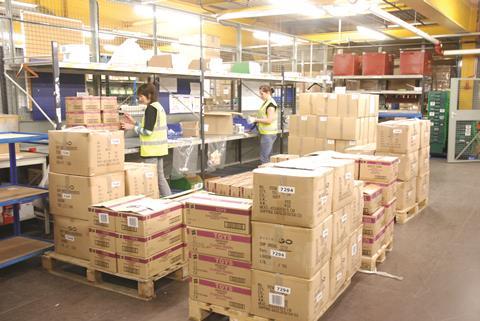 iPads and smartphones often get the attention, but it's the behind-the-scenes systems that will make or break a multichannel offer. Without a seamless supply chain, customers can be left frustrated when shopping through different channels. But can one supply chain strategy fit all retailers, and how should retailers decide what will work best for them?
The right answer is likely to be different for every retailer, and will depend on factors from a company's size to the buying journey its customers make. While some large retailers, such as Boots, fulfil online orders from a separate warehouse from its stores others, such as Sainsbury's, have a single view of products.
Sainsbury's supply chain manager Stephen Hayward says: "We merge online and in-store demand, which drives efficiencies across the end-to-end supply chain through a single operation. If demand was separated for each it would duplicate processes and system settings."
Gieves and Hawkes' online and store supply chains are amalgamated, which was done as part of a redesign of its supply chain. The redesign halved its warehouse costs after the old IT systems were replaced. Chief operating officer Andrew Merriman says the retailer decided to strip out the old IT systems in 2008, a process that has only recently completed. Combined with a new customer relationship manager (CRM) system, shoppers and their buying history can now be identified online and in-store, and online and store stock has been merged in its Norwich warehouse.
"CRM has meant better delivery of stock to stores," says Merriman. "This doesn't change the frequency of our deliveries, but we are much more precise. For us, the biggest benefit is that we understand our customers better."
But not all retailers are able to or want to move in the same direction when it comes to the supply chain.
Oliver Rhodes, director of sales and delivery at PeopleVox, a consultancy focusing on efficient ecommerce warehouse management, says retailers see ecommerce as the most promising opportunity to expand their business. However, after building a website, there's often little money left to revamp their supply chain.
"The reality in 2012 is that retailers are being hit harder than ever before," Rhodes says. "The priority is building the website and getting the orders in."
Despite limited cash reserves, Verdict Research retail analyst Sarah Peters argues that customers expect to see the same level of service and availability across channels, no matter how the supply chain works.
"It's about offering a real choice and product needs to be accessible," she says. "Retailers have to review their overall system to ensure they can transfer stock easily between channels."
Warehouse systems for managing in-store and online stock are often different, as ecommerce orders are usually one or two items per order compared with mass picking of straight to store stock. In view of this, managing supply chains separately is popular with retailers.
"If separate, it's easier to push live, up-to-the-minute stock figures to the website to manage ecommerce orders," says Rhodes. "Then retailers can proactively update customers, telling them when their order is allocated, picked and dispatched."
Investing wisely
Despite some advantages, merging wholesale and online stock isn't always cost-effective. Rhodes says: "Which company is going to spend millions restructuring its warehouse system for the ecommerce part of its business, which may only be worth £1m? Any retailer that already has either needed a revamp or has deep pockets."
But it may be a wise investment.
Merriman says online may be a small part of his business, but it's growing. "We needed to find a way to encourage online growth," he says. "We found that our ecommerce customers were not confident buying suits and preferred to buy gifts, so we produced a small range of leather goods that work well online."
For those retailers who do prefer to run retail stores and ecommerce separately, excellent IT links between the two are necessary, Rhodes says.
To manage increasing customer expectations, companies with physical footfall such as Tesco have adopted a centralised distribution model, so stock for both channels is sourced from the same place. Marks & Spencer has adopted this strategy and is in the process of building a new warehouse near Nottingham to accommodate growing click-and-collect orders.
Planning ahead
At the other end of the spectrum is Boots, which recently opened a £50m distribution centre at Burton-on-Trent to fulfil all international, Christmas and online orders. Its store warehouse is separate, and the two are run independently.
Boots head of supply chain programme management Steve Wilson says: "As part of our continued commitment to ensuring our customers can access our products and services wherever, whenever and however they want, we felt the best way of achieving this was to have a separate service centre specifically dedicated to delivering this customer care."
Wilson adds that doing nothing isn't really an option – most retailers' supply chains will need reconfiguring in response to multichannel changes. "Standing still and doing things the way they have always been done is no longer an option."
Merriman says changing to a new supply chain is not an easy project: "It's a brave decision for retailers to fully update their systems in a short time period. Businesses all face different circumstances and usually have to reinvest in a piecemeal fashion."
This means each company is likely to end up with something different. There's no right answer, but it's something that all retailers need to think about.
How retailers are rethinking the supply chain
Rose Keen, head of online and media at The Shirt Company, says it is important for teams to sit down together and discuss their operations.
"You must have a systemised way of ordering to prevent things slipping through the gap. We work together to discuss how to plan for anything that goes awry," she explains.
The Shirt Company has one warehouse and has merged online and in-store stock. There are two collections produced twice a year, which means operations can be run in one place because there's no constant stream of outgoing stock.
"It depends on the size and structure of the retailer," says Keen. "But this works for us and keeps things personal."
Meanwhile, for Boots, the scale of operations means two separate warehouses are needed. Head of supply chain programme management Steve Wilson says the key challenges in producing the answer for Boots included finding the right partner, developing a strategy that will be right for Boots in the future, and maintaining service while migrating to the new supply chain. Wilson says the hard work should be worth it, however, as warehouse costs fall and customer service improves.