As Asda sizes up opening collection points in travel hubs, Retail Week takes a look at the increasingly vital click-and-collect battleground in grocery.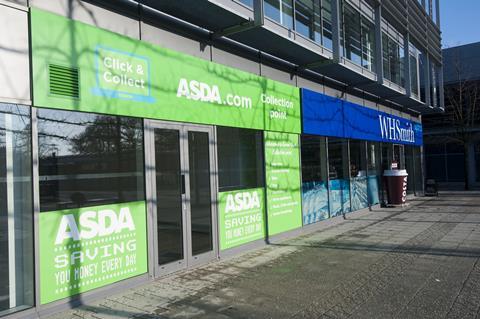 Morrisons bosses have readily admitted in recent months that not being in grocery's fastest growing channels – online and convenience – is hurting the business as it lags its main competitors
Asda's move to open a raft of collection points shows the lines between the two channels are becoming increasingly blurred. Asda's largely out-of-town store estate demands that the retailer finds more ways to become convenient than perhaps some of its rivals.
Its move to open collection points at a business park, two small convenience stores and petrol stations signals both a quiet move into convenience retailing but the implications of its click-and-collect roll out could make Asda is much more accessible to a larger customer base.
Moreover, the service allows shoppers who can access an Asda which does not have the full George clothing or non-food range, to order online and collect locally from the full offer.
Asda is keenly targeting shoppers who are on the move to and from work. As home shopping director Kieran Shanahan points out, it's not just the cash rich who are time poor and Asda reports that shoppers are frequently shopping while waiting at the school gates or in any fragment of time available.
The launch of 4G internet connections on mobile devices and the imminent full launch of Wi-Fi on the London Underground is making targeting shoppers on the move easier.
Tesco launched a Commuter Zone on its website last month offering products and delivery options suitable for shoppers on their way to and from work and has click-and-collect available across the bulk of its estate on food and non-food.
Which begs the question – what are Sainsbury's and Morrisons doing in this area? The former has acknowledged that shoppers are time poor – trialing a Mobile Scan & Go app and is allowing shoppers to collect orders in its Sainsbury's Local and main stores. However, this does not extend to its full estate yet. Morrisons, meanwhile, is not even on the start line with just a small transactional online business.
Mintel retail director Richard Perks says: "The important thing is that people experiment. Online is a small but important element of grocery and no-one knows where it's heading. However, collection options are customer service initiatives not money makers.
"It is clearly an advantage to be a first mover in this area, Tesco demonstrated that by taking the lead in online shopping. However, the onus is on trying out different options as good ideas soon become industry standard."
However, logistically getting it right is far from straightforward. The challenges when shoppers don't pick up their orders immediately; of storing food that needs to be chilled in third party locations and fulfilling orders rapidly – Asda is looking to launch same day deliver next year – make online fulfillment far from straightforward.
Ocado chief executive Tim Steiner would argue that click-and-collect is a compromise as a result of poor existing delivery options from his competitors which do not have as accurate delivery times or updates on deliveries for shoppers as Ocado at present.
However, shoppers are voting with their feet in favouring collection, not least as it saves on delivery charges, and it appears collection is increasingly key.
The major grocers need to learn lessons both from within their own industry, where The Co-op is hosting Amazon collection lockers and services like Shutl, employed by the likes of Maplin and Aurora, are offering speedy and flexible delivery.