Which websites are leading the way in the online world? Which ecommerce sites truly resonate with the biggest experts in the field?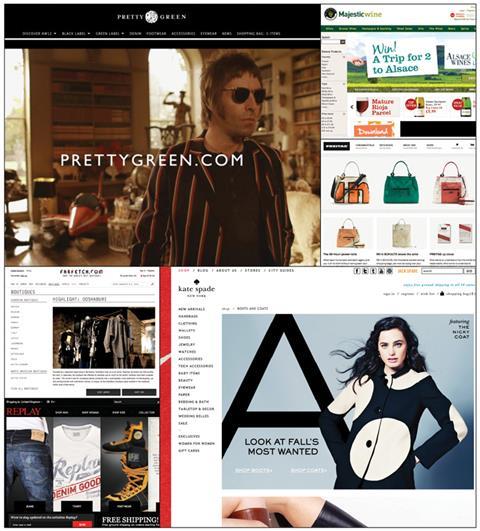 Retail Week speaks to industry leaders to find out their favourite websites and what they think makes for a great online user experience.
Kingfisher group chief executive Ian Cheshire It's not so much the website itself, which is extremely different, but how it demonstrates the way the internet allows a really good niche retailer to reach a much bigger audience than any single shop front.
Great product, great wit.
Majestic Wine chief executive Steve Lewis It combines a great breadth of product range, a simple site, the reassurance of great customer service and offers a strong multichannel service. When I bought a fridge last year, I made the wrong decision on the size but the delivery men plugged it in, let me use it and then took it away when they delivered the new one. That's great service.
Jacques Vert commercial director John Bovill I admire this site's collaboration, the personalisation of myoox, its sustainability ethos, its supply chain, its internationalisation and the fact that it provides a platform for multiple brands. When speaking to customers the site is engaged and passionate about the brand and it is rare you experience this from a pure-play.
Carpetright chief executive Darren Shapland I love the simplicity of the process, and the sheer breadth of range and value.
BrandAlley UK chief executive Rob Feldmann The images are clean and well laid out and I find the site very easy to shop. My favourite thing on the site was the Japanese store launch video. It makes good use of Liam Gallagher in its videos but without overpowering the brand image.
John Lewis head of online delivery and customer experience Sean O'Connor I admire Restoration Hardware because of the stunning product presentation. It must go to huge efforts to provide rich, inspirational, gorgeous photography.
Holland & Barrett owner NBTY Europe chief executive Peter Aldis This is a furniture retailer whose website gets as close to the store environment as ispossible. The high-quality photography and staged roomsets depict the product quality, and the sepia tones and quotes lend an air of coolness to the site. The shopper really gets a feel for the brand they are buying into. The site has all the features you'd expect, such as product details and a zoom feature. There are helpful services too, such as being able to order wood swatches.
Evans Cycles chief executive Nick Wilkinson Rapha.cc is currently one of my favourite websites. Rapha designs and sells performance cycle clothing and it does it with style. The website design detail is outstanding in conveying its brand (no dot com here, cc stands for cycle club).
But it's not just design, Rapha has also managed to create a very effective sales channel, driving growth internationally.
Feather & Black managing director Adam Black The product is excellent, the site easy to navigate, stylish and uncomplicated, but most of all the films included in the weekly emails are spectacular. It's the one email I cherish receiving (and opening) in among myriad other retail-centric content that I seem to get too much of.
Kiddicare and Morrisons.com executive office Simon Harrow I really like Reebok's search feature. It dominates the navigation, which is brave, but with good reason. It can handle real search strings, such as terms like "blue shoes", and displays the results in a wonderful visual template. It also shows products that are similar but not exactly what you searched for as you go further down the page – such as pink or purple shoes. It is brilliantly exploratory and on some search phrases it returns content such as maps and videos as well as product. The best example of visual search I have seen.
Isabella Oliver chief executive Geoff Van Sonsbeeck An excellent example of the trend towards merging commerce and content. Kate Spade has a strong brand identity, but it is the fresh approach to navigation and the impressive way in which the diffusion of commerce and content is executed and integrated with social media that pulls you into the site and makes the brand stick.
Feelunique.com chief executive Aaron Chatterley The first thing that hits you when you enter the site is the look and feel, it's totally in line with Benefit's unique and quirky branding across all media. It also has a perfect mix of content and commerce. For me the most successful ecommerce sites have a strong focus on content, as it's all about engaging customers beyond a purely transactional basis.
Matalan head of ecommerce Andrew Scott The site is very clean and slick and has a great balance between customer-driven content and clear purchasing activity. It's got unique features that make it very engaging.
Sainsbury's managing director of general merchandise Roger Burnley A genuine specialist with a huge range, fast delivery and great layout.
Shop Direct group retail director Gareth Jones The website is fantastic in its design and is so easy to navigate. It uses great customer insight, which means I am lured into buying products that I love but don't necessarily need. This, along with its tremendous customer after-care, ensures that I keep coming back to visit time after time.
Kingfisher group chief operating officer Euan Sutherland An incredibly easy to use and inspirational gift marketplace of innovative and different products.
Ann summers chief executive Jacqueline Gold This website is so unique and I love the huge range of products it offers. It's one of the first places I look when I'm after a present that's just that little bit different.
Wiggle head of ecommerce Steve Mills This year I discovered Brand Alley, which is an excellent private Sale business based on exclusive designer deals. Both the site and the mobile app are so simple to use and have clear stock information, helpful filtering and strong imagery.
Perfect for a shopper like me who wants to be inspired and tempted with anything from a shirt to a frying pan that I didn't know I needed five minutes previously. On top of that, delivery is quick and efficient, and I haven't had to test its after-sales service yet.
Dixons chief executive Sebastian James The site sells cool vintage and well-designed modern stuff. Lovely.
The Cambridge Satchel Company founder Julie Deane The Mulberry website is beautiful. It's classy, it's clean, it manages to convey the brand and really does justice to the product. There is always so much going on, from catwalk shows to production clips, yet it's kept simple. The branding is perfect, consistent yet discrete, and the layout is great – the photos and the presentation. This is the site that sets the standard as far as I'm concerned.
Sainsbury's retail director Helen Buck It's easy to book flights, hotels and get customer views.
Jojo Maman Bébé chief executive Laura Tenison Skyscanner.net is nearly as good as a travel agent – although not quite.
I really miss having a person to talk to when I book holidays, but a least with Skyscanner the search parameters allow you to reduce the time spent looking for a flight to that elusive destination, and one search is generally all it takes.
Pretty Green head of digital Tim Kalic Always at the bleeding edge of technology and it delivers one of the best online brand experiences ever.
Kiddicare chief executive Scott Weavers-Wright I really like this US website. The customer journey is excellent and content is king. The quality of images and the overall image content means that it's very much a high-quality browsing experience.
Asda Direct trading director Frazer Locke The site is simple to navigate and I can find my size and style very easily. The assortment of products – especially branded – is very compelling and competitively priced.
It offers a 'no quibble' free returns service through Collect+. This is key in an industry that can require ordering more than one size of a product.
It also offers a free click-and-collect service, so I can choose how and when I'd like my products delivered.
Dobbies Garden Centres chief executive James Barnes The Crocus website is a good one in our industry. It's as much about look and feel as information provision.
The navigation is also very good.
Voisins managing director David Elliott I like White Stuff for its innovation and the way it gets across the quirkiness of the brand. It's different in a way that keeps you interested rather than being predictable.
The Entertainer buying director Stuart Grant I use it personally because it always offers great deals, but I also use it to find out what my competitors are doing.
Mywardrobe.com chief executive David Worby This website [a luxury online magazine from LVMH] understands we are all busy people, and it knows that as humans we align ourselves to things that make us feel good about life, opportunity and ourselves. So every day it gives you something that's designed to make you reflect, dream or even inspire action. No sell, no commerce, no links – just uplifting thoughts.
Fat Face chairman Alan Giles This long-established Leicestershire garden centre focuses on barbecues and garden furniture and delivers expertise, friendly service and great discounts. Its website has given this local secret national reach and is an inspiring case study for any independent retailer.
Snow + Rock group marketing director Kevin Young I've been a fan of this retailer from Cardigan Bay for a long time, some may say too long. Most of my jeans and T-shirts have a Howies label.
It makes simple, good-quality jeans and they fit me. I also like the feel of the brand and relate to a lot of the themes it uses, like active sports and cycling. I find the site navigation transparent, and I don't really notice it. I just find the content I'm looking for and punch in my credit card number. I like its brand values and the way it manages to convey them across the whole site.
Schuh head of ecommerce and customer services Sean McKee This website is utterly on brand, has a pronounced sense of itself and is a beautifully edited, aesthetic experience. The current seasonal video content, where you can shop the scene for key looks, is very well done. For all the prettiness, Ted is still easily navigated, clearly signposted and (albeit aspirationally) mainstream. It's a properly commercial site offering a great mix of services including click-and-collect and web chat.
Tesco clothing chief executive Terry Green The Hut immediately comes to mind because of its attitude towards the customer and general dynamism. You may say that I'm biased because I'm an investor, but it's precisely its business model – multiple brands, all on one super tech platform – that got me investing in the first place.
Cash Converters chief executive David Patrick Wonderful product to look at and the site itself is easy to navigate and has never let me down. Quality retailer, quality website.
Iceland founder Malcolm Walker I may be a little bit biased because this is my daughter's website but it's a great organic offering that includes food and skincare as well as lots of useful information.
New Look group sourcing and menswear buying director Philip Walker This is a really cool website offering great product and it allows me to get something that's not yet available in the UK.
Lakeland marketing director Tony Preedy The quality of execution is inconsistent, particularly the video presentations, but overall it is a source of inspiration for all homewares retailers, particularly kitchenware specialists such as Lakeland.
Blue Inc chief executive Steven Cohen This is a very funky fashion website that has lots of great imagery which, being very raw, matches the brand perfectly. The experience makes you feel like you are going into the store.
A Suit That Fits co-founder Warren Bennett This website offers really individual bags. I especially like the From Truck Till Bag as each is unique. You can easily navigate the site by choosing an occasion the bag is for and the style you're after.
Nakedwines.com co-founder Ben Hopkins While I use a couple of websites for buying clothes, Boden has got it right when it comes to ecommerce ease of use. The website's navigation is great, 'mini Boden' in particular is always exciting, and the best feature by far is that you can enter your sizes once, and as you browse the site it will tell you current stock levels in your size. Offering something you can't get in store is what it's all about when it comes to good ecommerce.
Bathstore chief executive Gary Favell Sofa.com is the place to find exceptionally well-made, stylish furniture, customised just as you choose. It allows for easy browsing and secure online purchasing from a wide variety of product ranges. Combining simple aesthetics, quality imagery and contemporary graphics, the site is well designed, modern and easy to navigate. The page is a refreshing change in today's digital market and successfully makes a typically mundane task enjoyable.
French Connection director of marketing William Woodhams If you want something for your home, it trumps everyone else. From usability to delivery speeds, it's all there.
Harrods managing director Michael Ward Finding a website when I am surrounded by the most beautiful and exceptional merchandise is difficult. Being but a stone's throw away from the office is more effective than a website. I find my only visits to the internet are to look for classic cars so I would nominate www.pistonheads.com.
Pets at Home multichannel director Matt Stead My favourite websites change on a regular basis. At the moment I have two – Twitter and Majestic Wine. I love the simplicity of Twitter and think it came of age during our summer of sport. Majestic Wine has done a good job on localisation and bringing the stores to life online, with local social media links from the stores.
Waitrose ecommerce director Robin Phillips Lovereading.co.uk is a really useful site to help inspire you to choose your next book. It features authoritative reviews from professional book critics with free downloads of the first chapters of featured books. The section for kids is a useful weapon to get your children away from games sites.
Oasis deputy managing director Hash Ladha An exquisite shopping experience. Clean and easy to use but aspirational. It makes you feel like a globe trotter shopaholic but you don't even have to leave your sofa. I love the information on product and the boutiques and the overall experience, including free global returns. Simply amazing.
Hawes & Curtis owner Touker Suleyman Reiss.com demonstrates an exciting and innovative approach to website design – a stimulating variant on the conventional archetype we have become accustomed to. Its move away from traditional configuration and layout is refreshing and contemporary. Reiss has also cleverly acknowledged that online shoppers are savvy and can easily navigate their way around a site that is creatively designed and breaks the predictable paradigm that others follow.
Topshop chief marketing officer Justin Cooke Apple has the perfect balance of online and offline. You get the same feeling when you are on its website as when you walk into store. Everything is so easy to find and laid out in a simple way that makes you want to purchase. I love the fact that you are encouraged to just spend time in its store, surfing online and so on, and in doing so you almost always make a purchase because you feel at ease. Its website reflects that, with engaging content, tutorials and more that keep you immersed in the brand.
Practicology chief executive Martin Newman Modcloth is a truly social brand. It leverages its community and existing customer base better than just about any other online retailer I know with its 'be the buyer' feature. Encouraging customers to feed back on products it is thinking of selling in the future drives a significant uplift in sales.
Made.com chief executive Ning Li Nakedwines.com is a website that offers fantastic value and quality wine to consumers by stripping out the middlemen between wine makers and shoppers. Wine drinkers get better wine for less money from this site, and it allows wine makers to focus on what they do best – making great wines. This website offers the best of both worlds.
Asos IT director Dan West A seamless experience across any device, rich in data and highly configurable, so personalised to my preferences.
Waitrose head of online commercial Nick White The site provides a great experience across all devices, has a huge wealth of data, makes good use of social media and has cleverly integrated the commercial element via subscribing to hidden content and betting opportunities.