For any retailer, taking a step back and giving the business a multichannel makeover can be a valuable exercise. Glynn Davis examines retailers' strategies for improving their operating models.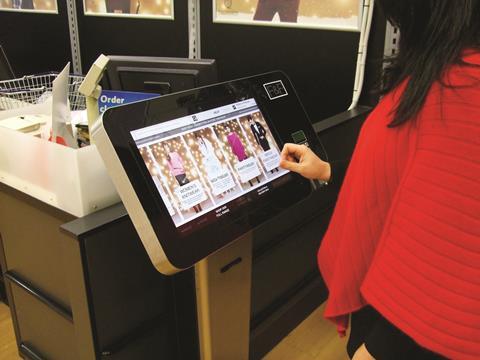 Retailing is becoming ever-more complex. Most traditional retailers have barely got their heads around the concept of a fully integrated retailing model, let alone how to ensure it boosts customer loyalty and brings about all-important financial returns.
But irrespective of the retail sector and store portfolio, what is essential is the delivery of a consistent message and experience across the business. Regardless of a retailer's scale or stage in the multichannel journey, there is always scope to give a business a multichannel makeover to deliver a sophisticated seamless shopper experience across the whole operation.
Fundamental to this is operating a single underlying platform that can take into account factors such as customer data, payments and visibility of stock. Only then can retailers offer click-and-collect, handle returns effectively and fully take advantage of business intelligence.
Mark Williams, director of retail for technology firm Mastek, says: "Customers want to order from any point, so it's very important to have a single view of the data. A number of the leading retailers, including M&S and John Lewis, are trying to get these single views but it is an enormous challenge."
Knowing precisely where stock is located across a business enables retailers to offer in-demand multichannel
services such as click-and-collect. This is being implemented across all store types and is, according to Terry Duddy, chief executive of Home Retail Group, a major differentiator for multichannel retailers.
At the BRC Retail Symposium in June, Duddy said: "Home delivery has limited headroom for growth. Store delivery is what people want. It is fulfilment that will be the differentiator." In terms of click-and-collect, it is particularly valuable to convenience stores because it is a key way in which they can undertake a multichannel makeover.
Neil Ashworth, chief executive of Collect+, agrees: "Their [convenience stores'] multichannel credentials are their convenience. We therefore need people who can optimise their stores' locality." Collect+ does that with its click-and-collect service, which enables the customer to collect goods ordered online at a local convenience store.
The average annual gain by a convenience store through offering such a service is £2,700 - £2,000 of that comes from the additional purchases made by customers collecting goods, while the remaining £700 is paid by Collect+.
Click-and-collect is not only useful for goods ordered from home, but also those purchased from in-store devices such as kiosks. Although widely regarded as a temporary solution that will ultimately be overtaken by customers using their mobile devices in store to buy products, kiosks are enjoying a buoyant period.
They represent a vital part of the makeover strategies for both high street and out-of-town store operators. On the high street, retail technology firm Wincor Nixdorf is working with Marks & Spencer to extend the range of products in its stores by using browse-and-order kiosks.
Martin Smethurst, retail manager for EMEA at Wincor Nixdorf, says: "Although [some of M&S's] high street stores might be small they can have the entire range in each of them as these devices can help give them a limitless range."
The technology is being rolled out to hundreds of M&S stores as the retailer has found that "[if] customers can see part of the range in store they'll order different sizes from kiosks as well as items from the rest of the range". The goods can be ordered from the devices for home delivery or picked up via click-and-collect at any M&S store using a credit card.
The out-of-town route
Out-of-town stores are also proving fertile ground for kiosks, where they are helping retailers boost their multichannel credentials.
Matt Atkinson, chief marketing officer at Tesco, says the grocer has recognised that technology - including in-store kiosks - is the key enabler that will be used to create a seamless blend between stores and the group's other channels.
Tesco is piloting kiosks for its F+F clothing range in three large outlets that enable the customer to order sizes and colours that are not available in store and then select either the click-and-collect or home-delivery options.
DIY retailer B&Q has also been expanding its offer, introducing kiosks at the start of the year. Smethurst says: "They [kiosks] optimise space in store, can generate business from out-of-stocks, and they can be used to show 'how-to' videos that can be emailed to the customer."
Making over its large stores for relevance in the multichannel world is a major plank in Tesco's UK strategy. To this end the grocer has been introducing a drive-thru service at a growing number of stores - currently 150 units - with demand, according to Atkinson, "substantially exceeding our expectations".
Such services have also been recognised by Asda as a key multichannel component of its larger stores. The grocer has introduced a drive-through at its York shop and intends to offer the service at every one of its superstores by 2015.
Daniel Lucht, research director for retail analyst Research Farm, says all the major grocers are looking at such services because the space in their larger stores enables them to easily hold stock for collection of goods ordered online and even for subsequent distribution to smaller stores. "Their large stores could play a huge role in fulfilment.
Unlike Amazon, physical retailers have the advantage of using their out-of-town stores as alternative warehouses for fulfilling online orders for collection at their smaller stores. There is also an opportunity to hold other retailers' products for collection," he says.
Thinking locally
For large out-of-town retailers the multichannel opportunities are greater than for smaller high street retailers, which often have limited resources and no online presence.
Hubbub may be one potential solution to this. The service provides small independent food retailers with an instant web store, an iPhone app, and a delivery infrastructure. Hubbub founder Marissa Leaf says: "They [small retailers] need a web platform but they are simply not set up for this - never mind the costs of dealing with fulfilment, refrigerated vans and drivers."
Although the app has just been launched, Leaf says the frequency of orders has increased and the times of day when orders are placed has been stretched, highlighting how mobile must be embraced by retailers if they want to maximise the multichannel opportunity.
Mobile's multichannel capabilities are immense and it will be a key tool in any multichannel strategy. On the high street Argos has introduced digitised paper catalogues into stores on a trial basis, enabling customers to scan pages to view demonstration videos and additional product information.
Argos digital director Bertrand Bodson says: "We've been able to build a bridge between our physical publication and the digital world. The technology allows us to springboard users from the catalogue to our extended check-and-reserve range online and to purchase products."
Improving a multichannel offer is no mean feat. The channels are now so interlinked that unless careful consideration is paid to all of them when improving a bricks-and-mortar store's multichannel components, return on investment will be jeopardised. Get it right, though, and it will propel a retailer forward significantly in the journey to multichannel success.
Multichannel makeovers in 2013
JANUARY
Spar becomes the latest retailer to introduce Amazon collection lockers in nine of its stores.
FEBRUARY
Marks & Spencer creates a specialist unit to experiment with and develop retail technology as part of its long-term aim to spur innovation.
MARCH
Wine warehouse Majestic Wine hires multichannel consultant Javelin Group, which begins work on a website relaunch featuring localised ranges and improved customer recommendations.
APRIL
Footwear retailer Dune trials in-store kiosks and iPads featuring localised apps for three stores in London, Manchester and Gatwick Airport.
MAY
Selfridges rolls out click-and-collect, and online orders made before 4pm can be collected the next day in store. The retailer reveals plans to launch a drive-thru click-and-collect service at its flagship store in 2014.
JUNE
Bathstore tests a new small-format branch in Harrogate with in-store screens. Asda introduces transactional kiosks so shoppers can browse a wider range of non-food products via its website in 20 stores.
JULY
Argos launches catalogues that guide shoppers to interactive content on their smartphones as it continues on its multichannel march.
AUGUST
John Lewis trials an online personal shopper service for womenswear after staging an internal competition for innovative technology-led ideas.