As mobile technology continues to influence the virtual and physical shopping experience, Jon Severs looks at how retailers can prepare for the mobile revolution.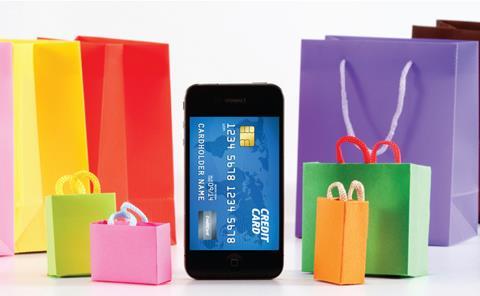 As the smartphone or tablet screen becomes, as one expert put it, "the most important real estate in retail", the scary truth is that most retailers are woefully under-prepared.
"Across retail there is a real problem when it comes to mobile," claims Vince Russell, managing director of high street wi-fi provider The Cloud. "A lot of retailers still don't even have a website optimised for mobile platforms. They are effectively just throwing sales away."
Smartphone penetration in the UK has now reached 48.4% of the population, according to the European Travel Commission's New Media Trend Watch. Meanwhile, global tablet sales in the first quarter of 2013 were higher than in the entire first half of 2012, with 49.2 million units shipped, according to the International Data Corporation.
Research from Shoppercentric found that many of these buyers want to use their device for retail purchasing - 37% of 18-24-year-olds and 38% of 25-34-year-olds have made retail purchases via their mobile platform, according to the findings.
Rewards for early adopters
Early investors in mobile from the retail sector have reported success. Argos' mobile sales rose 114% in the four months from March to June 2013, compared with the same period last year, while Marks & Spencer reported that in its first quarter there was a rise in digital sales - online and mobile - of nearly 30%. Ocado, meanwhile, reported that 28% of its checkouts now occur on mobile platforms, either through apps or via its optimised website.
Argos attributes its success to a number of factors, among them the "excellent fit" of mobile with the Argos business model, because it enables shoppers to conduct the pre-collection element of the sale while on the move away from the store. But it says a consistent customer journey has been key.
"Mobile sales now account for about 15% of total sales," reveals Bertrand Bodson, digital director at Argos. "A consistent purchase journey whatever the channel the customer chooses has been important [in this growth] as customers say they always defaulted to desktop-based web before as they worried about missing features - with us this is no longer a worry."
M&S head of new channels Benjy Meyer agrees that the customer journey is a crucial element of success on the mobile platform, and says it was also a key driver behind growth.
"The consumer might look at an item on their mobile on the bus to work and add it to their basket, but not buy. When they get to work and log on to their PC they expect to find that item in their basket," he explains. "You have to provide this joined-up journey."
Boosting in-store sales
There are many ways in which retailers can enhance customers' mobile experience in store, according to Neil Ranatunga, head of mobile UK and Ireland at technology marketing firm Tradedoubler. "This could be through wi-fi triangulation for in-store navigation, mobile strategies for queue-busting customer service or remote access to stock information," he explains.
Martin Smethurst, retail manager EMEA at workflow consultant Wincor Nixdorf, argues that staff too should be armed with mobile devices. "It would enable them to extend the lines," he says. "You can have staff armed with tablets offering colours and sizes beyond what is in stock and arranging to have that product sent to store or the person's home the next day. It is about not letting that sale escape."
Staff armed with tablet computers are an increasingly common sight. M&S, Schuh and Apple are just a few of the retailers providing staff with the same tools as customers. Coast, Oasis and Warehouse have also introduced wi-fi to their stores to enable the roll-out of iPads across all of their UK and European stores.
Yet it's not just in showcasing extended ranges that tablets are being put to use by staff. At Coast, Oasis and Warehouse stores, iPads will act as transactional point-of-sale systems to help reduce queues, perform some marketing functions and improve customer information on products. Smethurst says they should also be used to improve staff knowledge of the competition.
"Consumers are likely to be more informed about the products and the competition than the staff, because they have the internet in their hands to do the research," he explains. "So you need to arm the staff so they can do the same, enabling them to build an argument as to why their store is a better bet for the purchase, or to enable some bartering around the price from an informed, real-time position."
If retailers get their mobile strategy right the rewards will be substantial, but if they get it wrong they could be driving customers away.
Offensive strategies drive sales
In the current trading environment, retailers' mobile strategies might be effective, but they lean towards the defensive in the sense that they're designed to retain customers and ensure they come back. Some argue customer acquisition through offensive strategies is just as critical. "Retailers need to be using it to develop both defensive and offensive strategies to protect and grow their revenues," says Tradedoubler's Ranatunga.
M&S is doing exactly that, and proactive strategies are key to its mobile success. For example, consumers can now scan barcodes in store to get customer reviews of whatever they are looking at. "This works really well on a bottle of wine or a beauty product - where customers are really keen to get the objective feedback and views of their peers," says Meyer.
M&S also targets mobile marketing around events or products that originate the most mobile trade. For example, the incoming new school year has seen parents take to their mobiles to buy schoolwear and so mobile marketing strategies and promotions have been targeted at that market.
Ann Summers, meanwhile, has also gone on the offensive. It toyed with mobile app marketing last year in the form of a BlippTease app, which enabled users to virtually 'try on' products by choosing an outfit that would layer on top of the phone camera view. The user could then take a picture of themselves 'wearing' it.
Examples like these are still, however, in the minority. Gavin Masters, head of ecommerce consulting at Maginus, believes even these examples don't go far enough. "The ability to geographically pinpoint where a customer is browsing from and tailor content for someone who is near a store, or a competitor's store, actively pushing content to an app for offers and vouchers, provides fantastic opportunities for contextual marketing and communications," he says.