Fulfilment of online orders has become a fiercely fought battleground as retailers tussle to entice customers in a crowded market. Laura Heywood finds out what new weapons are being deployed.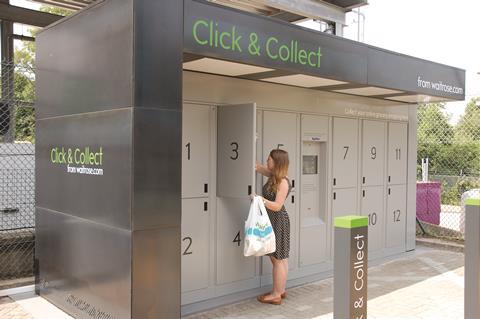 Battle lines are constantly being redrawn in the fight for supremacy in the online fulfilment war.
The advent of innovative fulfilment options such as temperature-controlled collection lockers, drive-through collect services, independent click-and-collect points and same-day delivery are dramatically altering the rules of engagement for retail's biggest names. But is it with these weapons that the battle will be fought, or are there entirely new fulfilment strategies lurking in the rear that could turn the fight on its head?
As all the major multichannel retailers ramp up their investment in collection points, it's easy to foresee a time when convenient collection will be as big as delivery in the online fulfilment war.
"A 'win' for our customer base is about delivering genuine convenience of fulfilment," says Andrew Livingston, chief executive at Kingfisher's trade business Screwfix.
For Screwfix, the click-and-collect battleground "is very much dependent on the specific marketplace and the customer needs of that particular sector", says Livingston. The retailer's trade customer base doesn't just need a static delivery point, "they are on the move and in between jobs, so they also need the flexibility to pick up products while out and about".
Click-and-collect enables Screwfix's customers to check that products are in stock online on their desktops, tablets or mobiles, and then collect just five minutes later from a store near to wherever they may be working on a particular day.
They can also order goods throughout the night and pick them up after 7am, before they start their working day.
Click-and-collect is a weapon in the online fulfilment war that's here to stay, believes Dean Wyatt, vice president of business development retail at DHL Supply Chain. "Consumers are still excited by the in-store experience, even if they want the convenience of a pre-packaged purchase," he says.
The click-and-collect advantage
Retailers leading the way in click-and-collect include Argos, John Lewis, Ikea and Marks & Spencer, according to Wyatt, who says "the common thread running through all these retailers is that they offer the consumer a choice in terms of sales channel, and consumers can tailor the final mile based on their needs".
Click-and-collect is "one of the biggest advantages bricks-and-mortar retailers have over pure-play giants such as Amazon," agrees Michael Turcsanyi, president at ecommerce platform provider OrderDynamics.
And it's a fulfilment solution he predicts will continue to grow in influence and reach. "As retailers continue to merge online and in-store channels, it's likely they'll look to their local stores to help reduce costs in shipping web orders from store or offering click-and-collect-style options to consumers," Turcsanyi says.
Waitrose, Asda and Tesco are also among those investing heavily in ways to make it easier for shoppers to pick up goods ordered online.
Asda says its click-and-collect drive-thru service in York has led to a 20% increase in shoppers visiting the store, while click-and-collect accounts for 36% of all first-time online shops, helping it to increase market share. The grocer's collection points are proving so popular with shoppers that Asda would like to introduce drive-thrus to every store by 2015.
Andrew Dalziel, vice-president of product marketing at supply chain software provider Kewill also identifies click-and-collect as the next major battleground: "Click-and-collect options offer more flexibility by allowing the customer to choose where and when their parcel should be delivered and ready for collection," he says.
Dalziel believes the emergence of local delivery and pick-up points in locations other than stores, such as petrol stations and railway stations, will be game-changing not only for the retailers who offer the service but for the logistics end of the supply chain. "There may also be variations in what type of logistics service providers deliver to these delivery/pick-up points, opening up new business opportunities," he says.
But being able to offer customers a single checkout trolley is crucial when offering click-and-collect services, Livingston maintains. He says it's vital that a customer can begin their transaction from anywhere, whether online at home, via a mobile site, over the phone, or in store. The order can then be completed by the customer via their channel of choice and dispatched to a home or business address, direct to site, or collected from a local Screwfix branch - "giving customers a quicker, clearer and cleverer shopping experience".
Livingston adds that Screwfix has earmarked investment to put towards the technology behind click-and-collect, especially for mobile and tablet devices, in a bid to make it even quicker and easier for its customers to browse and order.
Delivering on delivery options
IMRG research shows that 43% of customers look at delivery options before purchase, so delivery is one of the most important parts of the supply chain to get right.
But according to Stuart Miller, co-founder and chief executive of logistics and supply chain management company ByBox, click-and-collect points in stores are a flawed delivery option: "Many retailers are opting for click-and-collect services with the aim of providing customers with a way to collect online orders from a nearby store. However, this strategy is limited in scope - the customer will often have to travel out of their way to pick up a package and is restricted by the opening hours of the store," says Miller.
"Click-and-collect is already beginning to become the minimum standard for large retailers, so is unlikely to be the next major competitive differentiator for retailers. This is reflected in some brands already looking towards new solutions which offer an even greater flexibility for the consumer," he says.
Waitrose is piloting temperature-controlled lockers at its head office before rolling them out next year to other locations in and outside stores, tapping into the demand for a 24-hour service that fits collection time around the customer.
Through locating lockers at remote collection points, Waitrose is extending its reach and customers are able to collect deliveries outside store opening hours.
Daniel Lucht, research director at retail analysts Research Farm, says the lockers enable high-footfall locations such as railway stations to be targeted, which extends the multichannel offer of retailers to beyond the confines of their store estates.
Miller adds: "With brands as big as Waitrose now seeing the potential, and following in the footsteps of other giants such as Asos, locker technology and independent pick-up points will be the next battleground in fulfilment."
But it's not just the biggest names in retail that can use collection lockers and independent click-and-collect points to their advantage.
Smaller retailers are nimble enough to innovate and provide an agile service, sometimes even more so than the bigger players, believes Miller.
"Customers are familiar with the pains of missed deliveries and in a competitive marketplace the retailers succeeding are those which provide a reliable service. Retailers such as Jokers' Masquerade and Figleaves.com have been able to incorporate locker solutions and boast a 100% delivery success rate, 365 days a year. This is attractive to today's consumers who rightly expect a quick and efficient service that fits around their busy lives," he says.
There are others who also believe the scope and potential of click-and-collect will reach a natural cap. According to Matthew Rubin, an analyst at Verdict, the growth of click-and-collect will be tempered by improvements to other fulfilment options.
While click-and-collect growth will be rapid, it will still only account for about 8% of online sales in 2018, and just 1.2% of total retail sales in the UK, research by Verdict shows.
"Home delivery companies and pure-play online retailers are monitoring the development of click-and-collect and are reacting accordingly. They are looking to offer collection points at convenience stores and lockers, same-day delivery, narrower delivery time slots, and improved tracking and updates of estimated delivery times," Rubin says.
Efficiency through collaboration
Rather than pinpointing one area where the battle for online fulfilment supremacy will be won or lost, offering customers a range of convenient options for how and when to receive their items is crucial, according to Jeremy Fennell, ecommerce director at electricals group Dixons.
"This is why we offer Reserve & Collect and Pay & Collect, as well as a range of delivery options including next-day delivery, where we have just extended the cut-off time to 10pm for next-day delivery of large items," he says.
For Fennel, the future of online fulfilment will be in "providing the best seamless offering across all platforms, ensuring customers receive great value, convenience and expert advice".
"That's why our colleagues are able to browse our extended range of online products in store with our customers and store teams are incentivised for sales across all platforms, so we can truly operate in a multichannel way and ensure we are offering customers the best option for their needs, no matter whether they buy online or in store," he says.
Dixons' decision in June to extend its big-box delivery service so that customers can order up until 10pm for next-day delivery and installation has resulted in "significant" year-on-year sales increases, according to Fennell, while its repairs service has also increased in popularity, with 600 engineers completing more than 2,000 repairs nationwide a day.
Last month the retailer launched a same-day delivery service for small boxes, which means any order made before 9.30am will reach shoppers the same day between 6.30pm and 10pm. It is also launching an improved next-day delivery service and a Sunday delivery for small boxes, working with Royal Mail Courier Service.
Like Fennell, Mark Catley, head of ecommerce development at Norbert Dentressangle Logistics UK, forecasts there will be multiple battlegrounds in the future "and a greater degree of task separation within the supply chain process".
"As online continues to grow, more partners will be required across all fulfilment activities. Efficient management of those partners, with clear task separation, responsibility monitoring and overall co-ordination, will become critical," he says.
Catley also believes that collaboration between retailers will play a much greater role in future fulfilment models.
"Whether this is through pure-plays using established store estates for click-and-collect services, shared warehousing and dispatch facilities or consolidated collection and drop-off points, these all give opportunities to reduce costs and improve the consumer experience," he says.
As the retail industry becomes more proficient in the online shipping process, fulfilment will become even more cost effective, Catley predicts. "In many cases we are already seeing costs driven down significantly and more value created through developing supply chain models. The consumer will dictate what they are willing to pay for and what they perceive as service and value," he says.
Delivery has always been the most fiercely competitive part of the supply chain, but new developments in fulfilment solutions are moving that battle on at a rapid rate. With an arsenal of new weapons in their possession, retailers are rewriting the rules of engagement and getting products to consumers more quickly and conveniently than ever before.
Analysis: The 7 biggest multichannel stories of 2013
1

2

3

4

Currently reading

Analysis: Battle lines redrawn in online fulfilment war

5

6

7

8