As a big summer of tourism approaches, Alison Clements finds out why the UK has such appeal to international shoppers, what they like to buy and how retailers can attract them.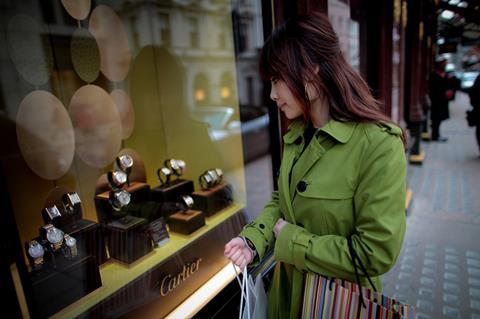 In Knightsbridge, Chinese shoppers are busy snapping up Prada skirts and Gucci dresses, while on Bond Street, luxury watches are the order of the day. Over on Jermyn Street, Americans are splashing the cash on shoes and shirts – and it's a similar story across the UK, as non-EU tourist spending grows 34% last year.
Much of the growth is being fuelled by international shoppers from China and Southeast Asia, including Singapore, Hong Kong, Malaysia and Thailand. "These tourists are increasingly targeting the UK as a place to spend their growing wealth," says Richard Brown, vice-president of Global Blue UK, which tracks spending by tourists from outside Europe.
So why have tourists become so important to UK retailers? At a time of domestic austerity, they've provided a much-needed boost to retail and can aid international expansion by stoking brand awareness. With the Diamond Jubilee and Olympics round the corner, now is a better time than ever to make sure retailers know how to target them.
The good news is that a little effort is likely to go a long way. The average tourist transaction value rose 20% in 2011 to £747 and Brown says it's a lucrative market. "Retailers find the average transaction value from non-EU visitors can be up to four times that of a domestic luxury goods purchase," he says.
But while tourists are queuing up to buy British brands, retailers complain of some barriers – Harvey Nichols boss Joseph Wan, Harrods managing director Michael Ward and Selfridges boss Paul Kelly have hit out at visa restrictions and bureaucracy stemming the flow of Chinese visitors. Those hoping to visit the UK must apply for a special visa, which involves completion of a 10-page form and requires a personal visit to one of 12 application centres in China.
Bureaucracy notwithstanding, many brands have been hot on the heels of tourists for some time – they're a core consumer group for retailers such as Burberry, for instance. The luxury giant has a strategy of focusing on 25 flagship markets across the globe – including Hong Kong and London – and one of the key attributes of these cities is a strong influx of tourists. The retailer says it operates on estimates by experts that around 50% of luxury sales in Europe are to tourists and it uses its British image to attract them. Burberry's new Regent Street store will more than triple its selling space from 8,000 sq ft to 25,000 sq ft, with the store due to open in time for this summer's Olympics.
Burberry isn't the only retailer that already targets tourists. Selfridges provides signage in Chinese and Arabic for certain fashion concessions and has Mandarin and Russian-speaking staff on hand, while at Harrods, multi-lingual staff wear badges that show the flags of the languages they speak. Harrods, Selfridges and others also accept UnionPay, which is China's most popular bank card, and some retailers offer schemes such as Smartax for non-EU shoppers to claim back VAT.
And it's not just luxury labels which benefit. Any retailer with a quintessentially British brand, such as shoe retailer Clarks, is likely to do well. "Brands that have British provenance appeal to overseas visitors," says Tom Rees, senior travel and tourism analyst at Mintel.
Nobody does it better
The UK appeals to tourists, Brown says, for a long list of reasons. Young, rich, brand-obsessed Chinese shoppers want products not available in China so they can stand out from the crowd at home, and many are also keen to avoid high Chinese taxes. China now accounts for a fifth of non-European shopping in the UK and its spend was second only to the Middle East in the first quarter of this year – nationals from Kuwait, United Arab Emirates, Qatar and Saudi Arabia are the big spenders from the Gulf. Rees notes that for the last few years, exchange rates have made UK prices cheaper for overseas customers.
As the growth figures show, making tourists welcome is worth it. Sales from Chinese visitors rocketed 64% during 2011, and have continued at roughly that rate of growth in the first quarter of 2012 according to Global Blue. Sales from Qatari visitors are up 100% in the first quarter of 2012, and from Kuwaitis sales grew 37%. Russians are still important luxury goods customers, with their spend up 16% in the first quarter of 2012. "Nigerians are also very keen to spend in London, and in ninth place Americans are still well worth catering for," says Brown.
Martin Musker, Smartax Network sales director, says on average shoppers from the Gulf spend £1,718 per transaction in the UK. "We expect this to continue, notably during the summer as Middle Eastern shoppers move to London to avoid the desert heat."
While London attracts a huge proportion of tourist spend, other UK cities benefit too. Edinburgh, York and Bath are all popular, and Bicester Village in Oxfordshire has become a key destination for bargain-hunting tourists. The discount shopping village houses dozens of high-end brands and attracts shoppers from across the globe. Total tax-refunded sales generated by non-EU visitors in February 2012 were up by 48% compared with the same period last year, and China and Russia were the two largest contributing markets.
Sylvie Freund-Pickavance, business director at Value Retail, which owns Bicester, says retailers need to create an experience tourist shoppers will enjoy. She says: "The combination of retail and tourism is extremely powerful. We recognise that tourists aren't interested in simply acquiring stuff. They want positive shopping experiences to remember and share with their friends and family when they return home."
Retailers that want to net tourist spending need to create a welcoming atmosphere, and this often means staff training. Aurum Holdings, owner of the Goldsmiths, Mappin & Webb and Watches of Switzerland brands, says understanding international shopping habits is important and training can help. Marketing director Ruth Benford says: "All our teams have a high level of cultural awareness." It trains its staff in everything from 'Chinese culture awareness' to the 'Arab buying experience'.
The perfect target
Marketing experts says more UK retailers should make these efforts. Allyson Stewart-Allen, managing director of consultancy International Marketing Partners, says: "It's really worth knowing how nationalities respond to different selling techniques, and what cultural anomalies to be aware of."
Wealthy Americans demand attention and personal service, and expect to be 'sold to'. Chinese people like a friendly approach and don't like to be kept waiting. It is easy to offend Middle Eastern visitors by asking questions deemed too personal, or using the wrong hand gestures. For instance, 'thumbs up' is considered to be an obscene gesture.
Stewart-Allen says high-spending tourists love the romance and history of luxury British brands, and will want to know the 'brand story' of British names such as Mulberry or Barbour, Thomas Pink, Penhaligon's and Church's shoes. She recommends plenty of signage and foreign language brochures in stores to provide insights into brand heritage to maximise sales.
Knowledge of key tourist holidays is also useful, says Brown. "Last year we saw a spike in sales around Ramadan with sales from Middle Eastern shoppers increasing 31% year-on-year in August," he says. 'Golden Week' in October is a big holiday for Chinese visitors, and Brazilians splash out during Easter.
It's also worth proactively recruiting wealthy international shoppers at the point of sale for future email communication. "There's a natural customer progression from having a good brand experience while on vacation to embarking on a future relationship with that brand," says Stewart-Allen. "It would be remiss not to build up a database of these high-spending shoppers."
A database of tourist shoppers would no doubt be useful – they have become a crucial part of UK consumer spending. Retailers that have cottoned on to their value will find them a helpful boost in a difficult consumer market.
Getting to know your shoppers
Middle Eastern
Shopping is the favourite activity of visitors from United Arab Emirates with 56% including shopping on their trip
Present-buying for friends and family is a cultural norm, and VIP treatment is popular
82% of UAE travellers are aged 25 to 54, and 66% are male
Consumption rises sharply just before and after Ramadan, which usually occurs anywhere between mid-July to early September
Chinese
Around half of Chinese holiday visitors to the UK go shopping
Luxury branded goods in UK stores are guaranteed not to be fake so are popular purchases
86% of China's affluent are under the age of 46 with 22% under 30
There are only 50 million credit cards in circulation in China so many shoppers use cash
Russian
Russians are very status-oriented and are prepared to pay but expect high service standards
60% of Russians shop when visiting the UK
The Russian luxury traveller is typically a young, businessman, with an average age of 44
If money was no object, 38% of Russians would choose Christian Dior, followed closely by Versace and Prada
Russians respond well to politeness, willingness to help and attention
Source: Global Blue