Will Harvey Nichols' mobile-only loyalty scheme pay dividends or will it prove a bridge too far even for today's rapidly evolving consumer?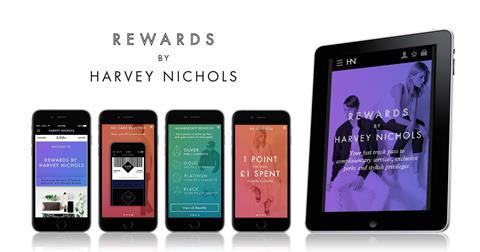 There is no doubt the pace of smartphone adoption in the UK has been astonishing, but it takes a brave retailer to eschew a card when it comes to its loyalty scheme.
Luxury department store retailer Harvey Nichols has bet on the future of the mobile loyalty scheme. It has launched its first loyalty programme, which is only available as an Android or iOS app.
Neal Fairfield, head of planning at digital marketing agency Razorfish, points out Capgemini research has found 77% of loyalty schemes that require customers to make a purchase in return for points failed in the first two years.
It would appear Harvey Nichols has an uphill struggle on its hands by bucking perceived wisdom that card-based schemes are the best.
However, Fairfield is a staunch supporter of mobile-based loyalty schemes because he believes that only digital loyalty schemes on mobile devices allow retailers to track both online and physical shopping at the same time.
"The success of Harvey Nichols' scheme is about getting enough people on it and learning from the data very quickly," says Fairfield.
Richard Madden, chief strategy officer at customer relationship management firm Kitcatt Nohr, believes the advantages of an app-based loyalty programme are manifold.
Perhaps the most compelling advantage for a retailer is how much cheaper such a scheme is.
Madden points out there are no mailing costs associated with an app-based scheme, for instance.
Another advantage is the intuitiveness of such a scheme for a consumer that is increasingly glued to their mobile devices.
"People are wandering around with their mobile phones and constantly looking down rather than up," says Madden. "It has become an extension of themselves."
Harvey Nichols' own research showed that over 80% of its customers preferred an app "rather than another card in their wallet", the retailer says.
Harvey Nichols group marketing and creative director Shadi Halliwell says: "Rewards by Harvey Nichols is uniquely different to competitors' loyalty schemes, firstly because it's an app, which we believe is the future of communication with our customers-instant, personalised and modern - and secondly it offers brilliant and indulgent experiences which will help our customers be fearlessly stylish."
The location-based marketing potential of a Harvey Nichols-style loyalty scheme is another key advantage.
Madden said Kitcatt Nohr is working with a shopping centre group on beacon technology that is able to triangulate mobile marketing messages within a single square metre.
This means companies will be able to use such accuracy to make loyalty apps act as a virtual "personal assistant" while in-store, predicts Madden.
When it comes to disadvantages of an app-based loyalty scheme, both Madden and Fairfield find drawbacks hard to identify.
Madden points out a "flippant" advantage of a loyalty card is that its "battery never runs out".
A physical loyalty card can also add kudos when proudly displayed in a user's wallet, while an app-based loyalty scheme is less visible.
There has been speculation that mobile apps could soon disappear as consumers get app fatigue, but Madden dismisses the notion that this will be the case when it comes to the loyalty space.
"I think consumers are already tired of having so many loyalty cards in their wallet and they are using up real space rather than virtual space," says Madden.
Madden draws on his agency's time working on the launch of Starbucks' mobile loyalty app in the UK by pointing out that after the launch "a lot of people junked their plastic card".
If people are prepared to throw away their cards in favour of having a mobile only loyalty scheme, then it would appear Harvey Nichols is on the right track.
However, Fairfield sounds a note of caution before encouraging retailers to join Harvey Nichols by jumping into mobile loyalty with both feet.
"I think loyalty cards will become increasingly redundant as shopping becomes far more personalised and far more efficient," says Fairfield.
House of Fraser appears to be in agreement with Harvey Nichols' philosophy. It has revealed members of its loyalty scheme will be able to use the updated iPhone app instead of their card, thus "negating the need to carry their physical reward card".
And with the mobile payments revolution gathering pace, it would be a foolhardy retailer that does not investigate the possibilities of mobile loyalty schemes.