Sainsbury's new marketing director will play a key role as the grocer begins to prepare for the post-Jamie Oliver era. George MacDonald reports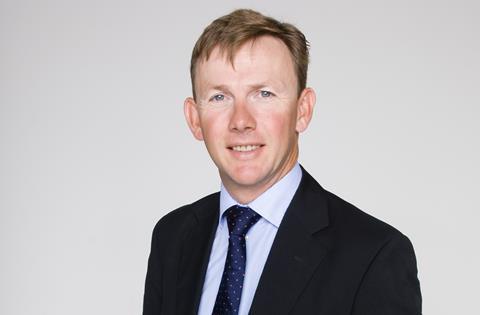 Mark Horgan is well-known for three things: his Scottish accent, his first class degree in applied physics and his experience at big-name brands ranging from MFI to Mars.
It was that experience with major brands – which also includes directory enquiries business 118 118 – that caught the eye of Sainsbury's, which last week named Horgan as its new marketing director. He succeeds Gynn Burr, who switched roles at the grocer last year.
Horgan, 45, managing director of MasterCard's Access Prepaid Worldwide subsidiary, joins Sainsbury's at a moment of marketing change. This year's Christmas campaign will be the last to star Jamie Oliver. Sainsbury's and the celebrity chef are parting company after 11 years, prompting speculation about what the retailer might do next – a decision in which Horgan is likely to play a big part Some observers believe that the grocer may change direction entirely. Although there has been speculation that TV chef Lorraine Pascale could become the grocer's new face, it is understood it is more likely that Sainsbury's may use celebrity chefs on an ad hoc basis rather than alight on a single person.
As important as Oliver to the undoubted success of Sainsbury's marketing in recent years has been its use of the Nectar loyalty card: so powerful has it proved that it prompted the grocer's chief executive Justin King to maintain that there is a new division in retail between the data haves and the data have-nots.
The use of Nectar has allowed Sainsbury's to run imaginative initiatives such as coupons-at-till, enabling highly targeted customer campaigns. Horgan's arrival should be seen in that context and he is likely to drive that strategy further, some observers think.
Planet Retail UK analyst David Gray says that with Oliver's departure Sainsbury's no longer has "the key marketing figure" so new ideas and even more mining of Nectar data are now likely.
"Coupon-at-till has been fantastic because it's so targeted and entices consumer to make more purchases," he adds. "I think there will be a lot of continued focus on Nectar."
Mervyn Metcalf, managing director of corporate finance boutique Global Leisure Partners, has known Horgan for several years and thinks he will be good news for Sainsbury's.
"I rate him really highly," Metcalf says. "In 12 to 18 months people will look back and say that was a really inspired hire. He's one of the brightest people and best operators I know, he's very good at seeing where the opportunity is and focusing all the resources at his disposal on making the most of it."
But for some City analysts Horgan is an unknown quantity. They recall him as one of the MFI team around then-chief executive John Hancock, who eventually proved unable to deliver.
One analyst says: "He liked to do the old segmentation at a time when it was very popular for retailers to show off their wonderful 'customer insights' but it didn't do MFI much good in the long term, did it?"
But former Robert Dyas chief executive Steven Round says: "It's easy to knock MFI but if you look at the work done on the new look of stores and advertising, he did a good job. He's very intelligent and enthusiastic."
Certainly MFI was a long time ago. Horgan's scientific mind and track record since working at the furniture retailer suggest he will be well placed to move Sainsbury's marketing on in the age of data mining and social media.
Career history
2011 to present MasterCard, managing director, Access Prepaid Worldwide
2009 to 2011 Travelex, managing director, cards and mobile payments
2005 to 2009 The Number (118 118), various roles rising to European chief executive
1999 to 2005 MFI, various roles rising to retail director
1999 Mars Confectionery, regional brand director, Mars Bar
1998 to 1999 United Biscuits, European brand director