With a honed offer and focus on newness it is no surprise M&S's general merchandise boss has scored impressive fourth-quarter clothing results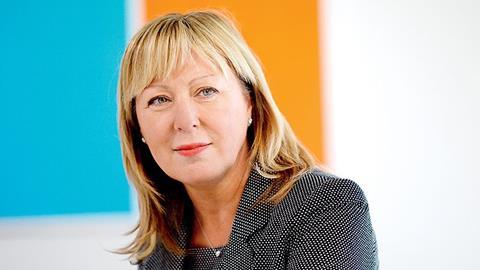 Kate Bostock has a tough gig. As Marks & Spencer's general merchandise boss, she is in charge of the highest profile category at the highest profile retailer.
But since joining M&S in 2004, Bostock has brought a deft touch to the clothing offer and smarter methods of doing business, just as the retailer had hoped she would after her top roles at Next and George at Asda.
Last week's fourth-quarter update denied would-be critics their lunch. M&S's general merchandise arm has been motoring - clothing sales were up 10.1% and general merchandise like-for-likes rose 9.1%. Admittedly the comparisons were soft but few would dispute it was a good showing.
In her fourth-floor office at M&S's Paddington HQ Bostock is pleased with the quarter. "We put a few bucks in the bank," she jokes before pondering whether an outbreak of warm weather will help or hinder weekend sales.
Bostock says improved consumer confidence was evident in the fourth-quarter performance but is adamant that self-help measures already initiated before the downturn helped the retailer withstand recession. "The main reason is down to a lot of work across general merchandise," she maintains.
Described by one person who knows her as "a control freak in a good way who likes to take responsibility and is good at creating a vision that people can buy into," Bostock has presided over big changes at M&S.
Under her tenure there has been a constant focus on fashion newness and womenswear is now phased 10 times a year, keeping the offer fresh. Even during last year's dark days Bostock says there was a shift to better and best product as consumers treated themselves when they did buy and recognised the value being provided.
The clothing offer has been honed to cut duplication while maintaining plenty of choice. Last year options were reduced 15% and Bostock hopes this year to increase the total to 20%.
There were changes to Per Una too, after Bostock's team took full control when founder George Davies left last year. Prices were brought down by about 20%, new fabrics introduced and the brand's credentials re-established.
And the evidence suggests the changes have been successful. "Over the past four to six weeks Per Una's performance has been the best ever," she says.
Improvements such as greater flexibility of buying offices also helped improve business disciplines and paid dividends in the recession. "We had very good work in progress and last year put it to the test," Bostock says, evidently satisfied that it passed.
Fran Minogue, managing partner at headhunter Heidrick & Struggles, describes Bostock as "very down-to- earth and very approachable".
Minogue adds: "She's very energetic, likes a challenge, absolutely loves product and never gets bored of it, but also really gets the commercial side."
For much of last year Bostock was under intense scrutiny herself. M&S executive chairman Sir Stuart Rose's long goodbye led to fevered speculation about who would succeed him.
Bostock was among the internal candidates put on show to investors at last October's infamous strategy update. "It was a funny old day," is about as much as Bostock wants to say about that.
In the event Marc Bolland was named as M&S's new chief executive. Bostock says the outside world seemed more concerned about the succession than anyone else. While pleased to be seen as a candidate, she says that the chief executive's role "wouldn't have been right for me".
Bostock says she has the freedom to run operations the way she wants. "Stuart is quite a hard taskmaster but he lets you get on with things," she says.
She has only met Bolland briefly, but is confident they should get on. "There's a lot experience in this business. I'm sure we'll give him confidence."
If she can keep up the general merchandise like-for-likes, that will doubtless be the case.
Career history
2008 Appointed to M&S board as executive director, general merchandise
2004 Joined M&S as director of womenswear
Age: 53
Family: Married with two children