Sales at John Lewis surged last week after an "amazing first week of sales" at its new department store in Birmingham's Grand Central.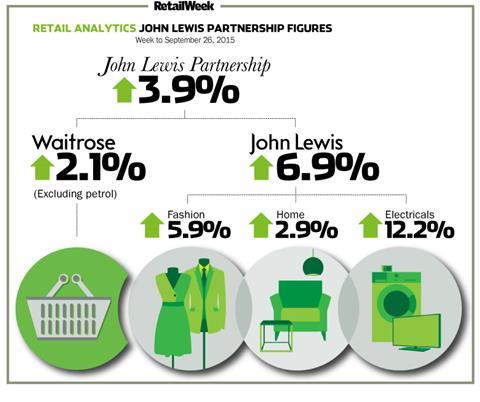 John Lewis weekly sales increase to £124m
Apple's iPhone launch boosted electricals
Waiterose sales rise 2.1% to £124m
John Lewis sales grew 6.9% to £86m for the week ending September 26 as the department store chain hailed a "really promising start" for its Grand Central team.
The department store revealed fashion delivered "good results" across its estate last week despite the unseasonably warm weather.
Sales were driven the new autumn and winter ranges and an 'Extravaganza' promotion. Own-brand ranges increased 16% year on year. Women's cashmere was the stand out performer as it increased by 46%
John Lewis's electrical sales, which have been deflated of late, rocketed 12.1% following Apple's launch of the iPhone 6s and the 6s Plus.
Last week was also the first full week of sales of the Apple Watch in John Lewis.
Rugby boost
Meanwhile, sister retailer Waitrose recorded an increase in sales last week as a result of the Rugby World Cup and the enduring popularity of the Great British Bake Off.
Sales excluding petrol increased 2.1% to £124m. Sales of the grocer's own-label frozen puff pastry increased 23%, while almond sales surged 76%.
Waitrose commercial director Mark Williamson said frozen party food sales increased by 60% and frozen pizza sales were up 17% as a result of the Rugby World Cup.
Meanwhile, the grocer's bottled ale selection increased 25% on last year, while canned ales and stouts were up 28%.
During the week Waitrose also opened two new branches in Heathfield, East Sussex, and King's Cross, London.