Department store John Lewis' eye-catching TV ads win attention because of their emotive stories and big production values.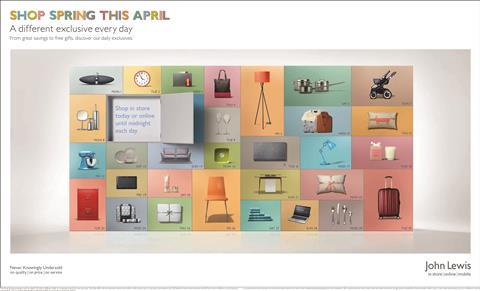 However, when it comes to selling product the department store group often lets the other advertising channels do the heavy lifting - a case in point is its new spring campaign.
Working with agencies Adam & Eve DDB and Manning Gottlieb OMD, the retailer's 'Shop Spring This April' campaign runs across print, online, in store, mobile and tablet. Different deals and gifts from its spring product range feature each day of the month.
The campaign builds on the appetite for daily deals sites such as Groupon, and John Lewis offers 24-hour promotions on a new product every day. The same pastel-coloured creative communicates the daily deal in print and online. The tagline 'A different exclusive every day' clearly underlines the promotional theme. The campaign uses social media particularly well, with tweets and Facebook posts pushing the deals and a dedicated Pinterest board.
The consistency of the message across the channels should keep loyal customers in the know, while ads in the national papers may also drive more price-conscious consumers through the department store group's doors.
In December, John Lewis director of marketing Craig Inglis said it can be "counterintuitive" to set an ROI target for "bigger, headline, brand-building TV campaigns". However, for print campaigns, he says: "It tends to be more short-term in its focus. Put a laptop in a press ad, does it work or does it not? The way we measure that is immediate sales."
This campaign should give John Lewis instant sales gratification.