While the consensus was that John Lewis' first half would be an improvement from last year, the retailer has hugely exceeded expectations. Is this the start of a new day for the embattled department store chain, or a papering over of the cracks?
Chair Sharon White says prospect of staff bonus at the end of the full year "stretching but not impossible"
John Lewis hoping for "record Christmas" to continue momentum of strong first-half turnaround
Anyday fashion launch a success but longer-term aims around financial services and property remain nebulous
On paper, John Lewis & Partners' first-half turnaround seems nothing short of miraculous. In the six months to July 31, losses before tax narrowed from a whopping £645m to just £29m.
Leaving out things like the potential payment of a staff bonus, tax and exceptional items, the retailer has turned a £55m loss into a £69m profit.
Executive director Pippa Wicks went so far as to say these results that showed John Lewis was "getting its mojo back".
While there is still plenty of work to do to get John Lewis to its £400m yearly profit target by 2025, the turnaround is impressive.
However, it has been delivered against the backdrop of one of the most painful periods in John Lewis' history.
The retailer shuttered eight more department stores across the UK during the period, as well as slashing 1,000 roles across John Lewis and Waitrose stores in July, and is currently consulting on a reduction of head office staff and store management restructuring.
A cynical reading of the results would be that its cost-cutting measures have helped to steady the balance sheet. While that has no doubt played a role, it is not the whole story, as sales across the business were up 6% year on year and 7% on a two-year basis.
More importantly for the retailer's overall health, sales at John Lewis, the arm of the business that has suffered worse during the pandemic, were the driving force behind the recovery.
While Waitrose sales were up 2% in the period, John Lewis reported a 12% climb in sales year on year - a result which was also up 1% on pre-pandemic trading.
It is a testament to the strength of the group's interim results that chair Dame Sharon White says that reinstating the partnership's staff bonus at the full-year mark – which is contingent on profitability hitting £150m – was "stretching, but not impossible."
White's strategy since joining the retailer has come under a great deal of criticism - but do today's results mark the start of her vision for the long-term growth of the business coming into focus?
Anyday front and centre
John Lewis highlighted that over the first half of the year it had seen a strong rebound in product margins as customers bought fewer pieces of tech like laptops and leaned more heavily into traditional staples such as homewares and bedding.
Tech sales for the period were flat year on year after the glut of working-from-home purchases in 2020, while sales of homewares, fashion and children's products all surged with sales up 23%, 22% and 18% respectively.
John Lewis also recently unveiled an extension of its Anyday value brand - which has brought in £60m worth of sales since its launch in April - into fashion, adding 700 product lines in clothing this week.
Wicks says the Anyday fashion launch has started strongly, flagging that some lines across women's, men's and childrenswear had sold out four days after launch.
"With Anyday, it's absolutely flying out the door, which is brilliant. We've already had to go back and rebuy a number of products but that's a nice problem for us to have," she says.
Wicks says customers "love the sustainability credentials" of the new Anyday ranges and was keen to stress that "it's incredibly good value and none of the quality is compromised." Of the nearly 3,000 products currently in the range, nothing is priced at more than £100, with many SKUs less than £10.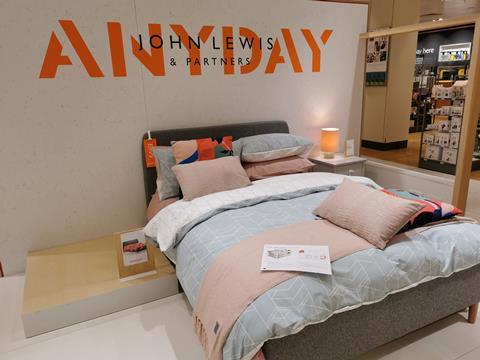 While the expansion of Anyday into what effectively amounts to fast fashion appears to be aimed at courting younger customers away from pureplay giants like Asos and Boohoo, Wicks says the range is aimed more holistically at the family consumer.
"We can see people shopping our Anyday ranges are all ages. We've had mums buying for kids, we've had mums buying for themselves dads buying for themselves. What we're trying to do is actually get a broad customer group within a family as opposed to specific age groups," she says
John Lewis says that of the 750,000 shoppers who have bought from its Anyday ranges to date, 25% have been new customers.
Gunning for a 'record Christmas'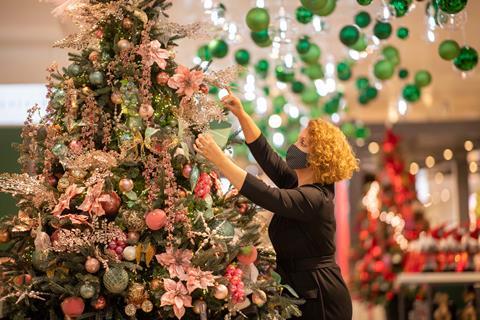 While the launch of Anyday, and customers returning to homewares, fashion and kids products have all been a boost in the first half, John Lewis is banking on a big Christmas period to see it through the rest of the year. Wicks went so far as to say the retailer, which banks two-thirds of its annual profits in the second half of its financial year, is "hoping for a record Christmas".
To ensure it delivers on that, every part of the business is being geared to ensure external issues do not impact that goal. Both John Lewis and Waitrose are ramping up new product launches ahead of Christmas. Waitrose is adding 100 new lines including vegetarian and vegan ranges. Waitrose executive director James Bailey says the retailer hopes to tap into customers' "celebratory mood" over the season, after a muted celebration last year.
John Lewis is preparing for Christmas too. Wicks says customer searches for Christmas products are up 150% online. The retailer has 3 million Christmas products coming in, "a million of which are baubles" and she also flagged that the retailer would open "10 British-themed Christmas emporiums" across its store network to drive festive sales.
In order to ensure these new products reach shelves in time for the big day, the business has been busy securing seasonal staff and HGV drivers to combat the ongoing shortages. The retailer also unveiled plans to hire 7,000 temporary staff this Christmas yesterday.
On the wider driver shortage, executive director of operations Andrew Murphy says the retailer has all the drivers it will need for the season. He says the pay measures and benefits John Lewis has put in place "have certainly transformed our levels of confidence about our own driver situation".
To head off potential availability issues in the run-up to Christmas, Wicks says John Lewis has "increased its boat capacity" beyond what it would normally for importing products into the UK "to ensure that we've got the Anyday product to continue the fantastic sales, but also the Christmas product".
"It's extra capacity that we normally wouldn't have gone out for, but we felt it was right so that customers can have a proper Christmas this year," she adds.
Stores versus online
Under White's leadership, John Lewis has pulled no punches about the need to rationalise its department store estate. Since she took over, the number of John Lewis stores has shrunk from 52 in January 2019 to 34 in August 2021.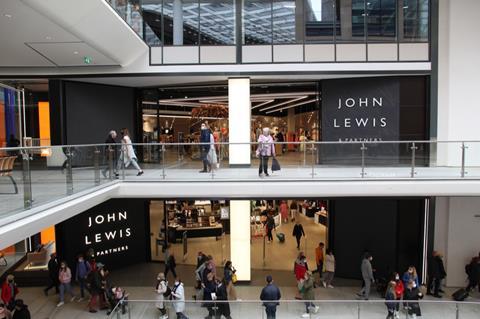 However, John Lewis maintains it has actually extended the number of "touchpoints" where customers can physically purchase its products to over 1,000.
Waitrose now has 17 stores with dedicated John Lewis spaces, which it hopes to increase to 40 by the end of the year. John Lewis has also massively ramped up third-party concessions, from 68 in January 2020 to 665 at the end of August 2021.
Bailey says "one in five John Lewis customers will now shop more with Waitrose" as a result of the changes and this added "convenience" offering "represents an opportunity to grow" for Waitrose, which has traditionally been underrepresented in the channel.
John Lewis also noted in its results that customers were increasingly using its department stores to make big-ticket purchases such as furniture and beds as well as gifting products and stationery. Despite reopening, Wicks says footfall to department stores remains roughly 20% down compared to pre-pandemic levels.
Because of this, John Lewis clearly sees its retail future weighted more heavily towards clicks than bricks. Wicks says it nearly reached its target in the first half of making 75% of its sales online and would expect that to continue in the second half.
"We were selling 100% of our sales through the website when stores were closed," she says. "Since reopening, we're currently selling between 60% and 65% through Johnlewis.com, with the rest coming through our stores."
Online sales have dipped at Waitrose, down from a March high of 20% to 17% currently. Bailey is not concerned by the drop, though, predicting that ecommerce sales penetration will sit at roughly that level in the second half.
He says: "If I was betting, I'd say we've settled at around 15% to 17% [online penetration]. Barring any other structural changes, I suspect we'll return to pre-pandemic growth of around 1% or 2% every year on."
Services a work in progress
The final piece in the longer-term puzzle for John Lewis lies in delivering services beyond retail. The group made the bold pronouncement earlier in the year that it wanted 40% of its profits to come from services outside of its core retail offer by 2030.
In the last few months, the retailer has unveiled new products and services in pursuit of this goal.
In July, the partnership confirmed plans to build 10,000 rental homes over the next few years.
In August, it announced an extension of its financial services offering, unveiling a series of ISAs and other savings and investment tools through a partnership with Nutmeg.
The partnership plans to invest £100m into financial services over the next five years and John Lewis executive director, strategy and commercial development Nina Bhatia says the new offerings have already proven popular.
In the three weeks since the new products launched and ahead of any marketing push, Bhatia says John Lewis already has more than £1m of investments under management, which shows how "trusted the brand is in this space".
She also flagged that the retailer was currently "shortlisting" property partners to work with on its rental homes plan and was working on two planning permissions applications for residential developments in Greater London for early next year.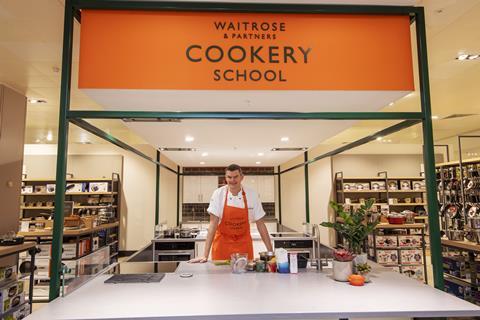 While the wheels are clearly in motion on both the property and financial services initiatives, Wickes says John Lewis was currently only generating around £12 to £15m in revenues a year across its financial services business.
"It's quite a small business at the moment, but we're really excited about where it can go," Wicks says. "We're expecting financial services to yield somewhere between £70 -90m profit when we're at full run rate and mature so that is not insubstantial. And we're confident about that."
The balance of the rest of the growth, explains Bhatia, is expected to come from its housing rentals.
Bhatia was also keen to stress that the retailer has also branched into other revenue streams including a financial installments product, more of a focus on what she calls "outdoor living" such as lighting and furniture and a move into product rental and recycling, which she admits is "yet to be defined".
White concedes these figures are "not a precise science at the moment", but stressed that 10 years was a long time for it to build its financial services and home rental products will give it substantially more "financial firepower" in the coming years.
Get the latest department stores news and analysis straight to your inbox – sign up for our weekly newsletter
While she is right that a decade is a long time for a strategy to come together, one of the main criticisms of her reign at the retailer has been taking action without offering much evidence or reasoning.
John Lewis is less than a year into White's five-year strategy and its plans for diversifying its profit streams extend until 2030. But the detail for how it plans to deliver nearly half of its profits from non-retail offerings by that deadline is lacking.
Looking ahead, White says the business is filled with "positive momentum and cautious optimism" and is "confident without being complacent" about where it is on its turnaround journey, and rightly so.

Now is no time for it to rest on its laurels, though.
John Lewis may have got its mojo back in this period. But with fierce headwinds to come, it will have to work even harder to match its success in the second half, let alone exceed them.