Carrefour has opened its first convenience store offer in China, 10 years after opening its first supermarket in the country.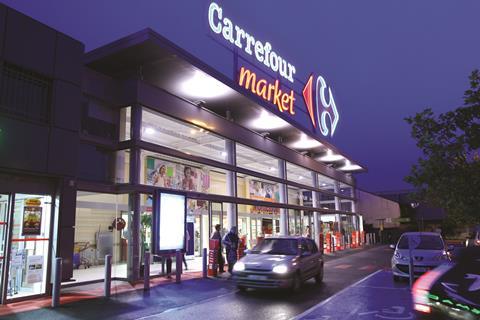 French retailer Carrefour has opened its long-awaited Carrefour Easy neighbourhood store in Shanghai.
Unlike most competitors in the market, Carrefour has long relied solely on its hypermarkets following the closure of its Champion supermarkets and the divestment of its Dia discount stores.
The Carrefour Easy store is located on a shopping street in a densely populated area of a residential Shanghai suburb. The retailer has leveraged the distinctive orange colour of its other small international stores.
However, its Chinese store differs due to its size – the store is about 5,300 sq ft, making it a large neighbourhood store or compact supermarket.
The store is filled with an astonishing 8,000 SKUs, 75% of which are in food categories.
Aspects of the store reflect the typical convenience offering in China. These include in-store microwave facilities and serving hot coffee with snack choices.
The shop is also equipped with modern features, including an LED display at the entrance where consumers can scan QR codes and purchase products unavailable in-store, free wi-fi and support for alternative payment methods.
Challenges in China
If the trial proves successful, Carrefour will likely roll it out on a larger scale.
The move is a bold one for Carrefour that in theory should work because the business has been planning it for a while.
However, challenges are present. Shanghai, like other major Chinese megacities, is highly competitive for the convenience channel.
Nonetheless, the growth perspective remains highly attractive. According to Planet Retail, food retail sales per capita in the Shanghai metropolitan area are 40% higher than the national average, and will grow an average of 7.5% a year in local currency over the next five years.
Convenience stores represent significant logistics issues. However, Carrefour has announced the opening of an ambient DC in Shanghai, close to the location of its Easy store.
International expansion
Expanding internationally is something Carrefour has been focusing on given the relatively slow growth in domestic markets.
Rumours of a comeback in Algeria are nudging closer – the first hypermarket is reportedly to open in eastern Algiers in March 2015.
In addition, Carrefour's Greek franchisee Marinopoulos has assumed full control of the company, operating 18 Kronos stores in central Greece.
The acquired stores will be rebranded to Carrefour Marinopoulos supermarkets and Carrefour Express convenience stores.
Following the recent inauguration of the new Terrazas de Mayo shopping centre in Buenos Aires, Carrefour has revealed ambitions to become a key real estate operator in Argentina.
The retailer sees room for another 20 similar openings in the years to come.
Sophie Carroll, associate analyst, Planet Retail