Australia's food retail industry is developed and highly concentrated, and Woolworths and Coles combined hold an estimated 60% of the market, making the market share fight intense.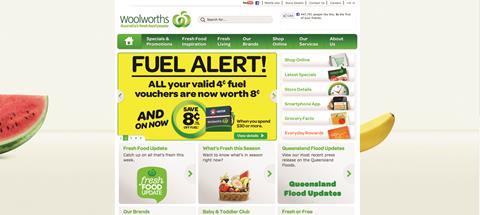 For the first half of Woolworths' year to December 30, last week it reported Australian food and liquor sales increased 4.7% to Aus$20.49bn (£13.6bn), with strong growth in customer numbers as well as increased market share. The retailer matched a solid performance from rival Coles, which said its food and liquor sales for the same period also grew 4.7%.
However, while both Coles and Woolworths reported impressive sales growth during the first half, Coles' like-for-like sales rose 3.8% whereas Woolworths trailed at a 2.4% rise. The results suggest Woolworths is relying more on sales from new stores and extensions rather than a growing customer base at existing shops. This is a key indicator that although Woolworths' overall sales are the highest of the two, Coles' existing network is outperforming its bigger rival.
For years, Coles has generally outpaced Woolworths like-for-like at each quarterly weigh-in. But in this latest period Woolworths claimed to be closing the gap on Coles. Woolworths chief executive Grant O'Brien said it was improving performance by moving away from mass marketing and instead focusing on driving value for shoppers via its Everyday Rewards loyalty scheme.
With 6.5 million active users, Woolworths is keen to target shoppers on a more individual basis, rather than using "a traditional shotgun approach to marketing", said O'Brien. The retailer appears to be taking inspiration from the globally well-regarded Tesco Clubcard.
Coles, however, takes a different approach. In October last year Coles abandoned its My5 discounts, which had allowed customers to choose five items on which they would receive a 10% discount at every purchase. Instead the retailer is unrelenting in its aim to offer unbeatable prices across its range in store - a response to Aldi's growing presence in the country. At its half-year announcement Coles said it was continuing to invest in lower prices, driving volume growth ahead of sales growth. Food and liquor price deflation at Coles in the first half was 2%, driven by a drop of 3.2% in the first quarter.
It will take some time for the outcome of each retailer's efforts to show which approach resonates most with Australian shoppers.
Louise Howarth, senior analyst, Planet Retail.
For more information contact us on:
Tel: +44 (0)20 7715 6000
Email: info@planetretail.net