Global retail giant Walmart has inked a deal to take on full control of Yihaodian, its ecommerce grocery venture in China.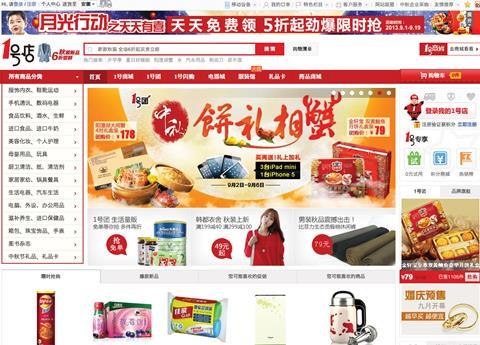 If proof were needed that this particular sector is among the most prized anywhere in modern worldwide retail, today's announcement should provide confirmation enough.
Although the venture still lags behind Asda.com – Walmart's most advanced grocery ecommerce business in terms of sophistication – it is set to quickly catch up, particularly as Walmart will now own the entire operation.
With the Chinese online grocery market shifting up a gear, clearly the Bentonville top brass feel the time has come to truly put its stamp on the business.
Walmart China has shown a level of sophistication and agility in the past few months, including the launch of a store-based shopping app.
Online grocery
China seems more inclined than Western Europe to embrace online grocery as a viable retail option. This is especially true in the megacities, where weekly shops at hypermarkets are precluded by lifestyle pressures.
With a younger, wealthier middle class on the rise, these consumers are prepared to pay premium for such services.
Key to this development of online grocery has been the surge in smartphone use in the past decade.
Planet Retail data reveals that 17% of Chinese grocery shoppers now use mobile, with that set to rise by 4% over the next three months. This should be placed in the context of online shopping in China overall growing by 151% year on year, with mobile showing a 173% surge.
As in all such operations, fulfilment will be integral to success. Significant logistics capex will be necessary to gain an edge, while rising labour costs may yet be an issue.
It will be interesting to see whether Walmart retains Yihaodian's identity or seeks to impose its global branding on the business. We suspect the latter would be a mistake.
International shift
All in all, the acquisition reflects Walmart's shift to focus on ecommerce globally over physical retail.
Walmart's bricks-and-mortar stores in China, like those of other global multinational retailers, have struggled in recent years.
However, in April chief executive Doug McMillon declared China a "top priority" and announced a goal of 115 new stores by the end of 2017 along with the renovation of 50 outlets.
We can only hope the investment will pay off through the eventual delivery of robust profits. Yet, if any operator has the resources and the resolve to stand the Chinese heat, it surely has to be Walmart.