The long-established USHA Sewing Machine brand has created The HAB concept store in Mumbai and reinvented the traditional Indian haberdashery.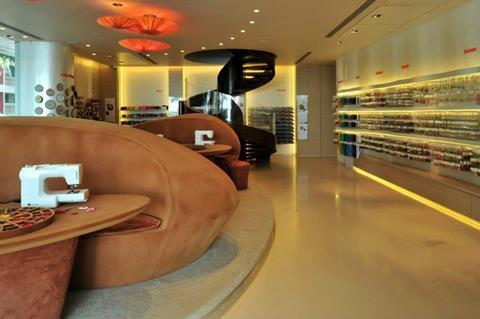 It provides an inviting space where existing consumers can find renewed inspiration and younger shoppers can learn new skills.
Sewing is widely seen as a traditional craft in India as elsewhere, but by combining elements of design, craft and bold colour in its new HAB store in Mumbai, USHA hopes to inspire fresh excitement.
The store encourages visitors to reacquaint themselves with the art of sewing, offering a wide variety of new experiences designed to appeal to a younger audience as well as with the brand's traditional customers.
Components such as sequins, buttons, lace and wool are displayed in an engaging manner that accentuates vibrant colour and also emphasises the store as a one-stop-shop for sewing products.
In line with the spirit of "play", visitors are encouraged to explore their creativity at individual workstations and in the first-floor library. The store is not only a creative hub for self-expression but also promotes a memorable brand experience.
USHA's initiative is well timed, tapping into changes in shopper behaviour. There is a growing fashion among younger consumers for sewing and craft, driven in part by a desire to customise their clothes and create a unique style.
The HAB reaches out to these new customers with store exhibits as well as a programme of workshops where sewing enthusiasts can acquire new skills.
Consumer Insights
Creativity is becoming democratised and no longer limited to a select few professionals. Consumers are increasingly looking for outlets that allow them to pursue their own interests and they value brands that help them unlock their creativity.
Brand take-away
The HAB reintroduces the pastimes of sewing and craft, which have lost their relevance to many in India's younger urban generation. By creating a fun and engaging experience hub, The HAB forces consumers to reassess the USHA Sewing Machine brand.
Brought to you by Fitch. FITCH is a global brand and retail design consultancy Bold Thinking, Seamless Experiences