Detroit's troubles are well documented, but the Shinola brand is championing the city's manufacturing heritage in its store in New York's TriBeCa neighbourhood.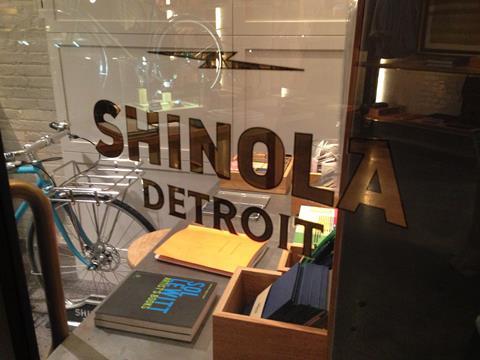 The store showcases Shinola's handmade watches, custom bicycles and high-end leather goods. It also stocks products made in collaboration with companies sharing its commitment to All-American craftsmanship. The brand's messaging celebrates the individual, skilled workers who are helping to revive industries, such as watchmaking, that have long declined in the States.
Defunct for decades, the revived Shinola brand's success has been so rapid that they've recently struggled with supply issues. Reconnecting with its heritage is a central focus of the product and store design. Shinola has just launched a limited-edition watch and bicycle celebrating the Wright Brothers. In the store itself a 26-star US flag from the 1830s dates from the founding of Detroit's home state of Michigan.
Collaboration and craftsmanship have also been used to make the store a place for people to meet and linger too. The café and newsstand at the front of the store is an outpost of The Smile, an established downtown restaurant. It's a popular evening destination even after the shop itself has closed.
Consumer insight:
A compelling and well-told story of people and place can engage consumers, making them feel part of something bigger than individual products.
Brand take-away:
Shinola has gone to great lengths to ensure authenticity – essential when revitalising a 1907 shoe polish company as an accessories brand. For example Horween - Chicago's last tannery, supplies the leather for all the company's products.
Brought to you by Fitch. FITCH is a global brand and retail design consultancy Bold Thinking, Seamless Experiences