As Barry Bown steps down here is Retail Week's most recent profile of him from 2011.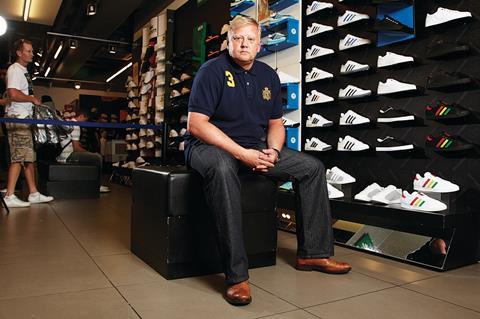 Company loyalty and a passion for product have characterised the chief executive's long career at JD and its success.
While many retailers were left nursing trading hangovers after snow disrupted the Christmas selling season, JD Sports Fashion chief executive Barry Bown toasted success.
Store groups as diverse as Clinton Cards and Mothercare issued profit warnings in the new year, but JD smashed expectations.
However, the low-profile Bown prefers to be modest about his achievements. "I'd rather the focus was on the 10,000 staff in my business," he grumbles when quizzed.
Bown shares much in common with his staff, having joined the retailer as a store manager in 1983 and then worked his way up. One person who has known Bown for 25 years says loyalty is a characteristic of Bown. "He's married to his childhood sweetheart and he still goes around with the friends
he went to school with," says the friend. "I think that's a good sign of loyalty, when someone is still mates with the friends they grew up with."
When Bown joined JD Sports, as the business was then known, it had just opened its third UK store in Manchester's Arndale shopping centre. Bown's days on the shopfloor made him democratic in management style.
"I've got a management team and we always listen to each other," he says. "My staff probably think I'm a miserable sod but I'm very receptive and I talk to everybody. I never stop listening to people's ideas."
And it would be an understatement to say Bown has a passion for the product - he owns 800 pairs of trainers and jokes that he is "bordering on divorce" as a result. The friend laughs: "When he was moving house they needed an extra truck after his wife found loads of trainers in the loft. The trainer obsession is indicative of Barry - he's very much a product person."
No doubt that enthusiasm helped over the festive period and Bown says he is "delighted" with Christmas trade.
Group like-for-like sales, excluding French business Chausport, were up 2.5% in the five weeks to January 1. The seasonal performance brought the group's like-for-like sales increase to 3.1% over a 48-week period.
Bown says he's "reluctant to give away the secrets" behind JD's success but is willing to shed some light on how performance broke down. Clothing and footwear both performed well and Bown says he is "really pleased" with all four of JD's fascias - the eponymous chain, young fashion chains Bank and Scotts and footwear specialist Size?.
JD dipped its toe into international waters with the acquisition of Chausport in 2009. Late last year it also opened three eponymous stores in France in Lille, Lyon and Paris, which have also beaten targets. Are other countries on the expansion agenda? Bown says: "France is our immediate focus now we've got a foot on the ladder."
And what about UK acquisitions? Last month JD circled troubled designer mini-chain Cruise before it was snapped up by tycoon Sir Tom Hunter. Bown says: "Acquisitions are something we will always look at - I'm always looking to give customers a point of difference."
Despite JD's upbeat recent trading, Bown refuses to bask in the glow of success and is cautious about 2011, which will bring rising business costs such as cotton. "It's going to be challenging," admits Bown.
But he continually tries to improve the business. "We are always looking to improve - whether that's the store, deliveries or IT," he says.
Bown's passion for trainers helped him outrun the competition at Christmas, and should help him to keep up the pace this year.
Career history
2000 Chief executive of JD Sports Fashion
1983 Joined JD Sports as store manager