It's a sign of the closeness of Asos's top directors, the chief executive and finance boss, that they are often referred to simply as the Nicks.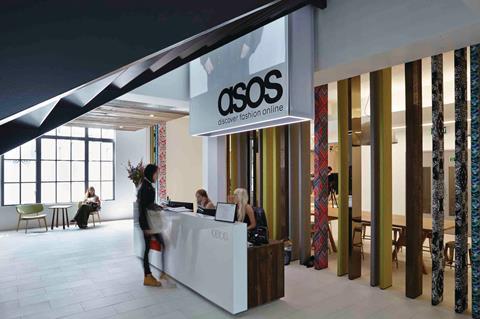 Nick Robertson and Nick Beighton together took Asos to unprecedented heights as it grew rapidly at home and abroad.
But together they are now battling to put the etailer back on track following a series of disasters ranging from a warehouse fire to the punishing effects of currency exchange rates on overseas operations. Asos has had to issue three profit warnings this year.
Now Nick Beighton is assuming changed responsibilities. In the newly created position of chief operating officer he will oversee retail and international operations as well as existing responsibilities such as IT and supply chain.
The hope is his elevation will ensure the two Nicks, more than ever before, amount to more than a sum of the parts.
Beighton, who joined Asos in 2009, shares some similarities with Robertson.
"My own shopping habits have changed out of proportion since I've worked at Asos"

Nick Beighton, Asos
Informal and generally good humoured – though it would not be surprising had he been a little less so over recent months – he is easy company while keenly entrepreneurial and commercially minded.
Peter Williams, a fomer Asos no-executive director who now chairs Boohoo.com, says: "Nick [Beighton] has a very outgoing personality, he's good with people and doesn't stand on ceremony.
"He's had good experience across a variety of functions at Asos and it's a pretty logical career step for him. The world is full of finance directors - as was the case with me - who'd love to be a CEO or move into general managementand the easiest way to do that is from within a company."
As befits a finance boss, he can spot value. After having work done on his house, Beighton sold his old boiler on eBay rather than chucking it in the skip as some might have done. (The purchaser drove all the way from Poland to collect it, so Beighton clearly knows how to price-to-go too.)
Investment in technology
His own purchasing patterns have shifted since he joined Asos from entertainment group Luminar.
On his biog on the corporate website he says: "My own shopping habits have changed out of proportion since I've worked at Asos. I find myself browsing Asos.com and I buy pieces quite regularly because I enjoy it. I find it quite addictive and quite fun."
In his new job Beighton will want to make Asos's sites even more of a drug to the 20-something fashion fans who pay his wages.
It is work that's already under way following investment in technology, so that Asos can offer "zonal pricing" and compete more effectively in key markets, and enhancement of logistics and delivery options.
Beighton's job change will enable Robertson to devote more time to aspects of the business such as marketing and customer experience.
Robertson said: "This appointment is a logical progression. Nick's broadened role will allow him to play to his operational strengths.
"This move frees me up to focus on strategy and growth as we head for our next staging post of £2.5bn of sales."
City welcomes Beighton's promotion
Beighton's switch was welcomed by analysts. The etailer's share price moved steeply up on the day it was revealed, alongside interim results when the management made a bullish presentation.
Barclays analyst Christodoulos Chaviaras observed: "It is important news in our view that Nick Beighton will be taking on the newly established role of chief operating officer.
"This will likely be viewed positively by investors, some of whom have been claiming that in the current phase of growth Asos needs further management additions."
As rival retailers such as newly listed Boohoo.com and Zalando increasingly compete with Asos at home and abroad, it will be up to Beighton to make sure the etailer operates at the top of its game.
Williams says Beighton and Robertson complement each other well. He observes: "In a public company the relationship between the chief exec and CFO has to be very close. They're the two people who represent and articulate the company. They [Beighton and Robertson] know one another well and intuitively know where the other one is."
Asos's market capitalization has slumped by more than 29% in the last three months. Now the two Nicks will hope their reshuffle of responsibilities will, if not exactly deliver double the value, set the etailer on a meteoric course once again.
CV
2009 to present: chief financial officer, Asos
2005 to 2009: finance director, Luminar
1998 to 2005: business change director and head of finance, Matalan
1989 to 1998: senior manager, KPMG
Other interests: member of EU ecommerce taskforce and Tech City UK's Future Fifty Programme advisory panel
Education: Nottingham Trent University