The northern-based frozen food specialist has struggled to capitalise on customers trading down.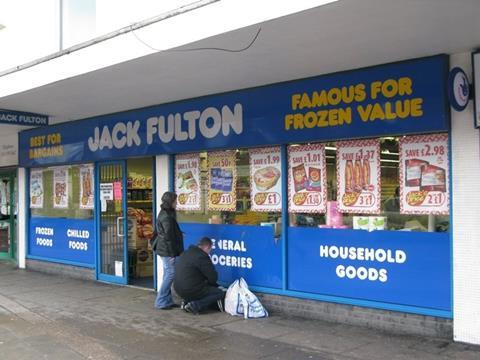 Cold calling
Chief executive Kevin Gunter
Sales last year £50.5m
Pre-tax profit last year £1.4m
Takeover interest in Iceland and the strong performance of counterpart Farmfoods have highlighted the money to be made in the frozen food category.
But unlike the other big players in the market, Frozen Value has started to show signs of a pronounced slowdown. After several years of improving performance, sales and profits have begun to melt and the business looks slightly soggy compared to competitors.
Like its rivals, Frozen Value is privately owned. The management bought out previous backer 3i in March this year and now it is up to them to shift the fish fingers faster and more profitably.
Barnsley-based Frozen Value, which also trades as Jack Fulton and Fultons Foods, is so low-profile that it does not even have a website. The chain grew out of a poultry business founded in the 1960s by Jack Fulton and moved into retail in 1974.
Just over two decades later, in 1997, former Budgens directors Kevin Gunter and Chris Bond led a management buy-out, supported by 3i which took a 40% stake.
Gunter remains chief executive today, and there has been an increase in store numbers from 64 in 2000 to 95 in 2011. Although Frozen Value extended its product range to include a wider range the focus remains on frozen food.
The range primarily comprises well-known brands sold at cut price. A proportion is sourced directly from big manufacturers and some as 'parcel buys' from middlemen, meaning that there are frequent changes to stock in stores.
After sales and profits declined between 2001 and 2006, the numbers moved upwards in 2007 and thereafter. Turnover climbed from £35.3m in 2007 to a high of just over £51m in 2010, Retail Week Knowledge Bank data shows. Over the same period, retail operating profit increased from £800,000 to £2m – in 2009 it reached £2.2m.
But in its most recent year, Frozen Value had a setback. Revenues dipped 1% to £50.5m and retail operating profit slipped to £1.4m.
Given the tough conditions facing consumers who have less money, Frozen Value might have been expected to have benefited from the continuing squeeze on spending.
The suspicion must be that the retailer, like some other specialists, has been hit by the extent to which its customers are shopping at the big four supermarket groups.
Given a weakening economic climate and low consumer confidence, Frozen Value's most recent year was disappointing according to Retail Week Knowledge Bank, which observes: "It should be noted that store numbers remained flat during the year, while other frozen food specialists had also seen their sales growth slow over 2010/11 as competition intensified in the sector.
"Moreover, the consumer economy and short-term outlook having weakened further in 2011, there would appear to be an improved counter-cyclical opportunity for a value food retailer to achieve a return to like-for-like sales growth.
"The challenge for management will be to ensure that it benefits more than larger competitors."
As Christmas nears, it appears Frozen Value's management must pull out the stops to ensure shoppers pop their turkeys in the freezer.