Where does the US giant fit into the competitive UK sports retail landscape?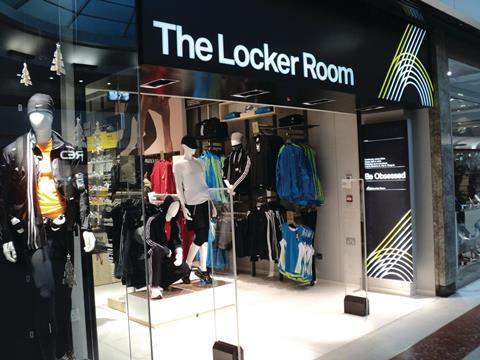 US giant Foot Locker, the world's largest sportswear retailer, has chosen an interesting time to shake up its sector.
At the end of last year, Foot Locker showed its confidence in the UK by launching new fascia The Locker Room here – a sports performance format in Brent Cross that pits it against rivals including embattled JJB Sports, a retailer that Foot Locker was once thought to be interested in buying.
The initiative comes at a time of flux in the sportswear market, with JJB suffering declining profits while stronger players such as JD Sports and Sports Direct embark on aggressive expansion strategies via acquisitions, including the former's recent purchase of Blacks Leisure.
Foot Locker is more specialist than its competitors. It sells footwear, clothing and accessories targeted at a 12- to 20-year-old male customer who is influenced by urban trends.
And it has stuck to its urban footwear specialism while its rivals have been diversifying, with JD incorporating more of a fashion bias, and JJB more towards sports.
Launching a new format in the UK is a positive move by the retailer, which has taken a cautious view to investment in the downturn. But in the Foot Locker business, the competitive UK market will continue to vie with its other overseas territories for funds.
The UK accounted for just $126m (£81m) of its total global sales of $5bn (£3.2bn) in its year ended December 2010, and is only its fourth biggest European market, behind Italy, France and Germany. The UK business is managed by Lewis Kimble, president and chief executive of Europe.
Earnings in the UK will need to improve to convince the US giant to plough more funds into expansion. Pre-tax profit here dipped to £767,000 from £2.1m in its 2010 financial year, despite a sales uplift.
However, turnover is looking healthy. Despite a lack of new store openings, 2010's UK sales topped the £80m mark for the first time since 2005, with revenue up 6.5%.
Foot Locker UK is managed by Dutch subsidiary FLE Holdings, and is well established here, first launching in 1990. Store numbers have remained relatively static since 2005, although it added four new stores last year, bringing its total to 70.
It has few stores compared with its rivals (see graph), but there are still expansion opportunities available in the UK, where its presence is mainly in London and the Southeast. More than a third (25) of its stores are located in these regions.
Like many retailers in the downturn, Foot Locker has been focusing on protecting profitability and reducing capital expenditure, with priority given to new shopfits and relocations rather than openings.
However, in the long term it plans to expand its brands and offer, and has pinpointed international expansion as a route for growth. It plans to increase global annual sales from $4.9bn (£3.1bn) in 2009 to $6bn (£3.8bn) in 2016, although it is unclear the extent to which the UK will be a focus for expansion.
The squeeze on disposable income and rising unemployment in its target market will make life tough for Foot Locker in 2012, as will the march of the non-specialists, including grocers, into a growing generic sportswear market.
In light of this, its move into sports performance with The Locker Room looks astute because it will help to shelter it from the more hard-pressed shoppers it currently targets. But whether this is enough to restore Foot Locker to profit growth in the UK remains to be seen.
Footnotes
Sales up 6.5% to £81m, year ended December 2010
Pre-tax profit down from £2.1m to £767,000, year ended December 2010
Stores 70
President and chief executive, Europe Lewis Kimble