The Mirror Group Marketing/Advertising Campaign of the Year award was won by Sainsbury's for its sponsorship of the 2012 Paralympic Games.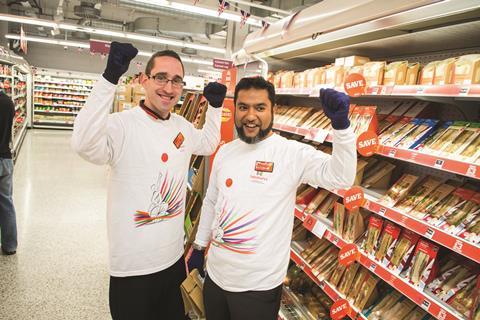 Sometimes a partnership works so well that you're left wondering why you ever doubted its compatibility in the first place.
Make no mistake, however, Sainsbury's sponsorship of the London 2012 Paralympic Games was a big risk for the retailer to take.
Not only was there the possibility of the Paralympics being drowned out in the post-Olympic Games
hullaballoo, but the link between food and disability is not an obvious one for a brand to make. Yet Sainsbury's pulled it off in spectacular fashion in what turned out to be a triumph.
The judges in this category were blown away by the campaign's execution and results. "It's apt, it's relevant, it's clever - it's everything," says one.
At the heart of Sainsbury's Paralympics sponsorship was the commitment to be an active rather than passive sponsor, a pledge that impressed the judges. "They could have just done a marketing job but they did a whole lot more to drive it through," says one judge.
Rather than focusing purely on having the Sainsbury's logo featuring prominently on event communications, the retailer's campaign began well before any athletes reached the starting line.
It was split into three stages of engagement, focusing initially on employees, then on communities via children, and finally on customers to create warmth towards the event. To these ends, Sainsbury's embarked on a two-year internal communications campaign to excite employees about the event.
It included pairing 70 local Paralympians with every region in its business, providing equipment to schools (enabling 1 million kids to try a Paralympic sport, culminating in a junior school in Harrow, Middlesex winning a visit from Sainsbury's ambassador David Beckham), and taking the Paralympic torch to every large Sainsbury's store in the country in order to build anticipation among employees and customers, who had the opportunity to hold the torch.
Right up until the start of the Paralympic Games - including throughout the Olympic Games - the campaign was in full flow including posters, press and in-store and digital communications and a memorable TV advert featuring David Beckham and Paralympic athletes Ellie Simmonds, Jonnie Peacock and David Weir. This helped build awareness of the Paralympics even when the Olympics was taking place.
"They knew that by talking about the Paralympics throughout the Olympics there would be a halo effect," remarks one judge.
The icing on the cake was provided by Sainsbury's idents during Channel 4's Olympic Games coverage, which featured previously unheralded Paralympic athletes including Hannah Cockroft and Nathan Stephens. A marketing campaign is only as strong as its results and, in Sainsbury's case, they were "quite incredible",
says one judge - sales and market share rose significantly in the 12 weeks to the end of September 2012, according to Sainsbury's, and brand awareness and brand empathy hit record levels.
Sainsbury's goal to get 1 million children engaged with Paralympic sports, meanwhile, was smashed as 2.4 million from more than 8,000 schools, clubs and organisations across the country ended up having a go at a Paralympic sport.
As for Sainsbury's own Paralympic legacy, no sooner had the Games drawn to a close than the retailer announced a £1m investment in a scheme aimed at ensuring that physical education in schools is inclusive and accessible for children with a disability and/or special educational needs. It also vowed to continue supporting the British Paralympic Association until the end of the 2016 Games in Rio de Janeiro.
Trinity Mirror
Trinity Mirror plc is one of the UK's largest newspaper publishers, with an award-winning portfolio including five national newspapers, more than 130 regional newspapers and 500-plus digital products.
Our portfolio of iconic media brands - which includes the Daily Mirror, Daily Record, Liverpool Echo and the Manchester Evening News - spans the length and breadth of the country, providing news, entertainment, information and services to a broad spectrum of national, regional and local audiences.
As a multiplatform publisher, our journalism reaches audiences through a variety of means - be that the
traditional daily newspaper, the 24-hour presence of our rolling news site, through specialist digital products, and via the immediacy of mobile devices.