Successful cross-channel selling will be the difference between a bulging stocking and a lump of coal for retailers this Christmas. Rebecca Thomson finds out what a Christmas-ready offer looks like.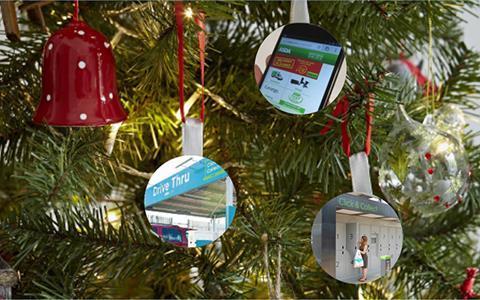 It might feel a bit topsy-turvy to be talking about Christmas in the middle of a heat wave but, as ever, it has been front of mind for retailers throughout July.
Christmas ranges are complete and the industry is busy pushing its products to the press, while production of the all-important festive adverts is well and truly under way. But this year there's something else to think about, and it's no longer only the digital leaders who are prioritising it. This is the first time multichannel has been seen as a crucial part of a successful Christmas.
As Asda chief marketing officer Stephen Smith says: "Make or break for everybody this Christmas will be around multichannel - who has the best access to their products and as many options as possible to shop, any way customers want to."
Asda has good reason for this focus. In 2011, Smith says, 29% of Christmas shoppers used more than one channel in some way. In 2012 this rose to 57% and in 2013 it expects between 70% and 75% of consumers to shop across bricks and clicks. Asda's app has been downloaded 2 million times, and Smith says: "We feel really good about where we are with our app."
Christmas clicks
The grocer is not alone in making multichannel a focal point this Christmas. Verdict predicts click-and-collect alone will account for £2.5bn of retail sales in 2013. John Lewis says two-thirds of its transactions are now likely to involve more than one channel, and that this rises around Christmas and other big events. "Customers want to shop across all the channels all the time. When you have events like Christmas and summer clearance all these behaviours step up a notch," says John Lewis online director Mark Lewis.
He says mobile accounts for a quarter of online activity on John Lewis sites, and that the business plans to invest heavily in the channel before the festive season begins. "Mobile is growing faster than any other type of shopping at the moment," Lewis says.
Multichannel is nothing new, but this Christmas will mark its transition from 'nice to have' to contributing to the difference between success and failure. Asda does have other priorities as well, of course - price and product range are the two other lynchpins of its fourth-quarter strategy this year. But this is the first year multichannel has been up there among those cornerstones of a retailer's Christmas.
"We need to be able to offer easy solutions that are convenient. People won't wait around at home for things to be delivered, far and away the fastest growth is in multichannel and click-and-collect," Smith says.
Move to mobile
Waitrose has experienced similar rates of multichannel growth. Director of ecommerce at the grocer Robin Phillips says 16% of sales placed on Waitrose.com in the run up to Christmas last year were made on a tablet. At present sales through tablets stands at 20%, and Phillips says this number will rise further this year.
He says: "Inevitably, during the festive season shoppers are more time-pressed and make more orders or trips to shop for food in a more concentrated amount of time, so a good omnichannel offer with strong availability is key. The supply chain and ecommerce teams must work hand-in-hand to deliver exactly what the customer wants, when they want it."
This year is likely to be particularly heavy on growth in the mobile channel. Research by consultancy Deloitte shows the number of UK consumers with a smartphone has jumped from 58% to 72% in the past 10 months, and that 50% of these people have used their phone to check product availability and buy products.
"This year, multichannel growth will be accelerated through mobile," says Deloitte head of retail Ian Geddes. "The mobile phone is not only an important channel for direct sales but increasingly plays a pivotal role in helping to convert store sales. Mobiles act as personal sales assistants - showcasing items, upselling goods and providing detailed product information."
He adds Christmas will, as ever, be extremely competitive. "Certainly, multichannel will play a crucial role in the war to win the sale this year."
Industry research body IMRG says digital sales are growing faster than predicted this year. Its e-Retail Sales Index for June showed etail sales were up 20% year on year, the strongest growth since June 2011. Mobile sales were up 136% year on year, and increased 8% compared with the previous month. While these figures are for single channels, they give some idea of the extent of the expansion of digital channels into store shopping.
IMRG chief information officer Tina Spooner says: "The online retail market has performed above expectation so far this year, with the first half coming in at 16% average growth against our earlier forecast of 12%. We haven't seen the rate of year-on-year growth recorded in June for two years."
Collecting Christmas
So what will a successful multichannel offer look like this year? For store retailers especially, click-and-collect remains the most important aspect. "It's quite luxurious to think people will be able to wait at home for a delivery," says Smith. "We have astonishing numbers for the growth of our click-and-collect services. The percentageof sales is growing exponentially."
Click-and-collect services will continue to develop - Lewis says John Lewis' partnership with Waitrose will expand as more Waitrose stores are encompassed into the network, enabling shoppers to pick up John Lewis products from the stores. "Our click-and-collect service is growing tremendously quickly," he says.
He adds the retailer is investing in a variety of services this year. The website has been tweaked to make the click-and-collect experience easier, it has invested in stores, and is joining the Collect+ network, which allows shoppers to pick up and return parcels at local newsagents.
Lewis says mobile should be the other priority. "The key thing this Christmas is we believe mobile shopping will cut through into the mainstream. We have rebuilt the mobile shopping experience and relaunched the mobile app."
Dan Mortimer, chief executive of digital consultancy Red Ant, says Arcadia - one of Red Ant's clients - is another good example of a retailer embracing mobile. He says: "Its portfolio of fully transactional iPhone apps took more than £3m in sales over the Christmas period [last year]. Group-wide mobile and tablet revenue has grown by 250% year on year and mobile and tablet devices now make up a third of online visits and a quarter of online revenue across the group."
Strong supply chain
Shoppers are flocking to multichannel services because of a growing intolerance of inconvenient shopper journeys. Verdict analyst Patrick O'Brien says: "Around Christmas in particular, the convenience of delivery is critical.
Everyone has experienced the problem of finding the time to get to a store or be in for a delivery. More and more people are not able to get deliveries at the office. Click-and-collect services have become really important."
Multichannel is never logistically easy for retailers. It requires a strong supply chain and co-operation across different teams. Managing director of supply chain management business Manhattan Associates Craig Sears-Black says it's a good idea to pick online orders straight from the shopfloor, but this requires work. He says: "Moving to fulfilment from store stock is not just a technology challenge but retailers find that it requires a significant change in management process as well. There needs to be shared responsibility for real-time store stock visibility and accuracy."
Shoppers tired of waiting at home, traipsing around the shops or missing deliveries are flocking to services that make their lives easier, and this behaviour will be stronger than ever this Christmas. If retailers are making it easy to splash the cash with them, they need to shout about it - it could mean the difference between an average Christmas and a great one.
Why multichannel is a must this Christmas
Nobody can complain they've had no warning - multichannel hype has been around for years. Many retailers have spent at least the last two or three years working hard on their IT systems and deciphering what will improve customer experience. Now, as big retailers such as Tesco and Asda place it at the heart of their business strategies, the pressure is really on.
This is the year store retailers have realised what they can do with digital technology. It's not just another thing to think about - it's a way of gaining competitive advantage. As Tom Allason, founder of delivery company Shutl, says: "This Christmas more than ever retailers are looking to combat the growing threat posed by Amazon, and the only way of doing this is by offering value-added services that leverage their core assets - their stores - which are the one thing that Amazon doesn't have. Otherwise they are simply left competing on price and range, which are two battlegrounds that Amazon will always dominate because it is structurally advantaged in those areas."
After years of missed deliveries and lost parcels failing to make it through the snow, customers have lost tolerance. They will now choose who to spend with based on who makes it easy - and picking something up from a store has become a popular option. Customers have flocked to click-and-collect services, with £2.5bn expected to be spent through the service in 2013 according to Verdict.
Stacking up online sales
Online retail sales were up 20% year on year in June, the strongest growth since June 2011.
Clothing etail sales were up 29% year on year in June, the highest growth since June 2011.
Mobile commerce was up 136% year on year in June, up 8% on May 2013.
Conversion rates via mobile devices increased from 1.27% in June 2012 to 2.03% in June 2013.
The IMRG says the online retail market has performed above expectation so far this year, with the first half coming in at 16% average growth against its earlier forecast of 12%.
Verdict says click-and-collect is expected to account for £2.5bn of UK retail sales in 2013.
Overall retail sales in 2013 are expected to reach £299.6bn, a 1.5% increase on 2012.