The festive season's results inevitably have winners and losers, but this year's OC&C Christmas Trading Index shows the gulf between them.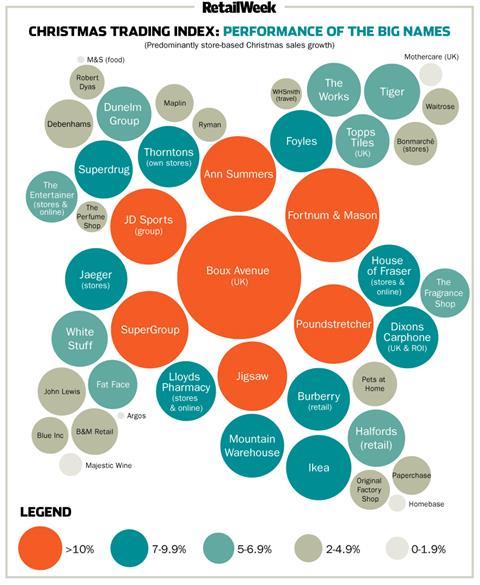 To borrow one of football's favourite phrases, 2014 Christmas trading really was a game of two halves. Tom Gladstone, a partner at OC&C Strategy Consultants, characterises the festive sales season as "quite an uneven period" that produced a very different profile of sales from normal.
"Overall, if you look at like-for-likes, they were slightly down on last year but there was a very big spread between those that have done well and those at the bottom end of the list," he says.
31.7%

Boux Avenue posted the biggest rise in like-for-like sales.
Those that performed best were predominantly clothing, luxury and specialist retailers. At the top of the pile was Boux Avenue, the Theo Paphitis-owned lingerie retailer that posted a 31.7% rise in like-for-like UK sales for the six weeks ending December 24.
In fact, all of Paphitis's stable of brands delivered growth, although Robert Dyas (2.5%) and Ryman (2.4%) reported more modest uplifts.
The presence of Ann Summers in the top 10 alongside Boux Avenue not only shows that lingerie was in high demand in the run-up to Christmas but suggests that the two retailers are still benefiting from the collapse of La Senza.
Elsewhere, Gladstone cites Fortnum & Mason and Supergroup as retailers that did well. He also highlights Halfords and Mountain Warehouse as businesses that benefited from the consumer preference for shopping in specialist stores over mass retail propositions.
He says: "As people have got comfortable buying goods online and using click-and-collect, it's allowed for bricks-and-mortar stores to be quite niche and distinctive."
Discounters up, mid-market down
Of the general merchandise value players, B&M and Poundstretcher both had strong Christmas periods, which Gladstone attributes to their increasingly comprehensive range of goods. "The discounters are doing well because there's a whole set of occasions, such as stocking fillers, where people might previously have gone elsewhere but now use the discounters who have got good seasonal ranges."
Unsurprisingly, given recent problems, the biggest losers over Christmas were the mid-market grocers whose difficulties showed little sign of abating. Each of Morrisons, Sainsbury's and Tesco suffered falls in like-for-like sales. Asda is not due to report until February.
Nevertheless, Gladstone believes the supermarkets can take solace from the fact that things weren't as bad as many analysts had feared. "I think at the margins a couple of the grocers found Christmas a little better than the preceding months," he says.
"There were a few shoppers that came back for Christmas but the fundamentals of the entire sector remain challenging, with the double whammy of the growing share of the discounters and at the same time low food price inflation.
"The fact it was difficult for everyone shows it's a challenge for the sector as a whole, not just for individual grocers."
Another retail powerhouse in the line of fire was Marks & Spencer, whose general merchandise arm was at the bottom of both the 'store-based' and 'internet and direct' tables.
M&S chief executive Marc Bolland said he is pleased with a very good quarter in food but admitted to a difficult quarter in general merchandise, amplified by problems at the Castle Donington distribution centre.
Positive and negative effects from Black Friday
Bolland also noted that M&S "maintained our focus on general merchandise gross margin", a pointed reference to the frenzied discounting that had taken place throughout the industry in the run-up to Christmas.
That was manifested most acutely by Black Friday, which Gladstone suggests had the effect of disrupting normal Christmas trading patterns with both positive and negative effects.
"On the plus side it was a big traffic driver on the day, creating a peak where none had previously existed and for some retailers that was a very big benefit," he says, citing Dixons Carphone as one of the biggest beneficiaries of the Black Friday surge.
But Gladstone also believes that not every retailer profited from the huge peak in sales at such an early stage of the festive trading period. "There were a lot of people who had a good peak on Black Friday and then it broadly flagged over the last couple of weeks. All that happened is it pulled forward a lot of sales that people would have made in the next two to three weeks. There's an interesting learning there that actually you really need to think quite carefully about how you structure a one-off event and what you offer."
"The growth of online has altered the dynamics of the entire trading period."

Nick Hughes
Black Friday, along with its digital cousin Cyber Monday, was indicative of the extent to which the old rules of Christmas trading have been ripped up as consumers reject the traditional last-minute high street dash for presents in favour of early online shopping.
Gladstone notes that, once again, so much of the growth in Christmas sales came from online – a trend that has been developing for some years and shows no sign of ending. He believes the fact that online's growth came at the expense of stores is not necessarily a problem for the industry but it does mean retailers must increasingly think about the mix of channels rather than each channel in isolation.
"As a retailer it requires me to think about how I market, how I fulfil and how I use my stores within that mix. If that means I sometimes need to have slicker operations in store with more people ready to get goods out the store room for goods ordered in advance then so be it," says Gladstone.
Perhaps the greatest lesson from 2014's festive period is that there is no longer such a thing as a normal Christmas for retailers. The growth of online has altered the dynamics of the entire trading period. Retailers that fail to learn the lessons of Christmas past face the prospect of a bleak Christmas future.