Health food group NBTY Europe is rebranding its retail chains in the Netherlands and Belgium under its flagship Holland & Barrett fascia.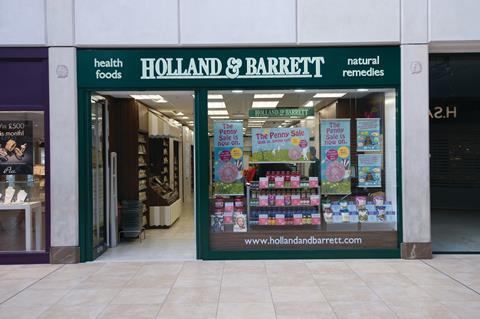 NBTY Europe has 167 stores in the two countries, operating under separate banners. The group acquired Dutch brand De Tuinen in 2003 before snapping up Belgian retailer Essenza in 2013.
The rebrand of both chains begins this month and will take around 18 months to complete, NBTY bosses said. No staff or store locations will be affected by the changes.
The move means Holland & Barrett will have more than 900 stores across the Continent, with NBTY Europe-owned stores in the UK, Ireland, Netherlands and Belgium, plus franchised shops in Gibraltar, Malta and Cyprus.
"What the Holland & Barrett brand adds is international recognition, a strong heritage in other categories and innovative products from around the world."

Colinda Hoegee, NBTY Europe
Holland & Barrett also has 75 franchises outside Europe in countries including China, Kuwait, Singapore and the UAE, and plans to expand into the US.
The roll-out of the Holland & Barrett name comes as NBTY Europe restructures its senior management team.
Group director of trading Kyle Rowe has been promoted to international development director and he will focus on the "overseas growth" of Holland & Barrett.
Former buying director Emma Cockerill will take up the role of director of sales and procurement, while Tim Lawrence has also been promoted to director of customer marketing.
The retail group has also hired a new director of trading, Rory Whelan, who joins NBTY Europe having held various sales and commercial trading roles in the mobile phone industry.
NBTY Europe chief executive Peter Aldis said that taking the Holland & Barrett name into markets around the world was "a key element" of the group's vision.
Aldis added: "We are making good strides across and are also seeing great progress with our franchised business model that has proved successful in markets as diverse as China and Finland.
"We have seen double-digit growth for the last six years in the UK and are confident that we can replicate the success we have seen here and in Ireland in our rebranded stores in the Netherlands and Belgium."
NBTY Europe's managing director for the Benelux region Colinda Hoegee said: "What the Holland & Barrett brand adds is international recognition, a strong heritage in other categories and innovative products from around the world, all of which we can leverage in our Dutch and Belgian markets."