John Lewis has noted a transformation in beauty purchasing habits in 2021 as social gatherings and travel returned after periods of lockdown restrictions.
According to John Lewis Beauty Bets report, fragrances performed particularly strongly this year, with perfume sales rising 24% in 2021 compared to 2020. Jo Malone perfumes were particularly popular, while sales of Dior J'Adore Deodorant Spray rose 275% in 2021.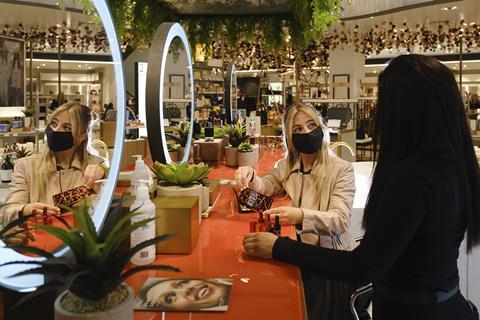 As travel returned following periods of lockdown, consumers began to stock up on travel miniatures, with sales rising by 35% in 2021. John Lewis predicts this momentum to continue into 2022 as people remain on the move.
The demand for beauty miniatures increased so substantially that John Lewis installed a dedicated wall for miniature products in its Edinburgh branch.
Skincare products became lockdown staples, accounting for over a third of all beauty sales.
Even as restrictions eased, skincare remained a focus in-store. Sales of facial cleansers rose 82% in April, while moisturiser purchases increased 80% and exfoliator sales rose 79%.
In-store beauty experiences maintained their appeal with visitors to stores, even after periods of mask-wearing and social distancing. Since launching the Cavendish Clinic in its Edinburgh outlet in May, John Lewis recorded a 333% increase in bookings for a HydraFacial, a multi-step treatment that removes impurities.
Three-thousand eyebrow treatments were booked in the weeks following the reopening of stores in April 2021, while the beauty team hosted over 450 virtual beauty consultations in the past five months.

Investment in beauty tech also soared in 2021 as customers attempted to create beauty salon experiences at home. To respond to demand, John Lewis launched a beauty tech department featuring LED light masks and facial toning devices, such as the Foreo facial toning device which saw a 361% increase in sales.
As well as treatments, consumers also refilled their makeup bags as social events returned: lipstick sales rose 30% over the year, with sales accelerating 178% in the weeks after lockdown restrictions eased in April. Blush sales increased 181% in April, lipliner sales rocketed by 386% in the same period and in-store colour matching for foundation rose 14%.
John Lewis predicts the wave of beauty purchasing after lockdown points to a rediscovered love of makeup as customers begin to invest in new colours and textures. Blue eye shadow, which was popular in the 1990s, was particularly in demand with sales of Mac eyeshadow rising 260% over the year.