Tesco has revealed rising like-for-likes in its first quarter of the year, making this the sixth consecutive quarter of like-for-like growth under boss Dave Lewis.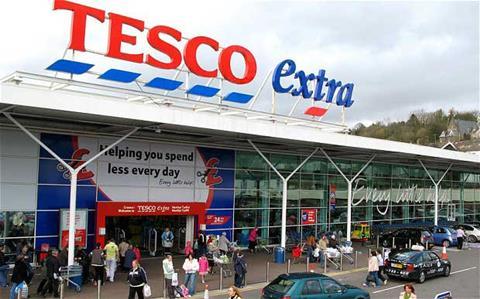 The grocer revealed group like-for-like growth of 1% while UK like-for-likes were up 2.3%, driven by a 2.7% like-for-like increase in food.
Total sales at constant exchange rates were up 0.8%, while at actual exchange rates they grew 3.6%.
The cost of selling Dobbies, Giraffe and Harris & Hoole offset the benefits of opening more stores.
While the domestic picture was positive, a lacklustre international performance worsened, with international like-for-likes down 3%.
Tesco said that the vast majority (2.7%) of this was due to its decision to stop unprofitable bulk selling of products such as tobacco and alcohol in Thailand.
Asian like-for-likes fell 6% while European like-for-likes dipped 0.4%.
Online sales grew 4.8% as the grocer closed its Chesterfield and Welham Green depots in spring to help reduce its cost base by £1.5bn.
Chief executive Dave Lewis said: "In tough market conditions, we have stayed true to our commitment to helping customers – working closely with our supplier partners to keep prices low.
"This is a good start to the year, with our sixth consecutive quarter of positive like-for-like sales growth across the group.
"We are confident in our plans to create long-term, sustainable value for our key stakeholders and to deliver on the ambitions we have set out."