To say Dave Lewis has been on the proverbial rollercoaster ride since taking the Tesco hot seat a year ago would be an understatement.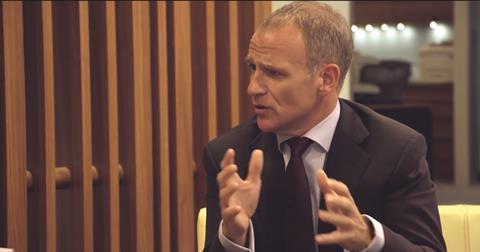 The former Unilever Personal Care boss faced an accounting scandal within weeks of his September 2014 appointment, saw former chairman Sir Richard Broadbent resign a month later and was forced to issue a profit warning with less than half a year under his belt.
Against a backdrop of the grocery price war, falling margins and rapidly changing consumer habits, Lewis has lived up to his 'Drastic Dave' nickname by making some tough calls in his bid to steady the ship.
He has invested in price, closed 43 stores and shelved 49 planned openings, slashed head office costs, reshaped his executive board, put more staff on the shopfloor and carried out a wide-ranging portfolio review.
But despite that solid start, analysts believe there is still much work for Lewis to do, ranging from rebuilding Tesco's battered reputation and further improving its price points, to rationalising ranges and reducing debt, as he faces what one observer describes as a "make or break" year.
Brand distrust
BESI Research senior analyst Rickin Thakrar says Lewis needs urgently to sell assets to shore up Tesco's balance sheet, while driving investment in price and quality to rebuild the retailer's dented reputation.
"Consumers just want a good deal and he needs to deliver that in a very tough, competitive market"

Rickin Thakrar, BESI Research
"There is a deep distrust of the brand in some pockets of the consumer, driven by years and years of not getting a good deal," Thakrar says. "In the surveys we've done, Tesco does not rate highly among consumers in terms of value for money or price position. He's got to repair the brand dramatically and that takes a long time.
"Consumers just want a good deal and he needs to deliver that in a very tough, competitive market.
"On top of that, they have £22bn of debt and if the UK raises interest rates it could be in trouble, so I think they need the money right now.
"They missed the opportunity when the shares were really high earlier in the year to do a rights issue. A rights issue now would be basically impossible – it would destroy the shares.
"What they will have to do instead is sell Dunnhumby and its South Korean business. The market likes asset sales – Carrefour sold a whole bunch of assets when they were in trouble – but the issue Tesco has is that its Korean business is not as valuable as it once was. It needs to act fast though and the only choice they really have is to sell those assets and focus on the UK.
"Previously, Lewis said we won't hold a fire sale, but it's clear now that they have to."
Cost base concerns
While acknowledging those issues, Cantor Fitzgerald analyst Mike Dennis believes Lewis's "biggest challenge by far" will be to manage Tesco's cost base.
Dennis says: "Dave Lewis has got wage growth coming through with the living wage being implemented and he's got a rental bill that is going up quite steeply, in a business generating flat sales. He has to consider the cash he may get in from the sale of South Korea and how he can use that cash to best support the UK business.
"The other thing, beyond doubt, is that he needs to rethink formats and rethink range. He's already said he wants to de-range, but in most companies when you increase range, you increase sales. Lewis is trying to take range out, so you've got to replace those lost sales on a particular product with a higher sales rate on existing products."
Dennis and Thakrar both estimate the mammoth turnaround job will be a three to five-year task and, despite having a year under his belt, the jury remains out on whether Lewis will be given that amount of time to transform the supermarket giant.
Thakrar, who believes Lewis "inherited a really bungled company after years of mismanagement", observes: "More people are positive about Tesco, but I look at the situation and it is very tough to get out of.
"It's going to take time, but I think Lewis will be given that time."
Make or break
For Dennis though, Lewis is now staring down the barrel of a "make or break" second year at the helm.
"This is a well-run, process-driven business which, according to Kantar data, is seemingly losing or running in line with the market. If the availability and staff improvements are to be believed, then Lewis should be seeing something better than that," he reasons.
"He won't have three years to show improvements – he will have precisely one more year to do so"

Mike Dennis, Cantor Fitzgerald
"The business has to be seen to be moving in the right direction after one year, even if the delivery of his strategy might take three. He won't have three years to show improvements – he will have precisely one more year to do so.
"It's such a big supertanker so turning that corner takes time, but once you have shown you are starting to turn the corner, people buy into what you're doing. If you're not showing that turn, employees and investors will run out of faith."
Having steered the good ship Tesco through a first-year storm, it seems that more choppy waters could lie ahead for Lewis and his team. He will have to show that the grocer is heading safely to port.