UK like-for-likes up 0.6%
Statutory profit before tax down 28%
Operating profit, Lewis's preferred measure, up 38%
Tesco's half-year sales have risen but pre-tax profits fell, while chief executive Dave Lewis unveiled plans to rebuild margins to 4%.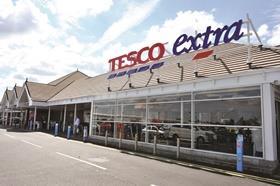 UK like for likes rose 0.6% the 26 weeks to August 27, the grocer revealed today.
Sale volumes in the UK grew 2.1% and transactions were up 1.6%.
Group like-for-likes rose 1% while overall sales rose 3.3% to £24.4bn in the half-year period.
International volumes were up 3.3% and transactions inched up 0.3%.
Statutory pre-tax profits fell 28% but operating profits, Lewis's preferred measure of earnings, soared 38%.
However Tesco's pensions black hole ballooned during the period, going from £2.6bn in February to £5.8bn.
That sum equates to about 75% of what Tesco received a year ago for the sale of its South Korean Homeplus business. It will undoubtedly serve as a blow to Lewis's drive to put Tesco back on a solid financial footing.
Rebuilding margins
Lewis unveiled his plan to rebuild margins to between 3.5% and 4%, up from 1.8% in the UK and 2.2% globally.
This plan is supported by six factors, and is intended to strengthen its customer offer while "creating long-term, sustainable value for shareholders".
Tesco will spend £1.4bn every year to support these six factors: differentiating the brand; strong cash generation; maximising margin mix; maximising the value of its property portfolio and continuing to innovate both customer offer and business operations.
Its plan also includes £1.5bn of cost reductions, supported by a better distribution system, simpler store operating models and goods not for resale savings.
Lewis said: "We have made further strong progress in the first half, with positive like-for-like sales growth across all parts of the group as we re-invest in our customer offer while rebuilding profitability in a sustainable way.
"While the market is uncertain, we have made significant progress against the priorities we set out two years ago, stabilising the business and positioning us well for the future."
Lewis also hailed the progress made against Tesco's three strategic priorities, outlined in October 2014: regaining competitiveness in the core UK business; protecting and strengthening its balance sheet and rebuilding trust and transparency.
Key milestones over the past two years have included achieving seven consecutive quarters of volume and transaction growth; reducing multi-buy promotions in favour of everyday lower prices and the offloading of non-core assets such as Harris + Hoole, Dobbies, Giraffe, Euphorium and its business in Turkey.