Despite today's profit warning, Tesco chief executive Dave Lewis insists he is changing the grocer for the long term.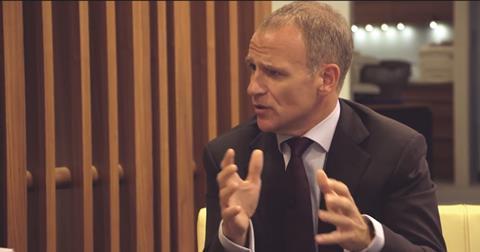 Tesco has today warned that full-year profits will be no more than £1.4bn, against a consensus of £1.8bn to £2.2bn.
Lewis said he can't put a timeframe on how long he thinks the turnaround of Tesco will take, but as the grocer reported its fourth profit warning this year, he insisted that the actions he is taking are right for the long-term sustainability of the business.
Lewis said: "What we are doing is the right thing for the brand and the business and we will continue to invest in that. We will invest for the long term with customers and suppliers.
"I'm very mindful of the short-term impact on the business, and there are things we could do to take our profitability more towards consensus but we are not prepared to do that – we are committed to reshaping the foundation of the business and it's a long journey but the right one."
Lewis said since Tesco's interim results on October 23, there have been five significant changes within the business, which the grocer has invested "a little north of £500m in".
1) Building new relationships with suppliers
Lewis said Tesco has started to rebase its relationship with suppliers. "We are establishing a new foundation with suppliers that will result in us realising long-term sustainable value together," he said.
Tesco has reset its guidelines on commercial income following the £263m accounting scandal. Lewis said there has been a move towards "front-end margin as opposed to back-end". This means that rather than making money from "what we buy", Tesco is "looking to make more from what we sell together".
He said: "We're not walking away from rebates but we're looking at what might be a better way of structuring the relationship."
Lewis said that rather than seeking discounts on volume at certain times, which causes disruption to the supply chain in Tesco and its suppliers, he wants to make it more consistent to give "the best value for the customer".
2) Investment in service
Tesco has hired 6,000 staff since October 23, which Lewis said has added "around two to three million more hours into stores".
Alongside this, Lewis's Feet to Floor initiative has also seen 6,000 head office staff spending a day every two weeks in-store, which Lewis said "is having an impact on morale and engagement".
He said the investments in service along with availability and price (see below) are having an impact and he is "quietly optimistic" about what they are doing.
3) Investment in availability
Lewis said at the interim results that he wanted to drive up availability on the 1,000 lines that customers most wanted before Christmas and he said customer feedback since "has reacted positively to these changes".
4) Selective investment in price
Lewis said of the 1,000 lines that "are of most value to our customers" the grocer has invested in price. On those lines he said he has seen "encouraging volume growth as we change that proposition".
He added: "While it is really early, it is enough to encourage me and the leadership team."
5) Refusing to boost fourth-quarter figures by using artificial measures
Lewis said that there are "certain activities" that retailers could do at the end of their financial years to "help manage profitability" but that "have a detrimental impact on consistent service, and we want consistency all through the year".
He added: "There are certain things you can do to run the machine slightly leaner in the last part of the year, which will be a contributor to profit in Q4 but that impacts quality and service."
He cites one example as reducing staffing levels post-Christmas, but that "we have chosen not to do that in order to have a consistent offering".