Waitrose has come under pressure from consumers over its relationship with oil giant Shell after the grocer agreed to convert all of its petrol stations to Shell.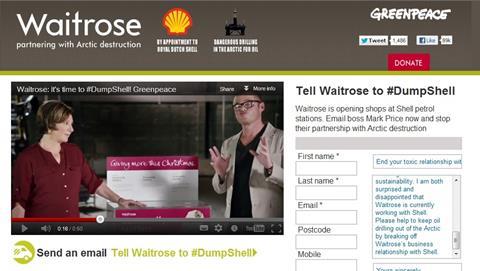 A live question and answer session with brand ambassador and TV chef Delia Smith on Waitrose's Facebook page was hijacked by campaigners urging the retailer to pull out of its partnership with Shell which has come under fire for drilling in the artic.
Environmental campaign group Greenpeace is leading the calls and has created a spoof website which mimics Waitrose's site in campaign dubbed '#DumpShell'. It has also released a spoof version of Waitrose's Christmas TV advert.
Waitrose last week said it would be rebranding all of its 13 petrol stations to Shell by Christmas.
A Waitrose spokeswoman said the scale of Waitrose's involvement was "small" in the context of Shell's worldwide business.
She said: "The scale of our involvement with Shell amounts simply to their operating the 13 existing petrol stations next to our branches and our selling Waitrose products in two Shell forecourts.
"Environmental issues are of great importance to Waitrose and Shell has assured us that they will meet US legislation and international conventions, operating with respect for the environment and for people who live in the Artic and sub-Artic regions."
Facebook user Melissa Price said on Waitrose's Facebook page: "Please don't help Shell ruin one of the planets most endangered environments."