It's been a long time coming, but was news of Ocado's hotly anticipated maiden international tie-up worth the rather protracted wait?
Ocado has promised since 2015 that it would secure partnerships with retailers in Europe and North America to provide them with the technology and logistics required to launch an online grocery offer.
Over the weekend, some 18 months after the initial deadline it set itself had passed, the etailer finally lifted the lid on details of its first overseas deal.
Ocado will provide its "software platform, knowhow and support services" to a "regional" European business, which wishes to remain anonymous until its new ecommerce proposition is launched.
Although the deal represents a clear step up from the contract it penned with Dobbies Garden Centres in the UK last month, the fact that Ocado secured a "regional" rather than a national bedfellow has been met with a degree of scepticism.
Analysts have interpreted this to mean a retailer operating in part of one particular country, although "regional" could actually refer to a grocer doing business across Scandinavia, Benelux or the Balkans, for instance.
Ocado has remained characteristically tight-lipped as to which of those is true, so as to protect the identity of its new partner.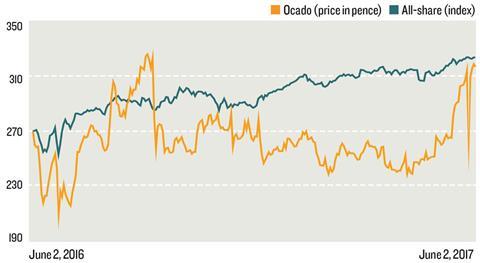 Manual fulfilment
No matter which scenario is correct, the fact that its new partner on the Continent will initially fulfil orders from manually operated warehouses, rather than using Ocado's all-singing, all-dancing automated equipment, has also raised questions over the technology's true appeal.
"This is progress after a lot of promises, but it's not exactly like doing a deal with Walmart," ETX Capital analyst Neil Wilson says.
"While welcome, it's unclear what actual value this deal in itself will bring to Ocado," Wilson observes. "Financial details about the tie-up are non-existent at present."
Overseas appetite
Yet despite such concerns, the deal was warmly received by the City.
Ocado surged to the top of the FTSE 250 on Monday morning as shares jumped 5% in early trading.
While details of the link-up itself have not necessarily caught the imagination, or got investors rubbing their hands about the potential profit upside, it has served to do something very important – reaffirm the validity of Ocado's long-term strategy.
The etailer's boss Tim Steiner wants to strike numerous deals in the medium term and the unveiling of its first partnership suggests that the Ocado Smart Platform is attractive to overseas retailers after all – a fact that some onlookers had been starting to doubt.
"This proves there is appetite from foreign grocers in using Ocado's one-stop and best-in-class online grocery solution"

Francois Halconruy, Morgan Stanley
Morgan Stanley analyst Francois Halconruy says news of the deal "should be taken well by the market, especially given long-term scepticism about Ocado's ability to [pull it off].
"Importantly, this proves there is appetite from foreign grocers in using Ocado's one-stop and best-in-class online grocery solution."
Numis analyst Andrew Wade surmises that while the deal is far from a "blockbuster" with a major national grocer, "it demonstrates unequivocally that there is demand for Ocado's OSP offering".
However, the pressure remains on Steiner et al to deliver such a genuinely game-changing partnership – one that would have a transformative impact on Ocado's bottom line.
News of its first tie-up has boosted confidence that it can finally fulfil Steiner's long-held ambition and achieve exactly that.