Morrisons has gone 'back to the future' by relaunching its Price Crunch campaign, and it could help return the grocer to its former glory.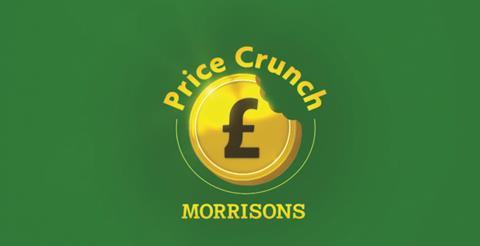 A favourite theme of mine in UK retail centres round the alignment between football and food - recently in particular the comparison between M&S food boss Steve Rowe and Liverpool manager Jurgen Klopp, both returning former greats to glory.
And both centre around the 'back to the future' theory - the resurrection of old practices that come back into fashion.
The recent news from Tesco that it is ceasing 24-hour operations at some stores harks back to the days before all-night opening.
The idea of 24-hour supermarkets came about because as night teams were in restocking shelves it seemed more cost-effective and consumer-friendly to open the doors to shoppers as the store was manned anyway.
The discounters have taken away the volume with their lower prices and simple operations, meaning night shifts aren't as useful. With the national living wage on the horizon, they are also more expensive.
Promotions versus everyday low prices
It is also back to the future at Morrisons with the (re)launch of its Price Crunch campaign, focusing on about 1,000 price cuts.
It's fair to say that we always expect an 'all-out war', but the reality is that it's a zero sum game.
"The campaign extends across the store, with a specific focus on fresh produce – an area where discounters have had so much strength in outlining their value"

Steve Dresser
Discounters are responsible for low prices across the board, but it's the simpler price position that customers actually favour. No promotions mean lower volatility on price. If a family shops in Aldi or Lidl and buys roughly the same items each week, the bill will always be more or less the same.
The same cannot be said for the other supermarkets. Even Asda, the lowest priced operator of the big four, still runs a number of promotions. We have yet to see 'pure everyday low prices' like its parent company Walmart offers.
Both Tesco and Sainsbury's have attempted to reduce volatility by operating a more EDLP-style price file. Sainsbury's has moved away from the half price deals following the controversy over inflated prices on certain lines.
Tesco has worked harder than most on its price position with its meat range displaying simpler £3, £4, £5 price points, fewer multibuys and stable round pricing.
So following its strong Christmas results, Morrisons is aiming to build momentum with a rebooted Price Crunch campaign, which was used to great success in the past. The campaign extends across the store, with a specific focus on fresh produce – an area where discounters have had so much strength in outlining their value.
They key difference for Morrisons is its vast manufacturing capability. Utilising that by driving volume via the facilities can keep manufacturing suitably full, equalling lower prices for customers.
Going back to its roots
Customers always like lower prices and the Price Crunch campaign, coupled with a very impactful change from red and white to green and yellow labelling takes Morrisons back closer to its heritage too.
While there is lot for the management still to do at Morrisons, David Potts has had quite an impact inside a year.
Pep Guardiola, soon to become manager of Potts' beloved Manchester City, will be hoping for the same.