McColl's may not regularly wrestle the headlines from its grocery rivals, but that's exactly what the retailer achieved today.
The convenience store specialist's chief executive Jonathan Miller admitted that he would be interested in acquiring Tesco's One Stop chain, should the supermarket giant be forced to offload stores in order to acquire Booker.
McColl's share price rallied in early trading this morning, rising as much as 7% to a shade under 208p by 10am, before slipping back down to 200p by the afternoon.
Perhaps that was because Miller poured a small drop of cold water over his comments during a presentation to shareholders, analysts and the media.
Whether or not that was the reason for the movement in the share price, investors should retain confidence in the long-term prospects for the business.
There are many facets to the McColl's growth plan – investors were clearly encouraged by Miller's words, but it is far from a One Stop strategy.
Overtaking manoeuvre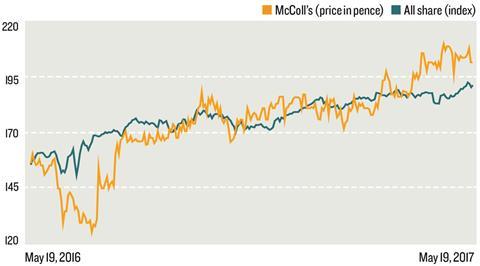 Yes, the grocer is on the acquisition trail, buying about 60 independents per year, plus almost 300 stores from the Co-op– deals that have taken its c-store estate past the 1,300 mark, second in size only to Tesco.
But McColl's has a firm plan in place to drive organic growth, too.
Its food-to-go proposition and coffee-to-go modules are gaining traction and have now been rolled out to 400 shops, and Miller insisted there is "plenty more to go for."
The Subway franchises it operates in 14 stores have wooed a "different demographic" and become what Miller describes as "possibly our fastest payback investment yet."
"Miller … believes there is a 'massive opportunity' to modernise the look and feel of its portfolio"
Notwithstanding the introduction of the fast-food chain, McColl's is revamping stores in other ways.
Miller admits many McColl's stores "don't reflect trends" in terms of layout and will be modernised.
Two trial stores last year have delivered double-digit sales increases and McColl's will open a further 20 during the second half of the year, with a national roll-out of the key learnings pencilled in from 2018.
Driven by customer data
By its own admission, McColl's says it needs to "understand the customer a whole lot better" and is now carrying out its own research, rather than being led by industry data, to help shape those new-look stores and drive customer service.
And, perhaps most importantly, Miller has pledged that McColl's will begin to "shout louder" about its brand and the work it does with charitable causes across the UK, so that consumers better understand "who we are and what we do."
"McColl's wants to shed the tag of 'newsagent' – less than a quarter of its estate now operates in that format"
Convenience rival Co-op is renowned for its role in communities, but McColl's has taken on a brand agency to help it establish a similar position in the marketplace, while it also wants to shed the tag of "newsagent" – less than a quarter of its estate now operates in that format.
Despite that strategy, Tesco's proposed merger with Booker appears, on paper at least, to represent a threat to McColl's growth plans.
But the potential to snap up One Stop represents just one of the opportunities the deal could bring the business.
With supply contracts currently in place with Nisa and Palmer & Harvey, McColl's represents the biggest potential customer in the convenience market for wholesalers.
The fact it is a prize client could allow it to negotiate lower prices with existing suppliers, or even jump ship to a prospective Tesco-Booker, to boost its margins, pass lower prices on to customers or a combination of both.
Whether or not McColl's swoops for One Stop, Miller's strategy should ensure the convenience group is not stopped in its tracks.