Plenty of glasses will be raised at Conviviality's HQ today after it uncorked a vintage year of profit and sales growth.
The Wine Rack and Bargain Booze owner's pre-tax profit rocketed 147% to £22.5m, while adjusted EBITDA doubled to £60.9m in the year to April 30.
Such outstanding progress in what it hailed as a "transformational year" would not have gone unnoticed by a number of its listed rivals – notably, grocery's bedfellows-in-waiting Tesco and Booker.
That's because Conviviality has completely revolutionised its business model under the leadership of group chief executive Diana Hunter.
Dropping 'Retail' from the PLC name, the company has rapidly diversified into growing channels to create three distinct divisions: Retail, Direct and Trading.
Its retail arm, having been the heart and soul of the business two years ago, is now just one ingredient in its palatable cocktail of propositions.
"Having acquired suppliers Matthew Clark and Bibendum, Conviviality Direct now serves more than 23,000 outlets, ranging from national hotel chains to independent pubs and restaurants"
Having acquired suppliers Matthew Clark and Bibendum, Conviviality Direct now serves more than 23,000 outlets, ranging from national hotel chains to independent pubs and restaurants.
Meanwhile, Conviviality Trading, boosted by last year's purchase of festivals specialist Peppermint, takes its wine expertise to events across the UK.
Such has been the impact of its diversification into foodservice and distribution that retail sales of £378m in 2016/17 accounted for less than a quarter of group revenues.
With Conviviality perhaps providing the inspiration for Tesco, Sainsbury's and Morrisons to seek expansion into the lucrative wholesale and foodservice markets, the trio would have been encouraged to see the business deliver profits ahead of market expectations.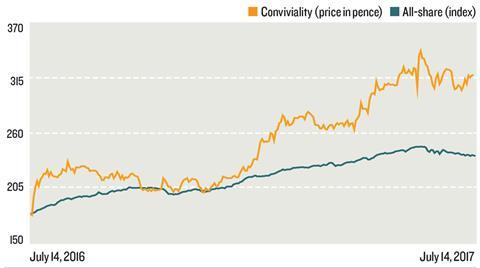 The performance was, understandably, warmly received by investors, as shares climbed 5% to 335.5p by midday on Monday.
And the City believes Conviviality's impressive growth tale has more chapters still to be written, with Investec, which maintained its buy rating, issuing a target price of 375p – up from 350p in May.
Take note, Tesco
Even though there is seemingly more to come, Tesco and Booker can learn plenty of lessons from Conviviality's story so far.
The business's sales and profit growth came despite the clear disruption risks posed by integrating Matthew Clark, Bibendum and Peppermint.
Detractors of Tesco's £3.7bn Booker swoop have warned the distraction of the deal could derail the work done by Dave Lewis in rebuilding retail sales momentum – but Conviviality proves it can be done.
Where retail is concerned, the Competition & Markets Authority has highlighted 350 locations where there is an overlap between Tesco shops and Booker-supplied independent stores, sparking fears the supermarket giant may need to shutter hundreds of c-stores to push the deal through.
Yet fewer stores does not necessarily need to be cause for concern.
Although Conviviality's store numbers decreased slightly to 713 at the year end, retail sales spiked 6.1%, driven by what Shore Capital analyst Phil Carroll dubbed an increase in "the quality of the estate".
The number of Wine Rack and Bargain Booze stores operated by franchisees with multiple shops increased to 59% from 52% year on year, Carroll flags, driving "higher-quality revenues".
Indeed, like-for-likes in multi-franchisee stores advanced 2.1% year on year, compared with a 1% dip across the retail estate as a whole.
And Tesco will have taken further heart from the noises Conviviality made about synergies.
The business now expects to register £16.5m in savings by the end of the 2018/19 financial year, having previously guided that it would achieve £13m in synergies by the end of 2017/18.
If Tesco and Booker can bottle Conviviality's success, their shareholders could soon be raising similar celebratory toasts.