Morrisons will increase its hourly rate for store staff of all ages to £8.20, outstripping Chancellor George Osborne's national living wage.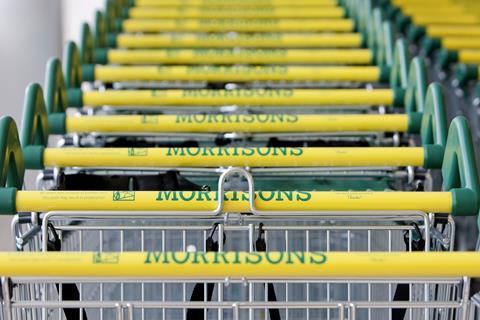 Morrisons will pay more than Chancellor's national living wage
Shopfloor staff will be paid £8.20 per hour from March 2016
Boss Potts says it recognises "contribution of our excellent staff"
The supermarket giant revealed that more than 90,000 staff will benefit from the move, which will cost £40m in extra wages. The grocer added that supplements, such as premiums for working on Sundays, would also be "simplified" as part of the move.
Morrisons, which currently pays shopfloor staff a minimum of £6.83 per hour, said the new pay rates would come into force next March, but will hand staff a lump sum payment equal to 2% of their wages before then.
"By paying a significantly higher hourly rate, we are recognising the contribution of our excellent staff, who are so important to the revival of Morrisons"

David Potts, Morrisons
Boss David Potts said: "We have been listening to our colleagues who told us they want their pay to be more competitive and simpler.
"By paying a significantly higher hourly rate, we are recognising the contribution of our excellent staff, who are so important to the revival of Morrisons."
Retail trend
The grocer is the latest in a line of retailers to increase staff pay following the summer Budget, when Osborne unveiled the new national living wage of £7.20 per hour for workers over the age of 25. That rate will come into force next April and is set to rise to £9 per hour by 2020.
Morrisons' big four rival Sainsbury's moved to pay its 137,000 store staff more than the Chancellor's compulsory national living wage, after announcing a 4% pay hike.
The wage rise, which came into force at the end of August, took the grocer's standard rate of pay to £7.36 per hour for staff of all ages, including more than 40,000 workers under the age of 25.
Discounter Lidl raised the bar earlier this month by becoming the first UK supermarket to pay a 'real' living wage. It will pay staff £8.20 an hour and £9.35 in London from October – rates that are expected to be set by the Living Wage Foundation when the campaign group reveals its new rates in November.
The German grocer said the move, which will cost the retailer £9m a year, will benefit 53% of its 17,000-strong workforce, including those aged under 25.
Lidl's move came weeks after Oliver Bonas became the first UK high street employer to implement the 'real' living wage of £9.15 an hour in London, and £7.85 outside.
That came after Swedish furniture specialist Ikea set the ball rolling back in July, pledging to pay workers a minimum of £7.85 per hour and £9.15 per hour to those working in London from April 2016.
The move was dubbed "momentous" and "historic" by campaigners at the Living Wage Foundation.
Warning
However, the Chancellor's move to introduce the national living wage has not been welcomed across the retail world.
Former Sainsbury's boss Justin King claimed the "ludicrous" policy would "destroy jobs" across the UK, while Next warned it would be forced to increase its prices to pay the additional wages.
The retail behemoth estimated that prices would rise 6% between 2016 and 2020 in order to pay for the £2m cost to implement the living wage, plus £27m extra per year up to 2020.