Doug McMillon was today revealed as the man to take on the world's biggest retail job when he succeeds Walmart's current president and chief executive Mike Duke.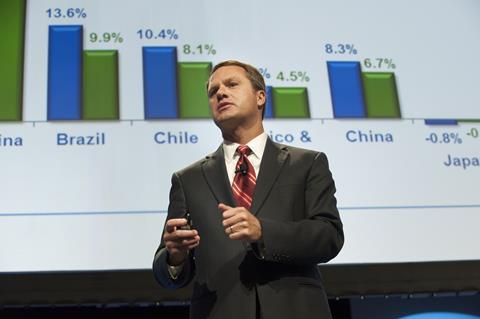 McMillon's is a classic retail story. He began his long history with Walmart almost three decades ago, taking a summer job in one of its distribution centres in 1984. Six years later he rejoined Walmart while studying for an MBA, working at a store in Tulsa, Oklahoma.
McMillon grew up in Jonesboro, Arkansas, the same southern state which Walmart calls home. After graduating from the University of Arkansas in Fayetteville, with a bachelor of science in business administration. He received his MBA in finance at the University of Tulsa.
His promotion to lead the company, which has 823,000 staff and counting, marks the culmination of a 22-year career with the retailer. The majority of his roles have been in merchandising in Walmart US, with experience in food, apparel and general merchandise.
The affable 47-year-old has also held various positions at its wholesale arm Sam's Club, including three years as its chief executive, and as current chief executive of Walmart International, which includes Asda in the UK. He takes up the top job in February.
He also serves on the board of directors of the US China Business Council, the Dean's advisory board for the Walton College of Business at the University of Arkansas and the board for Crystal Bridges, an American art museum. He has also been named a Young Global Leader by the World Economic Forum.
McMillon today said "the opportunity to lead Walmart is a great privilege" but he takes over at a tricky time for the global retail giant. The retailer is recovering from a bribery scandal in Mexico last year and slowing like-for-likes in the US meaning McMillion has work to do to steer Walmart back on track. He may also face a task in handling US boss Bill Simon, who had also been tipped to take Duke's role, according to Planet Retail analyst Stephen Springham.
Springham said: "Duke's departure has been rumored for some time. McMillon is younger (47 versus Duke's 63) and is by all accounts a Walmart 'lifer'. But beneath all the rhetoric, it is perhaps more significant that the top job is passing to someone within Walmart International - recognition perhaps that the business needs to be more global in outlook, rather than just US-centric?
"Detractors could, however, point to the fact the performance at the international division has foundered under McMillon's tenure and is in anything but rude health."
McMillon will hope his retail credentials – Walmart chairman Rob Walton described him as "a merchant at heart" – can help the retailer get things right from boardroom to shelf edge.
Cut him open and the Walmart-lifer will doubtless bottle his blue and yellow blood to sell.