Full-year sales up 12%
Two new stores opened in the second half
Bulk of new stores opened during the full-year feature an in-store café
Hotel Chocolat posted a jump in its full-year sales as the retailer's new store format and products sweetened growth.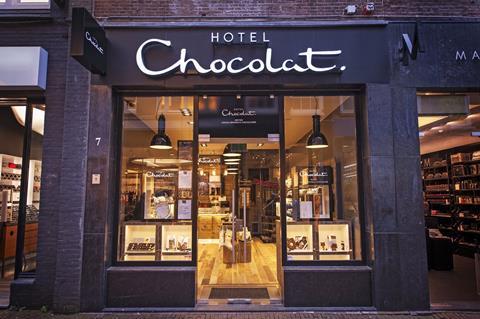 The specialist retailer reported a 12% sales increase year-on-year to £104m in the 52 weeks to June 25, which it said was "slightly ahead of market expectations."
Revenue for the 53 week period to July 2 was £105m.
The retailer opened two new stores in the second half of the year, taking its total number of new stores opening during the year to 12.
Hotel Chocolat's new stores contributed 5% to its overall group sales during the period.
Eight of the retailer's new outlets feature an in-store cafe and the retailer plans to open its first cafe in an existing store in Milton Keynes at the end of this month to further test the format.
Diversifying in-store experiences
Hotel Chocolat has been investing in diversifying its in-store experience and introduced 'chocolate lock-ins' to some of its stores earlier this year.
The retailer also launched a new website designed to improve its mobile shopping experience.
Following a successful trial, Hotel Chocolat has also begun selling its ice cream in 37 locations.
Chief executive Angus Thirlwell said: "Hotel Chocolat has had another good year, with encouraging growth.
"We are excited about the progress made with our new shop and cafe format stores and our seasonal ranges continue to perform well."